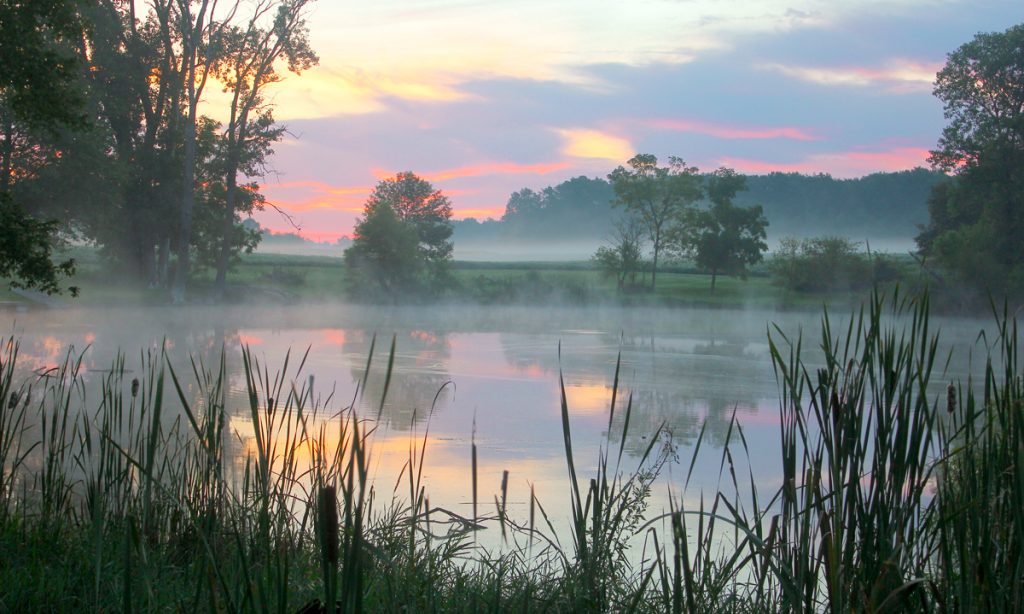 Democrats, environmental groups and business leaders are denouncing a bill that they say would further erode protections for Indiana's already shrinking wetlands.
Senate Bill 414, which deals with storage of residential sewage, was amended during a House Environmental Affairs committee hearing Wednesday to make various changes to how wetlands are classified.
Under the amendment, a Class I wetland would be redefined as a wetland that supports minimal wildlife, aquatic habitat and hydrologic function. Under current Indiana law, a wetland only has to meet one of those thresholds to be classified as a Class I Wetland. Similar changes would be made to the second and third classes of wetlands.
The amendment was introduced by Rep. Doug Miller, R-Elkhart, a member of the Indiana Builders Association and the state representative for Indiana on the board of directors for the National Association of Homebuilders.
It includes similar language that was stripped from an earlier version of Senate Enrolled Act 389, a controversial 2021 bill that eliminated a 2003 law requiring builders and developers to secure permits for construction and development in certain state-regulated wetlands. The legislation also ended enforcement against landowners accused of violating wetlands laws.
As originally introduced, SEA 389 would have eliminated permit requirements for all classes of wetlands, but that provision was stripped from the bill after environmental groups and state regulatory officials objected to the changes, even persuading Gov. Eric Holcomb to veto the bill if it came to his desk.
Miller said the amendment restores the legislative intent of the 2021 bill and "provides some common sense back into the process" of determining how wetlands are classified and allows for "expansion of our cities and towns."
All eight Republicans on the committee voted to advance the legislation, while the four Democrats sided against it, questioning how the amendment was germane to the bill.
The House could take an initial vote on the legislation as early as Monday.
"This amendment came to us so late we really didn't have time to do more than hear what you had to say," Democratic Rep. Sue Errington told Miller during the committee hearing. "The bill that passed two years ago was so controversial that I feel this is a little short notice to be able to vote yes, so I'm voting no."
Rick Wajda, CEO of the Indiana Builders Association, was the only person to testify in favor of Miller's amendment. He said the changes enacted in the 2021 law have led to many wetlands that were once Class I to be pushed into Class II or Class III wetlands, hindering homebuilders' ability to develop new projects.
"This amendment further strengthens the work we have done to allow for development to occur while protecting our more highly sensitive, critical isolated wetlands across the state of Indiana," Wajda said.
Following the hearing, the four Democrats serving on the committee issued a statement condemning what they called a "stealthy amendment" introduced by Miller two hours before the hearing.
"In 2021, we fought to conserve and maintain Indiana's wetlands. Little did we know, the fight would be revived a few short years later," the members said in a news release. "But it's clear Republicans are beholden to special interests and want to line their pockets no matter the cost. They want to build to enrich without care for drinking water quality, flood mitigation, or critical wildlife habitat, and do this at the end of the legislative process so that this provision can pass through with little public input or oversight."
Rep. Maureen Bauer, a Democrat from South Bend, said Miller's amendment raises ethical concerns.
"The conflict of interest of a sitting builders association board member introducing an amendment to benefit the home building industry further erodes the trust of the public in their government to represent the best interest of the people they serve," Bauer said.
Greg Ellis, vice president of environment and energy policy for the Indiana Chamber, said the business advocacy organization would oppose the bill as amended.
"Wetlands do a lot for the business community," Ellis said. "They filter out contaminants, which helps companies that use water in their manufacturing. If [the amendment] brings us back to what they did a few years ago, we would have serious concerns."
Environmental groups also criticized the move, saying Indiana could not afford to lose more wetlands.
"The Hoosier Environmental Council was dismayed by the surprise amendment to SB 414 aimed at further reducing protection of wetlands in Indiana," Indra Frank, environmental health and water policy director for the Hoosier Environmental Council, said in a statement to IBJ. "The amendment clearly demonstrates a continued lack of understanding of the value of wetlands among legislators."
Wetlands play a vital role in the environment by storing excess storm water—which reduces flooding—filtering and purifying water and providing wildlife habitat, according to the Indiana Department of Natural Resources.
Indiana has over 800,000 acres of wetlands that cover 4% of the state while providing habitat for 50% of species with small or declining populations. In the early 1800s, wetlands covered 25% of Indiana, but much of that land was converted for agricultural uses.
The Indiana Wetlands Task Force, which was created as part of the 2021 bill, issued a report in October recommending stronger protections for the state's wetlands.
Gov. Eric Holcomb, who joined critics in opposing Senate Bill 389 in its original form, did not immediately respond to a request for comment.
Please enable JavaScript to view this content.