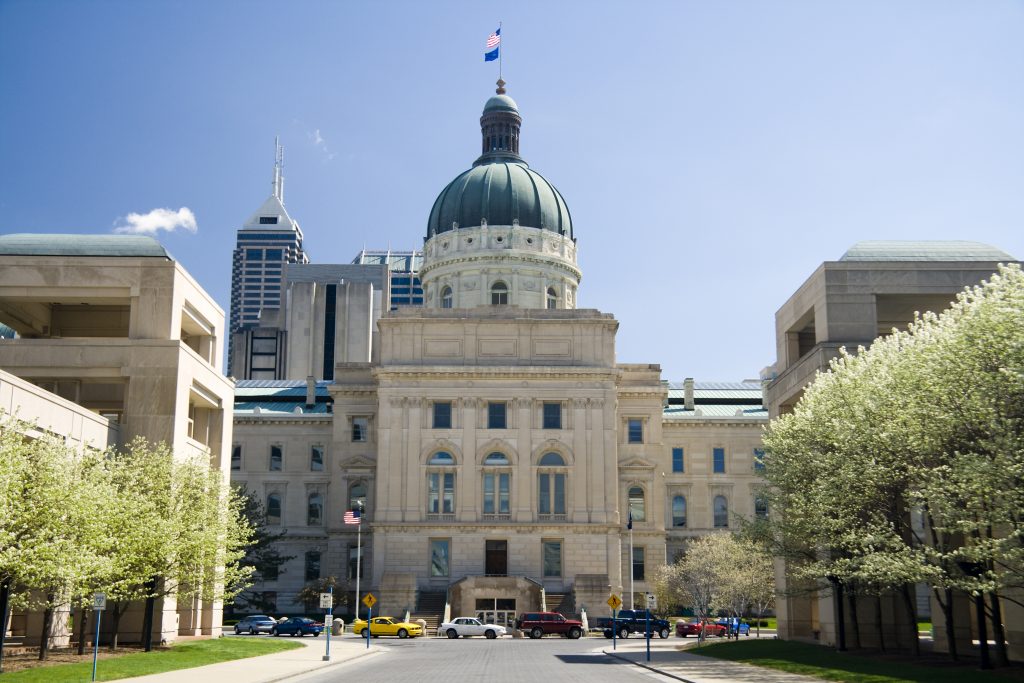 After receiving unanimous support from the Indiana Senate, a bill to tighten restrictions on defense depositions of alleged child sex abuse victims received unanimous support from a House committee on Wednesday.
Senate Bill 331 passed the House Courts and Criminal Code Committee with a 12-0 vote, sending it to the full House for consideration.
The bill, authored by Sen. Mark Messmer, R-Jasper, builds on 2020 legislation that prohibited defendants from deposing their minor accusers under 16 unless the prosecutor agrees. Absent prosecutorial consent, a judge can allow the deposition if the alleged victim will be unavailable for trial or if "extraordinary circumstances" exist.
The 2020 legislation was challenged in court and was temporarily struck down by the Court of Appeals of Indiana.  The Indiana Supreme Court, however, reinstated it in June 2022.
However, according to Messmer, defense attorneys have been attempting to get around the law by taking written depositions of alleged minor victims or conducting informal interviews. SB 331 would close that "loophole" by defining the word "depose" to include "a deposition pursuant to Indiana Trial Rule 30 or 31, or any other formal or informal statement or interview."
Rep. Matt Pierce, D-Bloomington, focused on the "any other formal or informal statement" language, raising concerns that such language would prohibit any interaction at all between the alleged victim and the defense.
"There's no air left" in the bill, Pierce told Messmer.
"That was the intent," Messmer responded.
Pierce's specific concern was for situations in which an alleged child victim might be coached to make false statements. A prosecutor speaking with a child might see the signs of the untruth, Pierce said, but the defense would not.
Courtney Curtis, assistant executive director of the Indiana Prosecuting Attorneys Council, which is supporting SB 331, told Pierce prosecutors have a duty to disclose not only explicitly exculpatory evidence, but also any inconsistent statements.
Curtis noted that alleged victims of child abuse undergo forensic interviews that are made available to both the prosecution and the defense. If the child made a statement in that interview that was later contradicted in a conversation with a prosecutor, the prosecutor would have to tell the defense team, she said.
Pierce used the analogy of "bread crumbs" leading the prosecutor to believe something in the child's statement is amiss. Picking up on that, Curtis said, "It is incumbent on me to follow them. I could lose my law license if I don't."
What's more, Curtis said, SB 331 has an "escape hatch" for defendants: the ability to ask a court to allow the deposition to proceed. Courts have issued such orders since the 2020 legislation was enacted, she said.
But Joel Wieneke, senior staff attorney with the Indiana Public Defender Council, said he was not as confident that the defense would be informed of the "bread crumbs." IPDC opposed the 2020 legislation and is now opposing SB 331.
If a prosecutor learned that an alleged child victim was lying, Wieneke said he was confident that information would be turned over to the defense. But, he continued, he'd be less confident if there was only a suspicion that the child might be untruthful.
Also, Wieneke noted the test for convincing a court to allow the defense deposition to proceed has two elements: proving there are extraordinary circumstances, and proving the deposition would serve the interests of justice.
Rep. Chris Jeter, R-Fishers, told Wieneke that prosecutors make decisions every day on what information and evidence to share with the defense.
"Yes," Wieneke responded, "but defense attorneys in other scenarios have alternative pathways to discover that evidence. Here you're shutting off the access point."
In voting for the bill, Pierce said he supported the underlying goal of the legislation. But he maintained his concern about unequal access between prosecutors and defense attorneys.
"I think we're not willing to recognize there's a difficulty in there to be dealt with," Pierce said.
The bill passed by the House committee had one amendment, authored by Jeter.
The amendment was related to the issue of using videotaped statements of a protected person, which can be admitted as evidence if the court finds that "testifying in the physical presence of the defendant will cause the protected person to suffer serious emotional distress such that the protected person cannot reasonably communicate."
Current law provides that a court can make that finding based on the testimony of a psychiatrist, physician or psychologist. Jeter's amendment extends that list to include the testimony of a "provider," which could also include a marriage and family therapist, a certified psychiatric mental health nurse practitioner, or a physician assistant specializing in psychiatry and licensed in mental health.
Messmer supported Jeter's amendment, which was adopted by consent.
Please enable JavaScript to view this content.