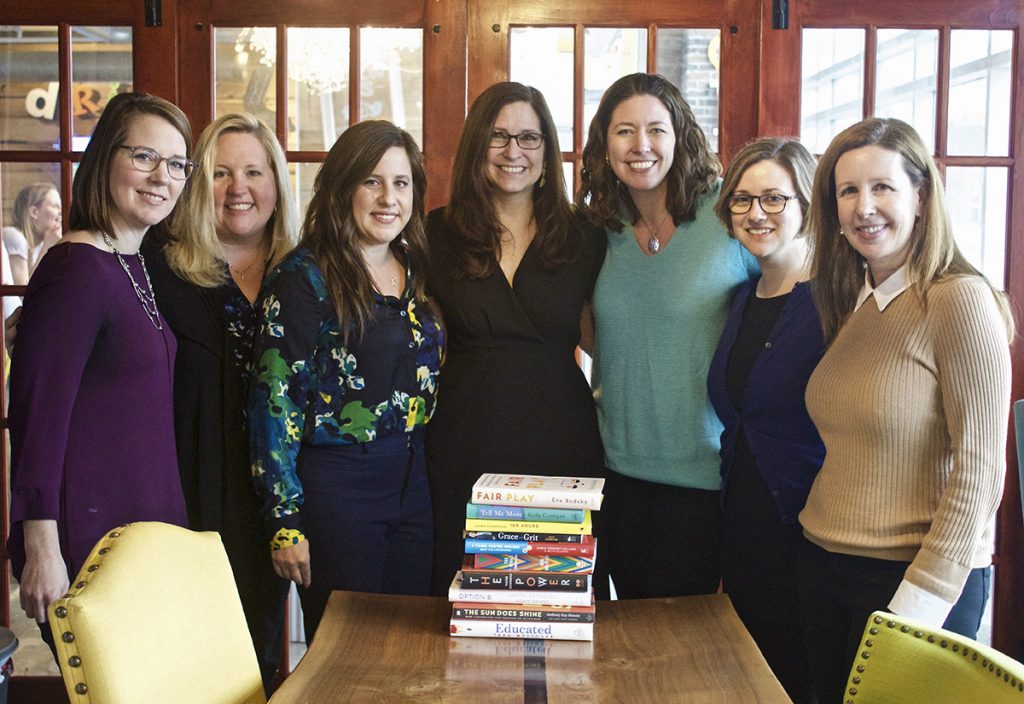 The chime of laughter spilling out from behind closed doors during an IndyBar Women and The Law Division's book club meeting brought a ray of sunshine to an otherwise cloudy day.
Seven women from different walks of life — and legal practices — gathered to reminisce on a literary journey they've come to cherish. Formed in the spring of 2017, the WLD's Beyond the Book Club was birthed out of a desire to create an engaging space to talk about women's issues, co-founder Kellie Barr said.
Barr and co-founders Lizzie Schuerman and Lucy Dollens said they wanted to provide more services to WLD members who may not always come to other division events. They also wanted to create a safe space for personal and professional development.
"It has definitely sparked interest in other people, which is great," Schuerman said. "I think we have a pretty interesting group of perspectives, whether age, experience or gender."
Fresh perspectives
Joining the book club was a way for Lauren Sorrell, who made a career switch to Indiana University Maurer School of Law in 2018, to continue engaging with the Indianapolis legal community.
"I miss that. So it's a way to stay plugged in, but to the part that I want to be plugged in to," she said.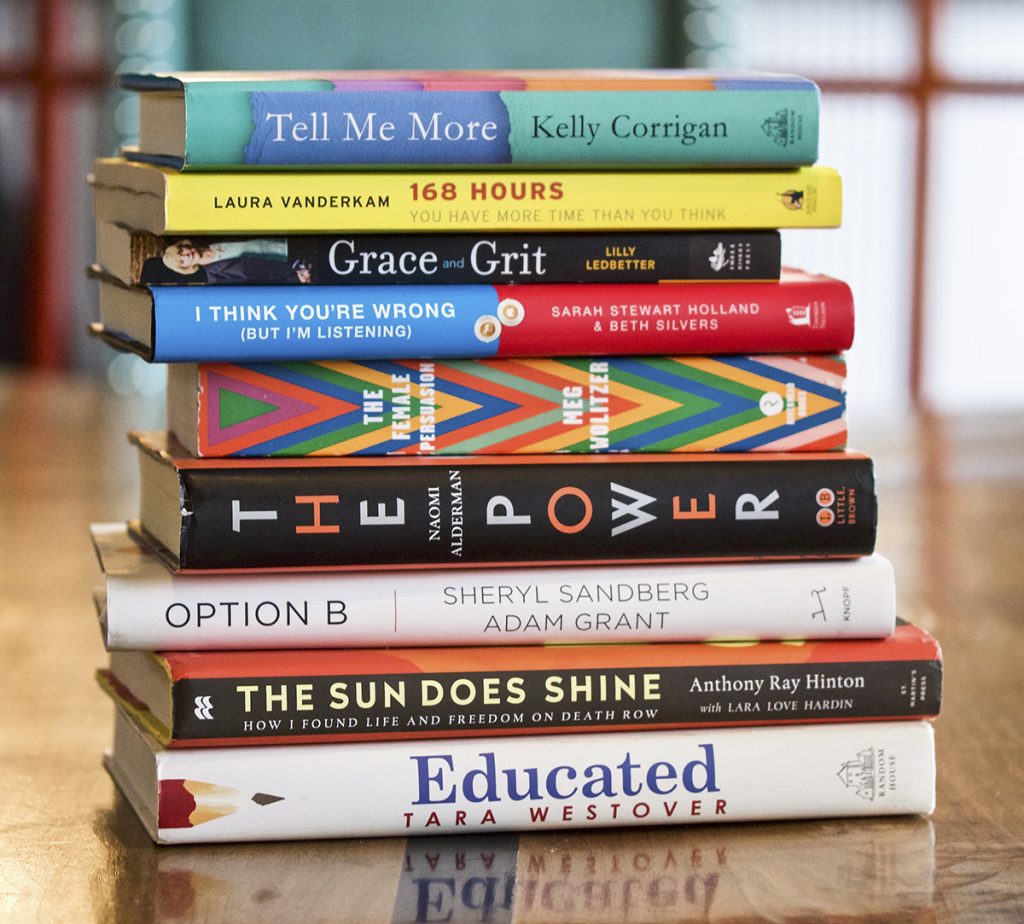 As a lawyer, Kelley Johnson said it's tough to read for pleasure because she already reads so much for work. Instead of only reading for fun while on vacation, Johnson can now make space to read at home.
"This has changed my daily routine because I try to get to bed and read for at least 15 to 30 minutes. It's nice because it decompresses me," Johnson said of the book club.
At first, Beth Knotts wasn't sure if she wanted to join. She had never been in a book club before and felt intimidated about keeping up with the rest of the pack.
"But I love it," Knotts gushed. "I love the book club because there is no expectation that you are going to feel the same way about the book as everyone else."
The women nodded in agreement as Knotts said, "Every view is embraced, and a lot of times people don't even read the book and still come. That's how much I think people enjoy it."
"We are very nonjudgmental," Barr said. "And I do think some people might not come because they think, 'Oh, I didn't finish the book.'"
But the women say that shouldn't deter someone from coming to the meetings. Anyone can join — WLD members can attend for free and nonmembers must pay a $10 fee. On average, Barr said between eight and 15 people attend each meeting, depending on the book and date.
Picking books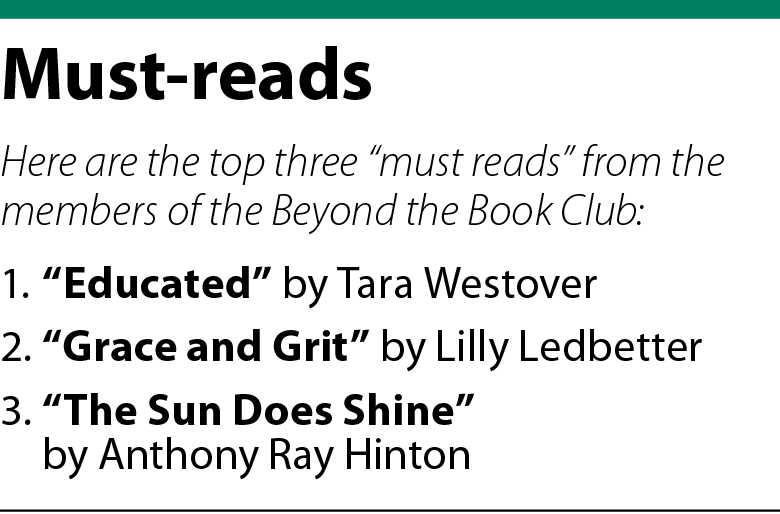 Meetings, Barr said, typically start with a simple, thumbs-up or thumbs-down survey of whether members liked the book chosen for that quarter. Then a free-flowing discussion will begin. The goal is for open, honest discussion that gives space for everyone's perspective.
Not everyone will love every book read in the group, Barr acknowledged, but they do try to stick to themes that focus on women or legal-related issues. Examples of past themes include time management, equal pay, death row and exoneration.
"Even if you love it or hate it or there is an in-between, there is always a takeaway," Sorrell said. "There is always something people can glean from it, and it's always interesting to see what that is for other people, because it's often not maybe what you would have seen at all."
As the women chatted about the stack of books in the center of the table, they pointed out particular favorites from the book club's past reading list – "Educated" by Tara Westover, "Grace and Grit" by Lilly Ledbetter and "The Sun Does Shine" by Anthony Ray Hinton.
However, some members said they wouldn't have read certain pieces if they hadn't been a part of the book club. But they're grateful they did, even if they didn't necessarily enjoy reading a particular book.
"It is nice to get a gentle nudge outside of your comfort zone sometimes," Sorrell said.
The next book on the reading list, titled "Fair Play," was chosen because a common struggle among people is time management, Barr said.
"We are all working attorneys, mostly female, and so this is about a game-changing solution for when you have too much to do and more life to live," she said.
Personal, professional growth
Beyond the Book Club also aims to foster personal and professional development for its members, who already vary across the spectrum of legal professionals.
Sitting together around a farm table at the Peace Water Winery in downtown Indianapolis, the women noted the different types of lawyers in the room: a law school faculty member, in-house counsel, solo practitioner, managing partner and both big- and small-firm attorneys. Women from different walks of life who now call each other friends.
"We are a close-knit community here in Indy, so I think that it helps with networking," Schuerman said.
"I just think attending a forum where engaged, dynamic women talk about hot trends in the legal community, hot issues of the decade, important factors that really affect your career — both your professional and personal development — that forum is not in many places," Dollens said.
"It's rare," Barr agreed. At the end of the day, the co-founder said she hopes the book club can make people think differently about their legal practices, their lives and the world around them.
"I hope they feel welcomed into this space because it's a fun group where we are all growing and challenging each other," Schuerman added. "I would hope a newcomer would be welcomed into that."
Beyond the Book Club's next meeting is scheduled for 5:30 p.m. May 6 at Peace Water Winery, 747 N. College Ave, Suite B, Indianapolis.•
Please enable JavaScript to view this content.