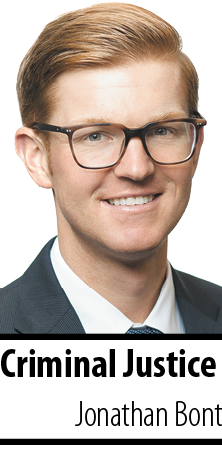 Zoom meetings are starting to grow on me, sweatpants are way more comfortable than a suit and Justice Clarence Thomas is letting loose during telephonic oral arguments that are being broadcast in real time on C-SPAN. Despite these nice diversions from reality, I think we are all ready for life to get back to normal sooner rather than later and especially to be rid of the financial stress associated with this time.
For those of us who entered the legal profession during the Great Recession, this seems like "Groundhog Day" meets "Blast from the Past." Why don't we get to experience the 90s, when lawyers were cool and everybody had to have one? John Grisham never wrote "The Virtual Firm" or "The Street Computer Lawyer," so how am I supposed to get excited about practicing law while sitting on a dining room chair with a pillow on top looking at my card table "desk"? Unfortunately, it seems that some variation of this is the new normal for the next months (hopefully not years), which means we all need to start engaging in social-distance-friendly litigation. There is almost always one side of a case that wants to delay the proceedings forever, but the motions to continue citing In re COVID-19 are probably going to start getting denied as the backlog of cases reaches a breaking point.
Remote civil litigation is a bit of an easier undertaking. I've been conducting depositions by videoconference for a long time and haven't noticed any real disadvantages. If anything, I think it makes me a better lawyer because I use fewer exhibits and spend more time preparing my questions, which allows me to focus on the witness' answers during the deposition. It also gives me more time to do other things rather than spend hours traveling to and from the deposition. Over videoconference, everyone seems to accept that there needs to be an appropriate pause between each question and response, which is probably a nice relief to the court reporter and results in a more accurate transcript. Some healthy distance between lawyers and their clients may also not be a bad thing. Most of them are annoyed at how long the case is taking and how much it is costing and would rather avoid the people behind the bills at all costs. There should be less puffing and theatrics now that nobody can tell how tall you are or really see your hand gestures over Zoom. (However, hidden hand gestures have been restricted to telephone conferences for too long, and we should all definitely enjoy similar comedic relief on Zoom. Just make sure you know the periphery of your webcam.) Civil litigators have always briefed issues and submitted exhibits to the court in advance of a hearing, so no real changes there. Without having to plan around travel days or agree on one specific date for everyone to be in the same room for eight or more hours, remote civil litigation may actually lead to faster dispute resolution.
Criminal cases, on the other hand, are hitting a brick wall. Unlike civil cases, which are largely driven by discovery and motions deadlines, criminal cases are governed by a relatively inflexible "speedy" trial date. There is no opportunity for endless discovery, and there is no such thing as a defendant's summary judgment motion. Competing against the interest in expedient justice right now is the fact that criminal defendants enjoy the right to an in-person jury trial as a safeguard against government oppression. Putting a dozen citizens together in close quarters against their will seems like an especially bad idea in the current environment.
Not every criminal case is heading toward a trial, and most (though far fewer than civil cases) eventually end long before a jury is empaneled, but the Constitution and Rules of Criminal Procedure give criminal defendants the right to be physically present in the courtroom at every critical stage of the proceedings, including at their plea and sentencing hearings. This right is largely grounded in the Sixth Amendment's dual guarantee that a defendant gets to face his accuser and that justice is dispensed out in the open and not behind the defendant's back. I'm not aware of any evidence suggesting judges are more defendant-friendly in person in their courtroom than they are on a computer in their chambers, but it does not seem like anyone is rushing to find out.
Compounding the constitutional problem is the fact that it is difficult to effectively counsel a client toward a decision that is going to significantly alter his or her life over a webcam. Clients want to see the evidence in their cases, which, due to security reasons, cannot always be shared through the mail. They also are largely devoid of meaningful social interaction and want to see up close that you actually care about what happens to them. These and other obstacles mean the criminal docket is not likely to move forward any time soon.•
• Jonathan Bont practices in the areas of criminal defense, business litigation and government compliance at Paganelli Law Group. Opinions expressed are those of the author.
Please enable JavaScript to view this content.