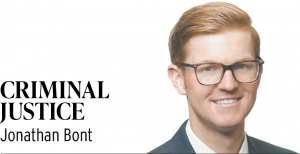 Last summer, I read with great interest media reports from Elizabeth Holmes' monthslong fraud trial in California. To recap the story, Holmes dropped out of Stanford in 2004 when she was 19 years old to start Theranos, which she touted as an affordable, convenient blood testing company. Holmes' romantic/business partner, Ramesh "Sunny" Balwani, who was a successful tech mogul in his own right, became chief operating officer of Theranos in 2009. Theranos claimed to have technology that could test for hundreds of health conditions using only a finger prick of blood. In 2015, the Wall Street Journal exposed Theranos' claims as too good to be true, which led Balwani to resign from the company and the company to collapse. Holmes' trial lasted for four months and ended in January, with guilty verdicts on some, but not all, of the fraud charges against her. With Holmes still out on bond awaiting her sentencing hearing in September, Balwani's trial started in April and is still ongoing.
Holmes' highly publicized defense strategy was to point the finger at Balwani as being abusive and controlling, as well as to cut into the extremely wealthy investors, such as Rupert Murdoch, Walmart's Walton family and Betsy DeVos, who were allegedly duped by Theranos' claims. Predictably, Balwani's strategy has been to point the finger right back at Holmes as the true visionary of Theranos. For his part, Balwani also faces a steep, uphill climb, as his own text message to Holmes was introduced very early in the government's case in which he claimed responsibility "for everything at Theranos."
Although it is theoretically possible that both Holmes and Balwani went to trial motivated only by their divergent beliefs in their own innocence, as shrewd businesspersons, they probably calculated the costs and benefits of a trial and decided it was worth the bet to roll the dice. To be sure, the costs are enormous. Holmes' trial team was led by Williams & Connolly partner Kevin Downey. If you multiply a conservative billable rate for a Los Angeles W&C partner of $750 per hour by a laughably conservative estimate of 12 hours per day, the 79 days spent in trial alone cost Holmes over $700,000. Additionally, by going to trial, Holmes lost the only mitigators available to her under the federal Sentencing Guidelines for timely acceptance of responsibility. (Though, given the draconian enhancements applicable to financial crimes causing millions of dollars of investor loss, those mitigators were probably relatively insignificant in Holmes' case.)
Perhaps most importantly, although she may remain "free" longer than she otherwise would have had she pleaded guilty, the agonizing stress of withstanding a federal criminal prosecution undoubtedly robbed her of any peace since she was charged in June 2018, to say nothing of the three years prior that she was under federal investigation.
So what did Elizabeth Holmes gain by putting the government to its proof? Well, for starters, she was able to present a counternarrative to the government's case — not only to the 12 jurors who decided her guilt or innocence, but also to the presiding judge who will now decide her sentence. I do think there is a compelling counternarrative here. Holmes was 19 years old when she started Theranos, around the same time that she became romantically involved with Balwani, who was 19 years her senior. She idolized Steve Jobs but apparently had no real mentors. Her parents were reportedly generationally wealthy but not necessarily successful in their own vocations. Sure, several highly successful older men invested and lost millions in Theranos, but that story always cuts both ways. When Holmes stands to receive her sentence, Theranos will have been closed for four years. During that time, Holmes became a mother for the first time and appears to be in a more stable romantic relationship. Being able to place her offense conduct in the appropriate context is sometimes advantageous for a white-collar defendant whose misconduct did not take place on a discrete date and time, but rather can and should be viewed in the context of a larger body of hopefully good deeds.
Holmes also preserved her valuable right to appeal any mistakes the government may have made in prosecuting her case. Because so few white-collar cases ever go to trial, there is no blueprint for trying such a case to a jury, and federal courts of appeal and even the U.S. Supreme Court have recently shown a willingness to reverse fraud convictions. In particular, the 9th Circuit, where Holmes' case was tried, recently held that the government's longstanding practice of using high executive salaries, i.e., lifestyle maintenance, as the motive for a fraud conspiracy is no longer legally viable. United States v. Yates, 16 F.4th 256 (9th Cir. 2021) (reversing all convictions).
Perhaps for the first time in her life, Holmes appears to be playing the long game. Time will tell whether her gamble pays off in any measurable way. It will be interesting to learn about the sentence the government is requesting for Holmes and whether, and by how much, the judge ultimately sentences her below the government's recommendation. Of course, it also remains to be seen whether Balwani is convicted and, if so, whether his sentence is comparable to Holmes'. These and other questions will have to be answered after I get around to watching "The Dropout" on Hulu.•
__________
Jonathan Bont practices in the areas of criminal defense, business litigation and government compliance at Paganelli Law Group. Opinions expressed are those of the author.
Please enable JavaScript to view this content.