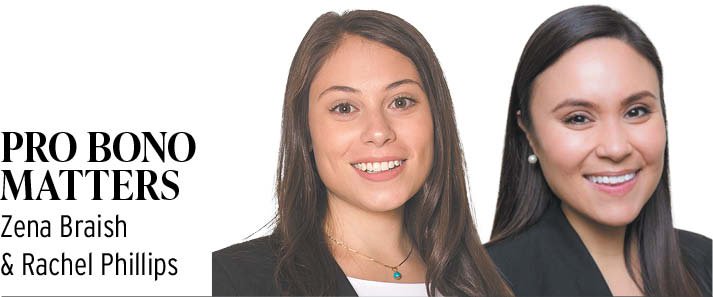 If you are looking for meaningful pro bono work without a long-term time commitment, consider hosting a TPS clinic. TPS, or temporary protected status, is a mechanism by which the executive branch can give migrants from certain unsafe countries the right to live and work in the United States for a temporary period of time.
Countries are typically designated for temporary status after there has been a war or natural disaster that has caused its residents to flee. Currently, there are 14 countries designated for TPS: Afghanistan, Burma, El Salvador, Haiti, Honduras, Nepal, Nicaragua, Somalia, Sudan, South Sudan, Syria, Ukraine, Venezuela and Yemen. Some of these countries have been designated for TPS for many years, while others are newly designated due to emergent circumstances.
People seeking TPS must complete the Application for Temporary Protected Status and submit evidence that they have been present in the United States continuously before a specified date. Applicants are also eligible to apply for work authorization, which allows them to hold a job in the United States.
Demand for legal assistance with the TPS application process is high in Indianapolis, especially among its robust community of Haitian immigrants. Haiti was redesignated for TPS in May 2021, leading to an even greater need for legal assistance in the Indianapolis area.The National Immigrant Justice Center rose to meet this need by coordinating TPS clinics where attorney volunteers help complete and file TPS applications with the U.S. Citizenship and Immigration Services on behalf of individuals seeking temporary protected status in the United States.
Taft Stettinius & Hollister LLP was the first law firm in Indianapolis to partner with the NIJC to host a TPS clinic in October 2021. Since that first collaboration, NIJC has also partnered with Faegre Drinker Biddle & Reath LLP in Indianapolis to conduct two more clinics in December 2021 and March 2022.
Bob Rawlings Onghetich, an associate attorney at Faegre Drinker, first answered the call to assist in December 2021 when the NIJC and the firm invited attorneys from the firm's Indianapolis offices to help Haitian noncitizens apply for temporary protected status through clinics conducted at the Community Alliance of the Far Eastside, or CAFE. CAFE is a nonprofit organization located on the east side of Indianapolis that addresses the needs of the surrounding community through the provision of direct aid and services to residents in need.
At the clinics, volunteer attorneys attend a one-hour training then pair up to meet with clients for around three hours directly following the training. Onghetich explained that most all client work was completed the day of the clinic. Attorneys finalize and file TPS applications within a few weeks of the clinic and monitor cases until adjudication. Most cases require between five and 15 hours of case work, so this is a great way to get involved in pro bono with a limited scope.
Volunteers do not need to have any prior experience to participate in a clinic — the training is thorough. "You don't have to have a background in immigration, you just have to be willing to help and willing to learn," Onghetich said. The NIJC is also there to answer any questions and assist with the process. "The NIJC is an incredible partner organization, and it makes me feel more confident when they provide the training. And if a question arises, NIJC is available to help — volunteer attorneys are not left on an island," Jacqueline Pimentel-Gannon, supervising partner for the Faegre Drinker TPS clinic, said.
Clients are screened for eligibility prior to the clinic and arrive with all the necessary evidence and documents. Additionally, interpreters are provided for clients who need them. This streamlines the process and ensures applications are completed in one go.
When asked about the benefits of participating in this work, Onghetich explained not only is this work different from his day-to-day work, "It is what pro bono really is — you have a sense that you are contributing to your community, and for these clients, it is more than just helping. They have experienced a particular kind of struggle, and I can sit down and do this for them so that they can have at least some temporary relief."
While recent TPS clinics have been focused on providing pro bono legal assistance to Haitian immigrants in communities across central Indiana, the NIJC anticipates future clinics may also serve individuals who have fled Afghanistan and Ukraine given the countries' recent designation for temporary protected status. If you are interested in hosting a clinic, contact the NIJC at https://immigrantjustice.org/be-pro-bono-attorney.•
__________
Zena A. Braish and Rachel A. Phillips are associates in Faegre Drinker Biddle & Reath's Indianapolis office. Opinions expressed are those of the authors.
Please enable JavaScript to view this content.