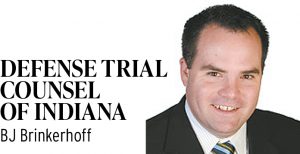 One of my favorite podcasts, "Men in Blazers," is led in part by a beautiful soul named Roger Bennett, whose recall of works of literature (among his other gifts) is stunning even to this trivia nerd. When discussion on the podcast turns from soccer to things way more important than soccer, Bennett often recites the poignant closing lines of Philip Larkin's "The Mower" from "Collected Poems," which inspired me in writing this column and which advice I hope we can all remember: "… we should be careful/Of each other, we should be kind/While there is still time."
While in Louisville for IndyBar's annual Bench Bar Conference, I ran into a fellow litigator with whom I had recently wrapped up a contentious dispute on behalf of our respective clients. From the outset, it was clear that there was no love lost between the two sides. During the multiyear litigation, this particular attorney objected to nearly every single request for professional courtesy — extensions of time, scheduling issues, remote attendance for hearings, Zoom depositions — to the point that it was somewhat silly to even ask before filing a motion with the court. I do not know if this was done at the direction of the client or for strategic reasons or if that was just their professional policy — I just know that everything was a battle.
It also got the best of me. While I pride myself on being as professionally courteous as possible, I found that I was returning fire fairly often and attempting to justify my actions with the mantra that "if you don't give any professional courtesies, then neither will I" — a grown-up version of, "Yeah, but they started it!" I do not like to practice that way, as it goes against what I believe in. Needless to say, our professional relationship on this case was as friendly as the PGA Tour and LIV Golf.
However, we ended up chatting about things way more important than our case. What started as small talk developed into a great conversation about hobbies, sports, travel, food, families and all those minutiae that make us who we are as people.
What was striking to me was the night-and-day difference between this lawyer's demeanor when advocating on behalf of a client compared to a social setting. It was as though these were two completely different people, and it made me question every thought, impression, conclusion and judgment I had made about my opposing counsel. It made me wonder why this person could not be as gregarious, open and agreeable as a lawyer as they were on this particular day.
It also made me do a lot of self-reflecting: Am I a different person in the courtroom? Different from what I am on the golf course, at a deacon meeting at church, with my kids? Is that good or bad? Am I being true to myself when I am representing my clients and their interests?
We all have a job to do on behalf of our clients. There are always times when a desire to be agreeable is overruled by the particular needs of our clients. Part of our role, however, is also to counsel our clients on the best methods to achieve their objectives. Sometimes, that means working to take emotion out of our matters, to help our clients focus on the big picture, and to encourage them to be more considerate and courteous.
But let us all be aware of, and avoid, the temptation to "stick it" to our fellow lawyers. Now is as good a time as ever to ensure that our practice of law also incorporates practicing kindness. Thoughtfulness. Compassion. The world we live in is frothing with acrimony. We are not quite out of the fog of the pandemic that forced us all back to our caves, where we all learned more about ourselves and those close to us than we ever cared to.
For the most part, your fellow lawyers ask for professional courtesies because they need them. Or their clients do. Equally so, I find most lawyers and clients are all willing to return the favor. Everyone is dealing with something, and we would all do well to take that into consideration. We should be careful, and we should be kind, while we still have time.•
BJ Brinkerhoff is a partner in the Indianapolis firm of Jeselskis Brinkerhoff and Joseph and serves on the DTCI Board of Directors. Opinions expressed are those of the author.
Please enable JavaScript to view this content.