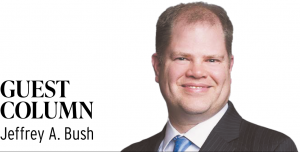 At the start of the new year, many attorneys find themselves preparing for new board positions. Just as important as preparing to perform our roles, however, is preparing to fulfill the obligations that come with those board positions. We are well-versed in the fiduciary duty that we owe our clients; at least some aspect of it has been covered in every continuing education class on ethics that I have taken. But are civic-minded attorneys as aware of the fiduciary duty that they owe when they serve on nonprofit boards? All who serve in that capacity owe a fiduciary duty to the organization, and that duty is different than the duty that is owed to a client.
The first part of the fiduciary duty for nonprofit board members is the duty of care. This concept should be familiar to corporate attorneys advising corporate boards. Duty of care involves spending the time and attention necessary to take care of the nonprofit. Board members must regularly attend meetings and stay informed of the areas of the nonprofit under their governance. If the attorney is on the finance committee, then they are responsible for managing the nonprofit's financial situation, including overseeing investments, investment managers and the investment policy statement.
Board members must use their expertise to provide guidance to the nonprofit for which they are responsible and use diligence and care in making decisions. Board members are fiscally accountable to the organization and are required to ensure operational sustainability to fulfill the organization's mandate, including managing the risks inherent in the nonprofit's activities.
The fiduciary duty to nonprofits also includes a duty of loyalty, which means that board members must prioritize the nonprofit in all relationships that affect it. Board members cannot engage in self-dealing or otherwise give themselves an advantage in their leadership of the nonprofit by steering business contracts to their own businesses or to businesses of friends or clients — unless they can show that doing so is commercially reasonable. Board members should avoid material conflicts of interest. If such conflicts cannot be avoided, then board members should examine whether they should even serve on the board. It is usually best to recuse oneself when there would appear to be a conflict of interest.
The final aspect of fiduciary duty for serving on a nonprofit is the duty of obedience. This concept requires board members to obey all legal requirements as well as make sure that the nonprofit is following all its legal obligations. For board members overseeing the nonprofit's finances, this includes the Indiana Uniform Prudent Investor Act, the Indiana Uniform Prudent Management of Institutional Funds Act, and ensuring the nonprofit completes all filings with the Internal Revenue Service. As attorneys, we are responsible for being well-versed in the applicable legal requirements or knowing when another attorney should be engaged and working with the rest of the board to ensure that all legal obligations are followed.
With all these obligations, it is crucial to have partners that understand these and other responsibilities and that help you honor your obligations. Counsel and external auditors are key partners, but so too should your nonprofit's investment adviser be a key partner. At Goelzer Investment Management, our Institutional Advisory Services Team acts as an outsourced chief investment officer to help ensure members and staff honor their fiduciary obligations as they seek to grow their endowments and protect and leverage their operational funds.
Many attorneys are rightfully charitably-minded and serving on nonprofit boards offers them chances to make a difference in their communities. Yet because these roles bring additional fiduciary duties, it is critical that attorneys know their responsibilities and the obligations that follow.•
__________
Jeffrey A. Bush is general counsel and chief compliance officer of Goelzer Investment Management, one of Indiana's largest independent advisory firms. Opinions expressed are those of the author.
Please enable JavaScript to view this content.