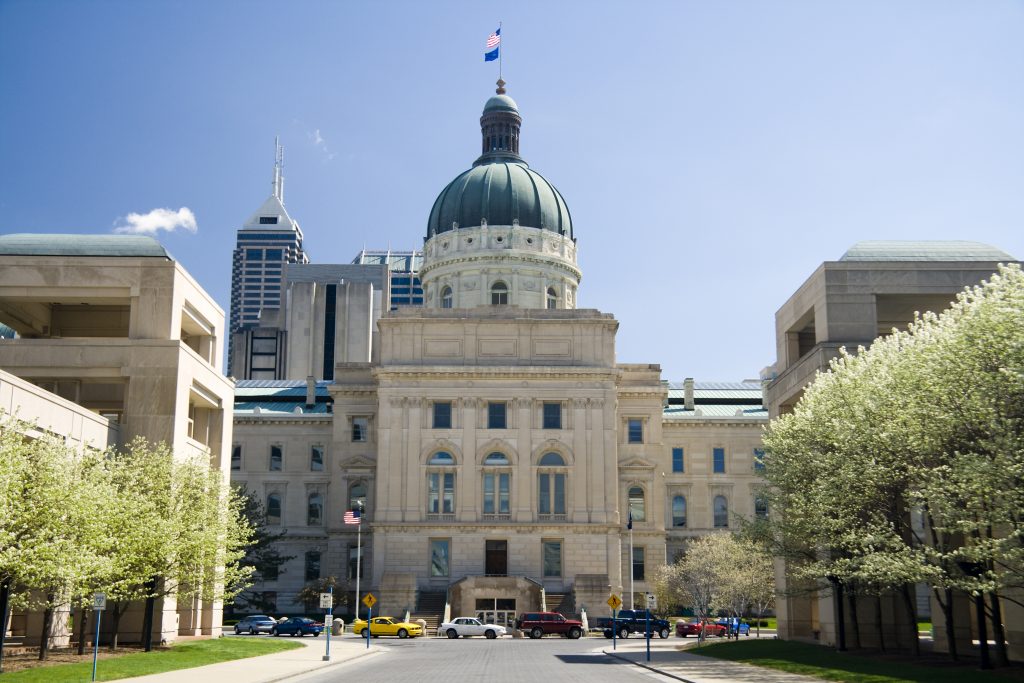 For the past decade, Republicans have held "supermajority" control of both chambers of the Indiana General Assembly.
Democrats would like to puncture the GOP's overwhelmingly dominating grip in the Nov. 8 election, but that will be a tall order.
"There always is a chance, but the odds may not be in their favor," said Andrew Downs, director emeritus of the Mike Downs Center for Indiana Politics at Purdue University Fort Wayne. "There are a large number of seats that are uncontested this year, which means resources can be concentrated in competitive districts. This might increase the chance Democrats can win in those districts, but it also means the Republicans have more resources to devote to defending those seats."
Having a supermajority means Republicans can conduct business in the Indiana House and Senate without a single Democrat present. That dominance denies Democrats even the strategic power of a temporary walkout, giving them few opportunities to influence policy.
Republicans currently outnumber Democrats in the House by a 71-29 margin and hold a 39-11 advantage in the Senate. In order to break the Republican supermajority in both chambers, Democrats would need to gain five House districts and six Senate seats.
"I think it's possible to break the supermajority," Senate Minority Leader Greg Taylor told Indianapolis Business Journal. "It's gonna come down to voter turnout."
But some in his party aren't as optimistic.
Kristin Jones, executive director of the Indiana Senate Democratic Committee, said she thinks her party may be able to flip a few competitive districts in both chambers but will have a hard time breaking the two-thirds control in both the House and Senate.
"I do not have hopes that we will pick up all of these seats," Jones said. "We will be watching them closely."
Senate races
Both parties have eyes on Senate District 31, where Democrats believe Fishers councilwoman Jocelyn Vare has a real shot at unseating Republican incumbent Kyle Walker. The district, which includes all of Fishers, Geist and parts of Lawrence, has gone from red to purple in recent years as younger families begin to populate the Indianapolis suburbs.
Democrats also like their odds in Senate District 46, which moved from southern Indiana to Indianapolis following 2020 redistricting. Andrea Hunley, a principal at Indianapolis Public Schools, won the Democratic primary in a landslide and is widely seen as the favorite in the race. Republican Evan Shearin, a Navy veteran and small business owner, ran uncontested in the primary.
Jones is also monitoring three Senate districts where Democrats are vulnerable, in part due to redistricting.
In Senate District 1, which includes portions of Lake County in the northwestern part of the state, Sen. Michael Griffin is in a tight race against Republican challenger Dan Dernulc, a Lake County councilmember.
In nearby Senate District 4, Sen. Rodney Pol Jr. hopes to stave off a bid from Jeff Larson, a retired teacher and former member of the Porter County Council who recently appeared with Senate President Pro Tempore Rod Bray in a campaign event last week.
"I can't even begin to imagine how many thousands of doors he's knocked on," Bray told IBJ. "He's run a really solid grassroots campaign and I think he's really making an impact."
Bray said he believes Larson and Dernulc have a chance to flip those Senate districts from blue to red.
Closer to Indianapolis, both parties have eyes on Senator JD Ford, whose 29th district encompasses parts of Boone, Hamilton and Marion counties. Ford is facing Republican Alexander Choi, a practicing anesthesiologist in the Indianapolis area.
Bray said he is "cautiously optimistic" that his party will maintain supermajorities in both chambers.
House races
In the House, Democrats are hoping to pick up District 82, which once included more rural portions of northeastern Indiana but was redrawn to encompass parts of Fort Wayne. Kyle Miller won the Democratic nomination in a three-way primary and faces incumbent Rep. David Abbott in November.
In District 62, which includes most of Monroe County, all of Brown County and a sliver of Jackson County, Democrat Penny Githens, a Monroe County commissioner, is hoping to turn the seat blue. Incumbent Rep. Jeff Ellington currently holds the seat, which was redrawn after the 2020 census. Githens is running against Republican Dave Hall, a farmer and small business owner, in November.
The newly redrawn District 32 — mostly located in Hamilton County and a small portion of northern Marion County — does not have an incumbent, and Democrat Victoria Garcia Wilburn could turn the seat blue. She faces Republican Fred Glynn, of Carmel.
Democrat Matt McNally, a decorated military veteran, is running against longtime incumbent Rep. Jerry Torr in District 39, which includes the city of Carmel.
House District 25, newly drawn to encompass Zionsville, Whitestown and Brownsburg, could flip from red to blue if Democrat Jen Bass-Patino defeats Republican Becky Cash.
In Hamilton County, Democrats are also watching House District 24, where Democrat Joellyn Mayer is mounting a challenge to incumbent Republican Rep. Donna Schaibley.
The Republican Party is keeping tabs on at least two House districts that could flip in their favor.
In House District 36, which includes the city of Anderson and portions of Madison County, the GOP is backing Republican Kyle Pierce to unseat Democrat Rep. Terri Austin. And in House District 71, Republican Scott Hawkins hopes to upset Democrat Rep. Rita Fleming in southern Indiana.
Differing platforms
Democrats have made abortion their most important campaign issue, hoping to sway traditional Republicans disillusioned with Indiana Republicans for passing one of the nation's strictest abortion bans after the fall of Roe v. Wade.
"We hear from Republicans who tell us that they have never voted Democrat in their life, but this election they are going to vote Democrat," Jones said.
Since Indiana's abortion ban was signed into law, the Republican Party has largely ignored the issue of abortion, instead focusing on the turbulent economy, inflation and the rising price of gas and groceries.
"A number of polls in recent weeks have shown that voters nationally and in Indiana are focused on economic issues that are impacting their daily life," Matt Huckleby, executive director of the Indiana Republican Party, told IBJ.
Democrats are outmatched in fundraising — the Indiana Republican State Committee raised $3.1 million in the most recent filing period, compared to $1.8 million for the Indiana Democratic State Central Committee — but that hasn't stopped the Democrats from traveling to all corners of the state to try and curry favor with Hoosiers.
Since June of last year, the party has conducted 11 tours across the state, holding 160 events in about 70 counties, according to Mike Schmuhl, chair of the Indiana Democratic Party. In more conservative areas of the state, they're often met with surprise.
"There's a few folks that are like, 'Wow, I haven't seen the Democrats here in awhile,'" Schmuhl said. "I think the Democratic Party has some great policies, but oftentimes we get sucked into the national media narrative or ecosystem, and we miss out on those face-to-face conversations. We're all Hoosiers at the end of the day."
Please enable JavaScript to view this content.