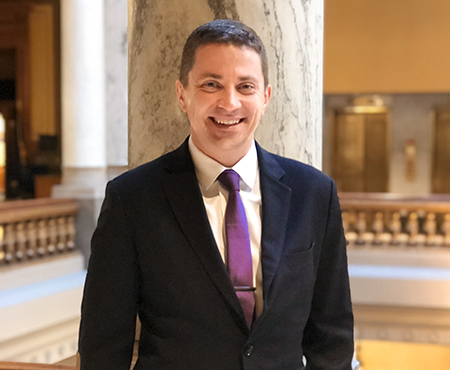 The Indiana Supreme Court's chief administrative officer is taking on new roles with the Indiana Conference for Legal Education Opportunity and the Indiana Bar Foundation.
Chief Administrative Officer Justin Forkner has been appointed to oversight roles with both organizations, according to the high court.
Forkner will serve as chair of ICLEO's advisory committee, serving a three-year term that began Thursday and replacing now-retired Justice Steven David in that role, according to a Nov. 18 order.
ICLEO, which recently celebrated 25 years, operates under Indiana Code § 33-24-13 and provides assistance to minority, low income or educationally disadvantaged college graduates in pursuing a law degree and legal career in Indiana.
Also on Thursday, Forkner began serving on the board of the Indiana Bar Foundation.
The articles of incorporation for the bar foundation give the Indiana chief justice the authority to appointment an ex officio, nonvoting member to the board. For this appointment, Forkner will serve a two-year term.
Please enable JavaScript to view this content.