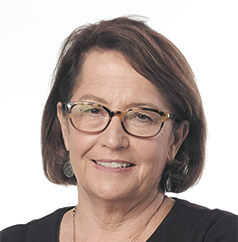 Indiana Chief Justice Loretta Rush represented the Conference of Chief Justices and the National Center for State Courts at the American Bar Association's Midyear Meeting on Monday, discussing efforts to better assist offenders in the criminal justice system who have mental illnesses.
Rush, president of the Conference of Chief Justices and chair of NCSC's board, emphasized the importance of mental health and civics education in her ABA address, according to a news release.
"Jails are not treatment centers, and they were never intended to be," Rush said in an address to the ABA House of Delegates, which met in New Orleans.
Rush has been a national leader on efforts to reform how mental illness is treated in the criminal justice system, advocating for offenders with mental illnesses to be referred to treatment rather than incarceration.
She has continued that advocacy through her work with CCJ and NCSC, noting in her speech that nearly one in five adults across the country live with a mental illness, with more than 13 million adults living with a serious mental illness.
"These individuals are 10 times more likely to be incarcerated than they are to be hospitalized," Rush said, according to the news release.
To affect change, NCSC has worked with the Substance Abuse and Mental Health Services Administration and other local and state mental health providers to draft recommendations on best practices and policies for courts and communities to use when dealing with offenders with mental illnesses. The recommendations include deflection and diversion to treatment, reforming the competency to stand trial system, addressing behavioral health and equity, and addressing the well-being of judges and court personnel.
"These recommendations won't solve the problem overnight, and we are only beginning to implement solutions," Rush said. "But we are committed to their pursuit — justice demands it."
The chief also spoke about the need for stronger civics education and improvements to media literacy to emphasize the significant role state courts and state constitutions have in shaping law.
Please enable JavaScript to view this content.