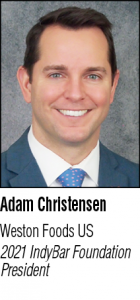 It's May in Indianapolis! The beautiful weather! The checkered flags! The sun-poisoned Clinton babies in cut off jean shorts and straw hats!
In a game of "What's More American Than…?", May in Indianapolis has trailed only baseball, democracy and pie as Americana incarnate.
Yet, come to think of it: baseball hasn't been interesting in years outside of New England; democracy – which is French anyway, but let's ignore that – is going through an awkward braces and acne phase right now (did you know there's still a recount going on in Arizona?!) and a big batch of pecan pies from my sister-baker-from-another-maker, Sara Lee, just got recalled for "undeclared peanuts."
If, then, we imagine a completely hypothetical scenario where the win, place and show horses are under investigation for testing irregularities (or as Bob "El Blanco" Baffert would claim, victims of horse "cancel culture"), I say we bump that trio off the podium and crack open a fresh bottle of cold milk for the new, slightly rosy face of American Summer 2021: May in Indianapolis!
But as we emerge from behind our Vitamin D lamps and push aside the mountain of Amazon boxes by our front doors, let us spend a moment to game plan our reentry into this new/old world with five steps to making the most of our May.
1. Girl, wash your face, and boy, shave yours
Pandemic beards. Home office hoodies. Pants without zippers. It's time for these railyard habits of 2020 to be upgraded to fresh faces, sundresses and salmon shorts. It's hard enough to recognize people after training for months to spot a friend from 20 feet by eye color alone. Check out that profile pic from your website – the one you haven't changed since you were an intern. Except for those bangs, that's how we remember you! So, unless you started a bluegrass band last winter, let's leave the mountain man look to those Robert Redford memes and freshen up.
2. Visit your family, friends and colleagues
See those open spots on your calendar that used to be filled with playdates, happy hours and birthday parties? Fill 'em up! Yes, we're all going to have the same awkward conversations at first: "How have you been holding up? Which vaccine did you get? How pumped are you for season 2 of Ted Lasso?" And, yes, it's hard to counteract the psychological inertia of months of avoidance and isolation. But, if there's one thing we should have learned through all of this, it's that there's no digital substitute for authentic, in-person interaction. Plus, your mother misses you, and may be a willing, free babysitter!
3. Pace yourself
Here's another thing I've learned in the past year: doing stuff is exhausting! By way of example, in the last week I went to a kid's birthday party, I met a friend for cocktails and I attended an in-person board meeting…and I was absolutely drained! So what if I used to be the social butterfly equivalent of a member of the Kenyan Olympic track team? I'm not ready to race, and I just may choose to not run like that anymore. An 8:30 pace is just fine for my near-40 self, and it could be fine for you, too.
4. Be grateful and respect others
For some of us, life has changed dramatically since last spring. Some of us have lost loved ones. Some of us have seen our visions of our communities changed by politics, or violence, or bigotry. Some of us have seen the shape of our families forever altered, whether by puppies and babies or by divorce and death. Look, we're all going to get back into the swing of things at our own speed and on our own time. We were all different going into the pandemic, and we may be even more different coming out of it. The community we've longed for is still there, but we have to be willing to rediscover it together with grace, humility and respect.
5. Sell your house
Please? Call me. We'll do happy hour.•
Please enable JavaScript to view this content.