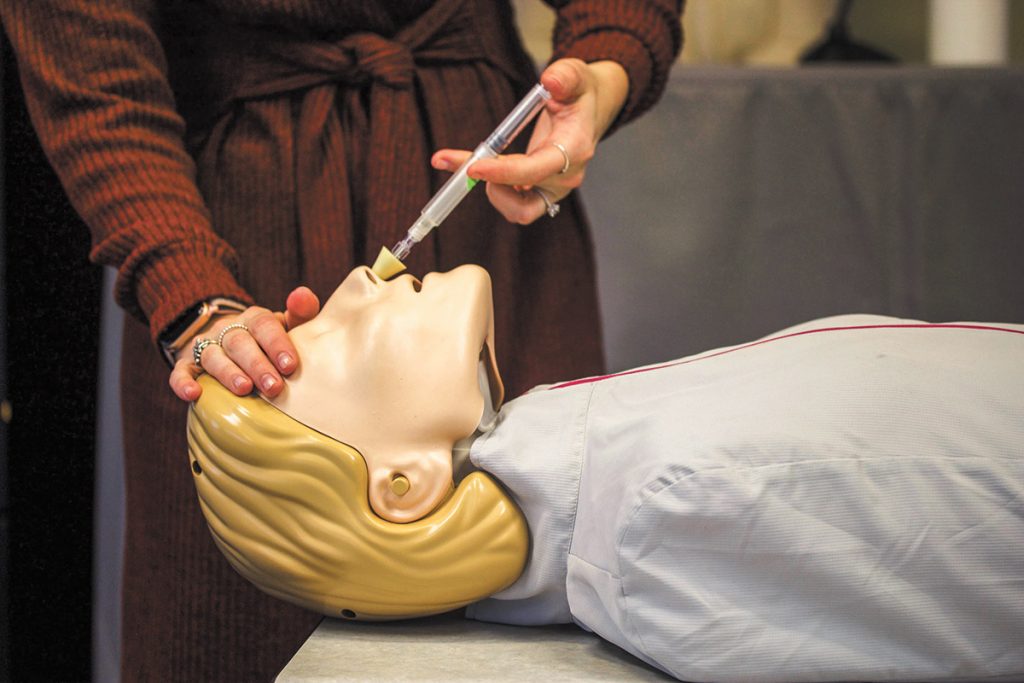 In addition to checking off two hours of CLE credit before the year's end, attorneys who attended an Indianapolis Bar Association event earlier this month left certified to administer a life-saving drug.
Lawyers learned how to properly use naloxone – commonly known by its brand name, Narcan – following a demonstration presented by the Indiana State Department of Health. Naloxone is used to reverse the effects of an opioid or heroin overdose, ISDH Naloxone Program manager Cassidy Johnson explained during the event. Its ultimate goal: To face drug abuse head-on by reducing the negative effects of an overdose.
"Many opioid-related overdoses we are seeing in the state stem from a mixing of different prescription drugs, illicit or nonillicit, as well as alcohol, cocaine, etc.," Johnson said. "From all four corners of the state we are seeing at least one, two or often times more substances in that person's body. It's very rare to just see one."
Currently, Johnson said many of the overdose cases she sees include the use of drugs that contain non-pharmaceutical fentanyl. Often disguised as prescription pills, fentanyl is 100 times stronger than heroin, she said. That makes administering a counteractive drug all the more urgent.
When?
Participating attorneys walked through a six-step process for administering naloxone, beginning with how to recognize if an individual has overdosed. Persons experiencing an overdose will display slow or no breathing, potentially have pinpoint pupils, begin vomiting, or become pale and clammy. Their lips, toenails or fingernails may turn blue, and they may have an erratic or slow pulse, make snoring or gurgling noises, or appear to be falling asleep.
The first step, Johnson advised, is to attempt to rouse the person. If no response is received from either verbal or physical stimuli, an overdose is likely occurring. Step two is to administer naloxone if readily available or, if not, to immediately call 911.
"Naloxone comes in and knocks the opioids from the opioid receptors in the body. It can only hold on for about 30 to 90 minutes, so it's very important that you call 911 as soon as you administer it," Johnson explained.
The next step is to perform rescue breathing on the individual. While it is encouraged, rescue breathing is not required, Johnson said. If naloxone has yet to be administered, continue to rescue breathing.
"If breathing resumes, make sure the person is lying on their side so they don't choke if something comes out of their mouth or if they vomit," Johnson continued.
Lastly, administer naloxone again if needed.
How?
The overdose intervention drug can be administered in three different ways: through a nasal spray, an autoinjector or a manual injection. NARCAN Nasal Spray is the most popular, Johnson said, due to its efficiency and ready-to-go packaging.
"To administer, there is no assembly required. One hand on the forehead, one hand to tilt their chin up. You want to have your pointer and middle finger on the top of the dose and then your other fingers on the side. Some people want to put their thumb in the middle, but if you press that plunger too early, you're just going to put it in the air or right into their face, and that won't do anything," she explained.
Next, the device's nozzle should be inserted into the individual's nose. Once secure, the device can be activated by pressing the plunger and letting go.
"Make sure their head is back for a couple seconds before administering so it doesn't drip out. You cannot control how much is given," Johnson advised.
Naloxone can be obtained without a prescription at any naloxone entity registered with the ISDH, she said. Those locations can be found at https://optin.in.gov/. Individuals seeking naloxone can ask the entity to use the state health commissioner's statewide standing order.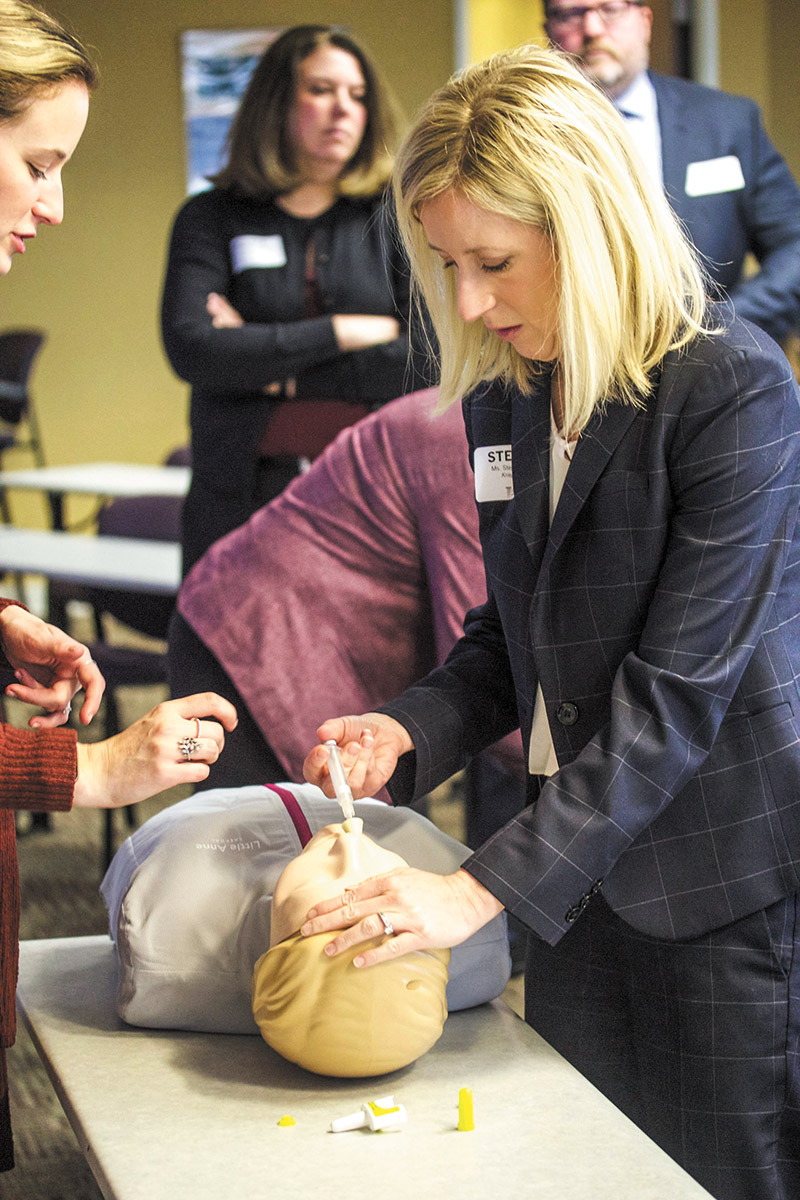 Who?
Prior to the enactment of Indiana Code § 16-31-12, the use of naloxone was only seen in hospitals. However, the statute expanded its use so that emergency medical technicians could carry and administer naloxone at the scene of an overdose.
In 2015, the measure was taken a step further with the passage of Aaron's Law, or Senate Enrolled Act 406. The law gives the general public the ability to administer naloxone for family or friends whom they deem to be at risk for experiencing an opioid overdose. They must, however, be trained and certified in how to use it.
Stigmas surrounding the prescription or use of naloxone continue to linger, Johnson said, leaving many hesitant to call 911 in the event of an overdose.
"If some people were also using paraphernalia or drugs and the person they are with is overdosing, they don't want to call 911 because they think they will get in trouble, too," she said. "But they are protected under Aaron's Law to call 911 and won't have any repercussions."
Legal implications
Although protection is provided for those who call 911 under SEA 406, Stephanie Eckerle of Krieg DeVault pointed out that there are instances where protection would not necessarily be warranted.
"For example, it does not protect against public intoxication. So if the overdose occurs in a public place, the person who administers is not protected if they also are intoxicated," Eckerle said during the CLE. The same is true, she added, for those who call 911 but have or are violating their probation.
"I think there is still a stigma here even with this law, and there's training that needs to be done with the general public about what it protects, both from an immunity standpoint and, I think more importantly, just a health standpoint," Eckerle said.
Attorneys representing health care providers must be cognizant of their clients taking every step required of them in the process of dispensing or prescribing naloxone, Eckerle said. Lawyers should also consider the administration of naloxone and the civil immunities listed in I.C. 16-31-6-2.5 when advising hospital clients or other entities that have emergency medical services.•
Please enable JavaScript to view this content.