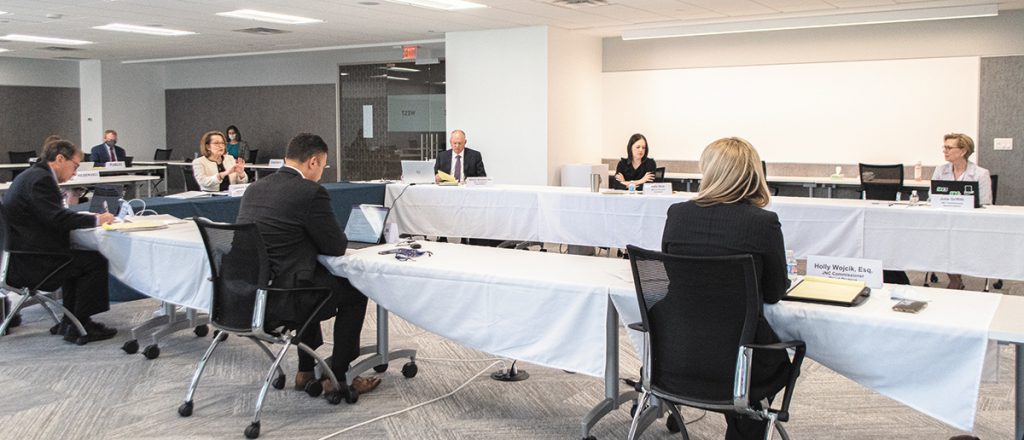 Unlike last year, this month's meeting of the Indiana Judicial Nominating Commission to interview candidates for the Court of Appeals followed a more traditional pattern.
The commissioners sat around a large conference room table, with Indiana Chief Justice Loretta Rush on one end and the applicants on the other. Members of the public were allowed to sit in the audience. And at the conclusion of the two-day process, 12 of 23 candidates were chosen in a public vote to proceed to a second round of interviews.
That's notably different from last year's interviews of candidates to succeed now-Senior Judge John Baker. Held in summer 2020, those applicants didn't publicly meet with the JNC in-person unless they were selected as semifinalists.
Still, this month's interviews to succeed Judge James Kirsch were reflective of the ongoing pandemic. Masks were frequently worn, seats were socially distanced and the applicants' spot at the table was wiped down each time an interview ended.
The commission's questions were reflective of the tumult of the last year, too. "What have you learned about yourself during the pandemic?" some candidates were asked. Others discussed the national movement for racial equity following the death of George Floyd one year ago.
But even though the world changed in the year between the two vacancies on the 15-member Court of Appeals, some issues important to the court remained the same. As in years past, commissioners asked candidates about their judicial philosophies, their thoughts on criminal justice reform and their views on the role of the court in society.

Based on their responses and applications, 12 candidates will participate in a second interview JNC on June 8. The commission then will vote on three finalists, whose names will be submitted to Gov. Eric Holcomb, who'll make the final selection.
The semifinalists are:
Stephanie K. Bibbs
Stephen R. Creason
Madison Circuit Judge Mark K. Dudley
Hamilton Circuit Judge Paul A. Felix
Elizabeth C. Green
Derek R. Molter
Marion Superior Judge Timothy W. Oakes
Howard Superior Judge Brant J. Parry
Patrick W. Price
Zachary J. Stock
Cass Superior Judge Lisa L. Swaim
Marion Superior Judge Heather A. Welch
Here's a look at some of the common themes in the JNC's questions.
Pandemic lessons
Of all the things that could've happened while she was the presiding judge of the Marion Superior Courts, a pandemic was not what Judge Heather Welch expected.
Asked what she learned about herself during the COVID lockdown, Welch said she realized she was more flexible than she knew. The COVID guidelines seemed to change daily, but Welch had to find a way to keep the courts open and operational.
"It's all in how you respond to the situation," she said.
For Elizabeth Green, the pandemic opened her eyes to what she described as her "staying power." Not only did her job at the Indiana Department of Workforce Development change, but so did her life as a mom of three.
Even so, Green said she knew she had to keep going. The DWD already had been taking steps to modernize its unemployment insurance system, and the department was able to build on those changes when it became fully virtual. Her role in that process, she told the JNC, was to contribute to those modernization efforts to keep the DWD on track.
Common law questions
Common law changes very slowly, and for good reason. But what if there's a case that could yield a common law change?
Patrick Price, special counsel in the Office of Management Budget, said part of the analysis in a common law question is whether the law makes sense in today's society. He gave the example of constitutional protections against unreasonable searches and seizures – when the state and federal constitutions were drafted centuries ago, cellphones didn't exist. That can change the view of those common law protections, he said.
Already a judge, Timothy Oakes of the Marion Superior Court said it is "so rare" to encounter a novel issue in common law, noting those principles often date back to old English law.
In those rare cases, then, it's important for a judge to do his research, Oakes told the JNC. He suggested looking to other states, then asking whether a ruling on a common law question makes sense in the context of public policy.
Judicial philosophies
Asked about their judicial philosophies, the candidates mostly gave the same answer: The law is what it says, not what judges want it to say. But Zachary Stock, an attorney with the Indiana Senate Majority Caucus, said he has a unique perspectiveon judicial interpretation.
Describing himself as a "moderate originalist," Stock said he believes in following the text of the law but also knows that things have changed since constitutions were drafted in the 18th and 19th centuries. He also noted he's seen the making of the so-called sausage when it comes to the legislative process.
"For me to tell someone, 'This is the legislative intent of this bill,' is a difficult proposition for me to swallow, having seen it firsthand," Stock said. "I think that is an important perspective when trying to interpret. We're left with the text, which tells us what we have to do."
Derek Molter, a partner at Ice Miller LLP, offered a unique perspective on judicial philosophy. As a judge on the Indiana Court of Appeals, he said, he wouldn't be at liberty to have one.
The COA is an intermediate court, Molter noted. That means that whenever he's reviewing a case, he'd have to follow whatever analysis the state justices have laid out for that particular issue.
Diversity
Stephanie Bibbs, the only Black person to apply for Kirsch's vacancy, sees herself as bringing more than racial diversity to the Court of Appeals. Bibbs, now chief of the criminal charging division of the Marion County Prosecutor's Office, emphasized her diverse background in the practice of law as a key attribute she would bring to the appellate court.
Bibbs has experience as both a prosecutor and a defense lawyer. She's been the advocate who builds a case to bring charges, as well as the advocate who builds a case to tear those charges down.
That experience gives her an "objective" view of the law, Bibbs said. Likewise, her experience transitioning between prosecuting and defending gives her confidence that she could make the transition from advocacy to the bench.
For Judge Mark Dudley, promoting diversity on the Madison Circuit Court bench has involved engaging with the local minority community. The Madison County Courts held a virtual town hall about race and equity last year, where Dudley heard "emotional" stories from citizens who felt they had not been treated fairly by the justice system.
That town hall led the Anderson-based courts to adopt implicit bias training, Dudley said. Also, whenever there's an opening in the Madison County Courthouse, he reaches out to minority groups and encourages qualified candidates to apply.
Community engagement
As a judge, Paul Felix of the Hamilton Circuit Court knows he has the unique ability to convene stakeholders to discuss pressing public issues. He's used that power to serve local youth via the Juvenile Detention Alternatives Initiative. He also is a member of the Supreme Court's Rules Committee.
As a Court of Appeals judge, Felix said he'd want to continue that work, serving all Hoosiers across the state.
"I'm trying to return the benefits the law has had in my life," he said.
In Howard County, Superior Court Judge Brant Parry has engaged community service providers to open both a veterans court and a mental health court. Parry described those courts as "building bridges" between hospitals, law enforcement and offenders whose offenses may stem from something deeper than mere criminal intent.
"We want to get them out of jail as soon as possible and get them into treatment," Parry said.
Learning curve
No lawyer can know everything about the law, but judges on the Court of Appeals regularly decide cases on all manner of legal issues. The JNC frequently asked candidates how they would rule on appellate cases in an unfamiliar area of law.
For Judge Lisa Swaim, that area was civil law. A former prosecutor who was appointed to the Cass Superior Court bench in 2019, Swaim said her focus when she took the bench was learning civil law. She's always had an interest in civil law, she said, but had few opportunities to immerse herself in those issues before she took the bench.
"What I'm doing now is just an explosion of civil work, and I love it," she told the JNC. "My first trial was a civil case."
Stephen Creason, chief counsel of appeals at the Indiana Office of Attorney General, was asked about his lack of judicial experience. Though he acknowledged he's never sat on the bench, Creason said his years of experience in appellate litigation have prepared him well for the COA.
Creason said he knows the appellate process "intimately." He understands the limits, the role of the fact-finder and the work of the lawyers in the appeals process. That perspective, he said, is equally as important on the Court of Appeals as that of a trial judge.•
Please enable JavaScript to view this content.