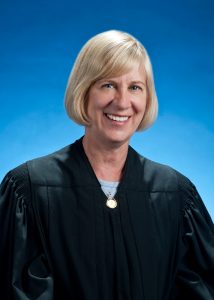 Indiana Court of Appeals Judge Nancy Vaidik is in stable condition after being "seriously injured" on Sunday.
The court released a statement Monday saying Vaidik was injured during a "recreational outing with her family." She is currently hospitalized and in stable condition.
Vaidik, a former chief judge of the Court of Appeals, joined the appellate bench in 2000 and was retained by election in 2002 and 2012. She served as chief judge from Jan. 1, 2014, to Dec. 31, 2019.
Vaidik's schedule on the bench "will be adjusted as appropriate as she recovers," according to the COA. The court declined to provide other details about Vaidik's accident or condition out of respect for the privacy of the judge and her family.
Please enable JavaScript to view this content.