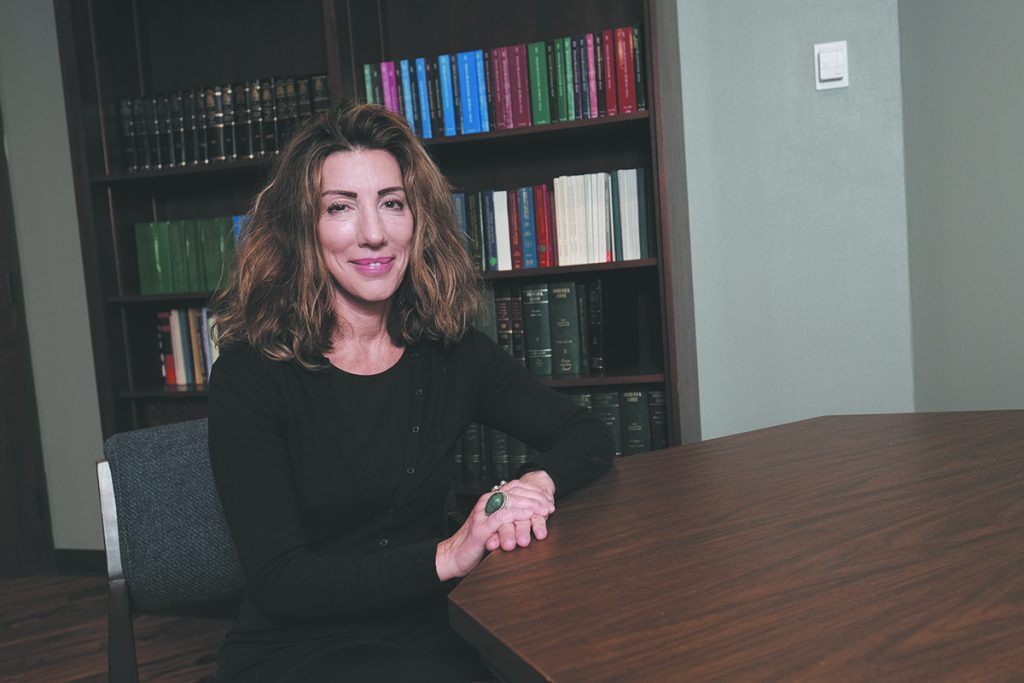 "Stubborn and kind." That's how Indiana's new state public defender Amy Karozos describes herself.
Born and raised in Greenwood, Karozos began her career at the State Public Defender's Office as a law clerk. She worked there for several years before moving into nonprofit work, where she trained and offered technical assistance to attorneys and others in the juvenile justice system.
Karozos, a graduate of Indiana University Robert H. McKinney School of Law, later served four years as a project director for the Indiana Public Defender Council on a federal juvenile grant. Most recently, she worked as a Marion County public defender in the juvenile division.
In her most recent transition, Karozos was officially appointed as Indiana's state public defender, bringing her career full circle to the place where it all began.
The Indiana Supreme Court in December selected Karozos from a group of finalists applying for the position that opened upon previous public defender Stephen Owens' retirement at the end of 2019. Karozos began her four-year term Jan. 13.
"It's nice to be back," she said.
Praising the public defender's office, Karozos noted Indiana has a "kind of unique post-conviction system."
"We do a very good job of making sure people can get access to lawyers and get review and relief," she said of the office. "One of my goals is to continue the great work that they are doing, hopefully, and get to as many people as possible and get to more people."
As the state public defender, Karozos said she wants to be a positive part of improving Indiana's justice system. She sat down with the Indiana Lawyer for an interview on her second day on the job.
What drew you to the practice of law?
I'm really interested in and passionate about fairness and equality. That was always my interest. What drew me to law, I think, was my mother always told me I should be a lawyer because I like to argue so much. And I said, "No I don't."
Do you agree with her about that?
After many years, now I do.
Why did you choose public defense work, specifically?
To me, it should be an equal playing field for everybody. So, your outcome and the experience you have shouldn't depend on where you live or how much money you have. And I think public defenders are the people who can level that playing field and make the law work the way it should work and make sure the system is fair.
Do you remember the first time you defended a case?
Yes, I do, because since I started out here, the first time I actually had a public defense case was a post-conviction case.
What was that like?
The first case was very exciting — it's a whole new world. Our clients are all in prison, so going to meet the client and working with them, going to court with them, was very exciting. I lost my first case, so that was, I guess, a good introduction to post-conviction relief. So we have an uphill battle here.
Throughout the course of your career, has your passion for public defense increased?
I would say with each different experience and different organizations and assist of doing appeals and a little bit of trial work, it's just increased because you can see some great outcomes. But you can also experience great unfairness, and you can see how some people aren't afforded due process in the system.
What is something you do for fun to relieve stress?
I really like to hike. There's not a lot of great places right here to hike, so I have to figure that out. But I like to travel and hike and ride my bike. … I saw a bear when I went hiking with my daughter one time, and I would be afraid to go hiking alone. I would be a snack immediately.
Why is juvenile justice important to you?
To me it's just really important to get people early on and try and get a just result for them. Fairness is super important to kids and you can really make a difference in somebody's life and the trajectory of their life if you can catch issues early. All of our clients, if you look back on what they've experienced, may have histories of trauma and abuse, and a lot of times other problems that were never dealt with when they were kids that most of us wouldn't end up where we are today if we had had to go through that.
What is one thing you hope to accomplish during your term as state public defender?
I would like to support the work that they are doing. We have a lot of attorneys that have expertise in criminal law, so I want to try and foster more connections with the defense community and this office because we have a lot to offer. One of the goals I think that all of us have is to just expand the services to as many people as possible to make sure that we are able to get to as many people that need help as we can.
Is there anything you are most looking forward to doing during your time as the state public defender?
I'm looking forward to everything. I'm excited to be working with this group of attorneys. There are some that have been here since I started here as a law clerk, but there are a lot of new ones that I haven't gotten to know yet. I'm just excited to be back working on post-conviction again and fighting that fight again.•
Please enable JavaScript to view this content.