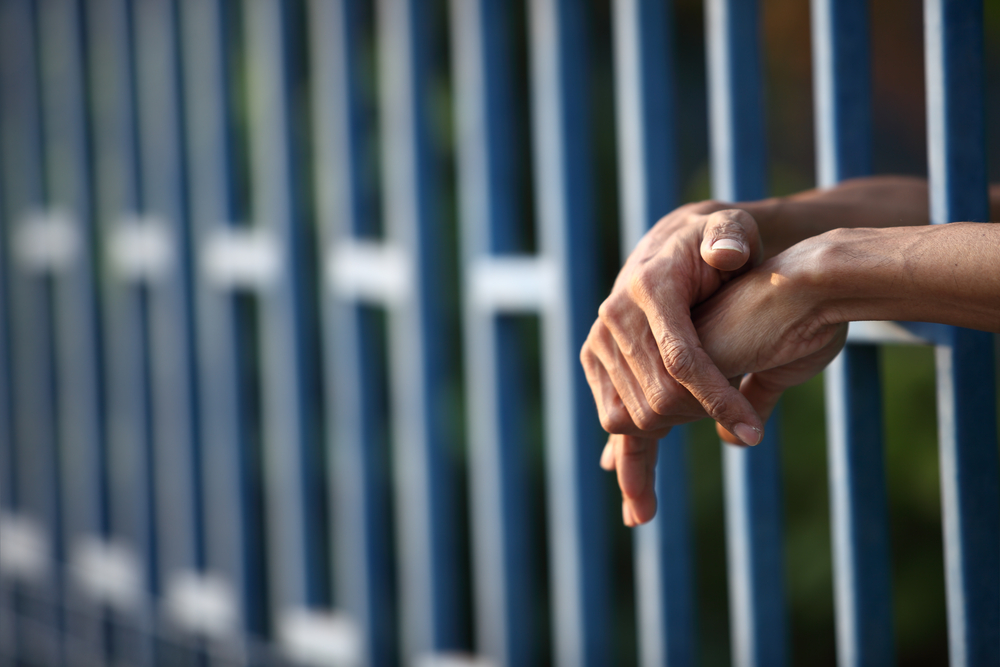 A House bill that would ease Indiana's process for the "compassionate release" of inmates with health issues won't get a hearing in the Senate, according to a crucial committee chair – but advocates say they're not done pushing the measure.
"A judge has seen fit or a jury has seen fit to convict somebody of something and they're serving a sentence," said Sen. Aaron Freeman, R-Indianapolis. "To set up a procedure where then they can get out of jail? That's no small issue. We have to make sure it's right and I'm just not sure that the current bill was right."
Freeman, an attorney, chairs the Senate corrections committee to which House Bill 1648 was assigned.
Under House Bill 1648, a few hundred Hoosiers currently incarcerated could be released early, if approved by a judge, due to their poor health or age. The bill passed the House chamber with near-unanimous support on an 89-1 vote.
David Bowser, the campaign operations director for REFORM Alliance, said the organization went around the country to find locals interested in modernizing and updating the criminal justice system.
"Our goal is to find pathways home and to reintegrate (people) into the community as efficiently as possible – to reunite families, get more people into the workforce, get more people educational opportunities," Bowser said.
REFORM is one of several partners in the Indiana Secure Communities Coalition, a new collaboration that endorsed the bill.
What is compassionate release?
House Bill 1648, authored by Rep. Bob Morris, R-Fort Wayne, would ease the process for modifying the sentences of qualifying inmates and would require the Department of Corrections (DOC) to track candidates. Morris, in a committee hearing, said DOC already does this.
Those over the age of 65 or with a qualifying medical condition must meet certain parameters, depending on the severity of their crime and the length of their sentence. Additionally, those petitioning for release must prove they have suitable living quarters and will receive the appropriate medical care.
Indiana allows a limited form of compassionate release now but judges don't have to hear cases presented. In late February, Gov. Eric Holcomb granted clemency for someone convicted of dealing methamphetamine in 2019 after they were diagnosed with an inoperable stage four brain tumor.
Steven Snider, who shared his story with the coalition, considered himself fortunate to secure a hearing for compassionate release before an Indiana judge after a cancer diagnosis, but said it only happened because of the intervention of an outside party.
The family of Matthew Gross wasn't so lucky. After being imprisoned for a technical violation, he was diagnosed with terminal cancer but died just days before he was due to be released to spend his final days with family.
Courts must respond to petitions within 30 days under the proposal. The DOC must also notify the county's prosecutor and public defender or attorney if an inmate becomes eligible.
Additionally, the DOC must notify an inmate's emergency contact or next of kin within 14 days of a qualifying diagnosis and allow a visit – which could be virtual or via telephone – within 30 days.
Proponents of the bill say there is a conservative argument to be made for compassionate release, alongside ethical motivations. The bill has the support of the Nolan Center for Justice, a project from the American Conservative Union Foundation and the Conservative Political Action Coalition.
Patrick Plein, the director of the Nolan Center, works alongside Bowser on the bill.
"We really see the criminal justice system writ large as one of our nation's biggest problems," said Plein. "We, as an organization that cherishes freedom and values government accountability, the ability for the government to put you in a box for a very long time is one of the most expensive powers they have and it gives us real concern."
Could it save money?
The fastest growing population behind bars are those who are 65 and older, many of whom have prohibitively expensive medical conditions.
According to the bill's fiscal, it costs the Department of Corrections $27,185 annually, on average, to house an offender, with an additional $4,456 for food, medical and transportation costs. Those costs continue to increase with each contract and the General Assembly is considering spending $800 million to upgrade correctional facilities in the current budget, primarily a replacement for the aging Westville Correctional Facility.
Bowser said that money could be better spent somewhere else.
"We have limited resources to address serious violent crime issues and we need to put as many resources as we can into those areas," Bowsesr said. "States have limited resources and are using those resources to lock up somebody in a wheelchair."
Instead of tying up correctional officers in care for someone with demanding physical or mental health care issues, that money could be redirected to bolstering law enforcement or other public safety measures.
"We need to be really investing in these crime prevention tactics as opposed to making ourselves feel good about locking somebody up for 40 years and then patting ourselves on the back and walking away, saying we did a good job," Bowser said.
A review by the federal government analyzing compassionate release found that the recidivism rate was just 3.5% for qualifying inmates, compared to 41% for the general population.
'We're not waiting'
Freeman said it is just his first year as chair and the bill could be reintroduced next year after addressing some of his concerns.
In particular, he said he was nervous about some language that might allow someone who committed a violent crime late in life out of prison after just a few years.
"That's a complex problem," Freeman said. "I just think we've got to be … thoughtful about that and take our time to get it right."
Despite Freeman's hesitation, proponents said they would continue pushing for the idea – which could potentially be incorporated into another bill.
"There are people dying behind bars right now who can safely be home with their families to live their last days with some dignity," Bowser said in a statement to the Indiana Capital Chronicle. "We cannot and will not walk away. We will continue to fight through the very last day of session until this bill is passed."
The American Conservative Union and Americans for Prosperity noted they will be including this bill when releasing conservative scorecards in the upcoming year – a ranking in which Indiana plunged in the most recent edition.
The Indiana Capital Chronicle is an independent, not-for-profit news organization that covers state government, policy and elections.
Please enable JavaScript to view this content.