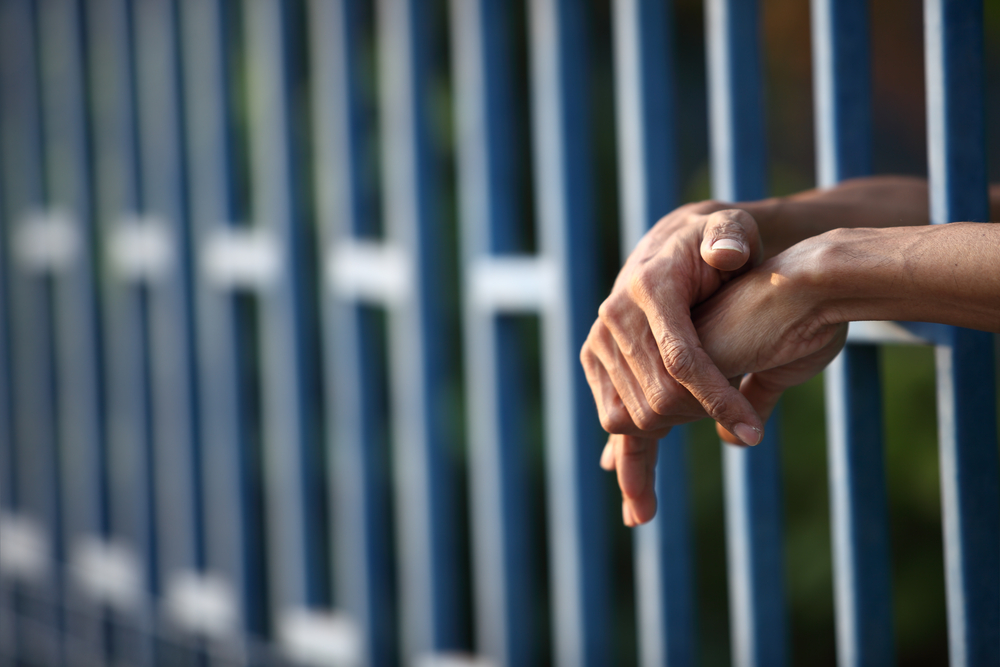 A constitutional change letting judges deny bail to anyone they deem a "substantial risk" squeaked through an Indiana House committee Wednesday after several edits and detailed discussion.
Senate Joint Resolution 1 supporters contend it would prevent repeat criminals from committing additional alleged offenses while out on bail. But opponents argue its vagueness could be misused, with life-altering consequences for people presumed innocent.
"There are times when it is simply too dangerous to public safety to release a defendant before trial, under bail or any other conditions," author Sen. Eric Koch, R-Bedford, told lawmakers. He said the proposal would recognize "the primary importance of public safety when it comes to pretrial release decisions."
Judges can take public safety concerns into account when setting bail or other pretrial release conditions, but can't outright deny bail. Indiana's Constitution currently only allows denial to people accused of murder or treason, as long as there's enough proof.
Changes allay fears, but more remain
Since the constitutional amendment was filed, critics have complained that its provisions were too vague and subjective.
Lawmakers on Wednesday approved changes tasking the state with proving that "no release conditions will reasonably protect the safety" of specific individuals or a community more broadly. Koch's amendment also specified a mid-tier burden of proof: clear and convincing.
Numerous witnesses said they appreciated the changes and preferred the edited version of Senate Joint Resolution 1 but wanted lawmakers to go further by defining "substantial risk" or setting limits on the charges eligible for bail denial.
"'Substantial risk' of what?" asked Mike Cunningham, who chairs the Indiana State Bar Association's Criminal Justice Section. "Are we talking about physical harm? Are we talking about communicable disease? Are we talking about emotional harm?"
Another speaker suggested language specifying that judges assess risk based on past violent convictions or safety concerns. Witnesses also suggested that lawmakers include eligibility markers restricting bail denial to felonies, or to violent charges.
Cunningham, a self-described "conservative defense attorney," said he feared people charged with misdemeanors — like failure to comply with mask mandates or disorderly conduct at school board meetings — could get locked up pretrial without bail.
Bernice Corley, executive director of the Indiana Public Defender Council, warned that courts would set definitions and limits through caselaw if lawmakers themselves do not.
"If the General Assembly does not like the body of casework that will come if this should pass, you all (would) have a couple of choices," Corley said: continually legislate around court actions, or reamend the Constitution.
She said she also feared the measure could increase jail populations, straining facilities throughout the state that already operate near or beyond capacity.
Closing the 'revolving door'
Law enforcement and prosecutors groups testified in support of the proposal, arguing it would benefit public safety and emphasizing existing due process protections.
Ed Merchant, who spoke on behalf of the Fraternal Order of Police, said the bill would address "the revolving door of justice" to "a certain extent."
Courtney Curtis of the Indiana Prosecuting Attorneys Council said arrestees in certain counties must have counsel at bail hearings, and arrestees everywhere can already appeal bail decisions.
Curtis said she didn't fear what judges might do with the resolution because the proposal borrows language used in existing code and caselaw.
But she said Indiana should "balance" a recent rule — which tells courts to release low-risk arrestees without bail — with the proposal's stepped-up pretrial detention, or risk an increase in crime.
Vote not as close as it appears
The committee approved the proposal 7-5, with several lawmakers voting against their parties' positions.
Republican Reps. Lorissa Sweet of Wabash and Jennifer Meltzer of Shelbyville, neither of whom immediately responded to requests for comment, voted in opposition.
Indianapolis Democrat Rep. Mitch Gore, who works in law enforcement, voted in support. Gore declined to comment.
A tied vote would have tanked the proposal. But Republican Rep. Steve Bartels of Eckerty was in another committee and could have been called back for the vote to pass the bill.
The constitutional amendment has several more votes ahead of it. The House must approve it, and the Senate must in turn accept Wednesday's changes.
Because the measure seeks to change Indiana's Constitution, lawmakers must pass it again after a new Legislature takes office in 2025. Then, it would go to ballots in 2026. A majority of Hoosiers would need to support the resolution for it to take effect.
The Indiana Capital Chronicle is an independent, not-for-profit news organization that covers state government, policy and elections.
Please enable JavaScript to view this content.