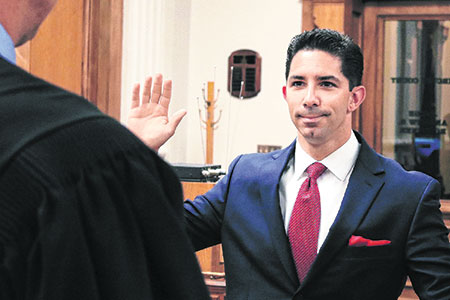 Former Johnson County Prosecutor Bradley Cooper told his domestic violence victim and former fiancée in court on July 17, "I did it. I did it all," as a judge accepted his guilty plea to felony counts that terminated his ability to serve in his elected office and jeopardize his license to practice law.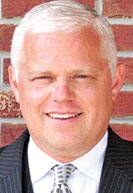 Cooper was sentenced as expected in Hancock Superior Court for Level 6 felony counts of criminal confinement, identity deception and official misconduct, as well as a misdemeanor count of domestic battery, stemming from a March 4 domestic violence incident. He pleaded guilty to the charges in April.
Now, the local Republican Party is proceeding with plans to select Cooper's successor at an upcoming meeting of 133 precinct committee members of the Johnson County GOP. Joe Villanueva, who has been the county's chief deputy prosecutor for the last decade, was sworn in as interim prosecutor on the afternoon of Cooper's sentencing.
"As you can imagine, just due to the circumstances of how we got here, folks feel disappointment in Brad and all that has happened," said Beth Boyce, chair of the Johnson County Republican Party. She said the local party is ready to move on from the legal trouble surrounding Cooper and the county prosecutor's office.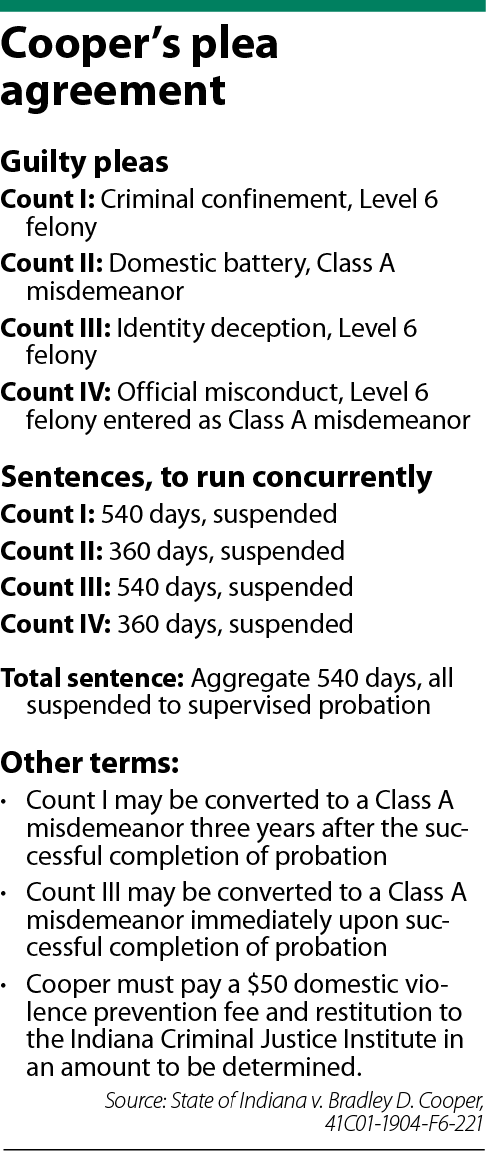 Immediate consequences
Hancock Superior Judge Dan Marshall, serving as special judge, accepted Cooper's plea agreement, sentencing the former prosecutor to 540 days, all suspended to supervised probation. The plea agreement also laid out the terms of Cooper's resignation, with Decatur County Chief Deputy Prosecutor Doug Brown, who served as the special prosecutor on Cooper's case, telling Marshall that Cooper had complied. Compliance, Brown said, included Cooper formally submitting his resignation and returning official items, including office and vehicle keys, computer passwords, an iPad and his official prosecutor's ID.
Meanwhile, late on the afternoon of July 17, the Indiana Supreme Court Disciplinary Commission issued a notice of finding of guilt and request for suspension, formally launching an attorney discipline action against Cooper upon the acceptance of his felony guilty plea. Under Admission and Discipline Rule 23, Section 11.1(a)(2)(1), lawyers must report felony guilty findings to the commission, which then reports the findings to the Indiana Supreme Court and requests a suspension.
In the months since his arrest, Cooper continued to draw a prosecutor's salary, which an Indiana Supreme Court spokeswoman said is $151,137 for 2019. But the court told Indiana Lawyer that late in the week of July 8, the Office of Judicial Administration placed Cooper on no-pay status pending review of the criminal matter.
As of IL deadline, Cooper was listed in the Indiana Roll of Attorneys as being active in good standing.
'A higher standard'
Cooper was solemn throughout the sentencing proceedings, quietly chatting with a small group of men before Marshall entered the Greenfield courtroom. When the proceedings began, a couple of men patted Cooper on the back as a sign of support.
Cooper kept his eyes down for most of the hearing, sometimes reviewing court documents as the judge read the charges and sentence. When he spoke, he did so very quietly.
Given the opportunity to make a statement, Cooper first thanked Marshall and Brown for taking on special roles for his case. He then apologized to all the people he "let down," turning specifically to his victim, who was in the audience, to offer his contrition.
Cooper told the court his victim bore no responsibility in the domestic violence incident in which he struck her, confined her, then pretended to be her in text messages.
Though she attended the sentencing, the woman did not speak. Instead, she had earlier agreed to a waiver of victim impact statement indicating she had attended the initial guilty plea hearing and was satisfied with the proposed sentence.
"As set forth in the plea agreement, she is aware of the Defendant's treatment progress in the last 90 days and expects the progress to continue while he is on probation," the court filing says. "She is pleased that the Defendant accepted responsibility early in the process and acknowledged that the television media statements he made immediately following the event were untrue."
In sentencing Cooper, Marshall said he does not normally make a sentencing statement. However, as a former deputy prosecutor and now a judge, Marshall said he and Cooper should understand that they should be held to a higher standard.
Misconduct by public officials, Marshall said, undermines public trust in the judicial system. Indeed, to the dismay of some in Johnson County, Cooper had continued to serve in the prosecutor's office in Franklin after he was charged with and pleaded guilty to the felonies.
Marshall also said Cooper, as someone who works in the criminal justice system, should understand the impact criminal conduct can have on the affected parties.
Moving on
Brown said in court that Villanueva was being sworn in as Johnson County prosecutor the same afternoon as the sentencing hearing. The interim prosecutor is one of roughly seven individuals who Boyce said have expressed interest to her in being considered by the county's GOP caucus for the prosecutor position. However, she said only qualified people who send her a formal letter of interest at least 72 hours before the caucus will be considered. The 133 precinct committee members will meet publicly at 6:30 p.m. Aug. 15 at Grace Assembly of God Church in Greenwood.
Speaking to Indiana Lawyer by phone, Villanueva said he's spent his entire 19-year legal career with the Johnson County Prosecutor's Office, working his way up to chief deputy from initially prosecuting traffic tickets in city court. That experience could bolster his bid for the prosecutor position, he said, or it could tarnish him as someone too close to Cooper.
"It's been rough," the interim prosecutor said of the time since Cooper was arrested. "I would never in a million years have imagined myself being in the position I was placed in. However, at the end of the day, we have a duty to the people of this county, and nothing takes priority over that."
Villanueva praised the professionalism and tenacity of the staff in the JCPO, recalling meetings in which he had to encouraged them to keep their heads up. "We've got to keep doing our jobs," he would say, "and don't worry about what is being printed about our boss."
Indeed, Villanueva said there's been no lapse in service since Cooper's arrest, and his day-to-day routine hasn't really changed since he took the interim position. One of his goals in his interim capacity is to restore frayed communications between the JCPO and local law enforcement agencies.
Though Cooper pleaded guilty in April, Boyce told IL the Johnson County GOP had to wait until Cooper's guilty plea was officially accepted before the party could begin preparing to name a successor.
"We've just been sort of waiting on the sidelines for the time a vacancy would occur so we could step in and move forward," she said.
Despite the turmoil, Villanueva said it has felt as though a cloud was lifted ever since Cooper officially resigned July 17.
"Knowing there is finality is helpful," he said. "…It's time to move forward and it's time to move on, and that's what I really want to focus on – letting our community heal and letting us take care of business.
"It's our job to serve the people, and that's why we're here."
The person ultimately selected to succeed Cooper as Johnson County prosecutor will serve out the remainder of Cooper's elected term, which runs through 2022.•
IL editor Dave Stafford contributed to this report.
Please enable JavaScript to view this content.