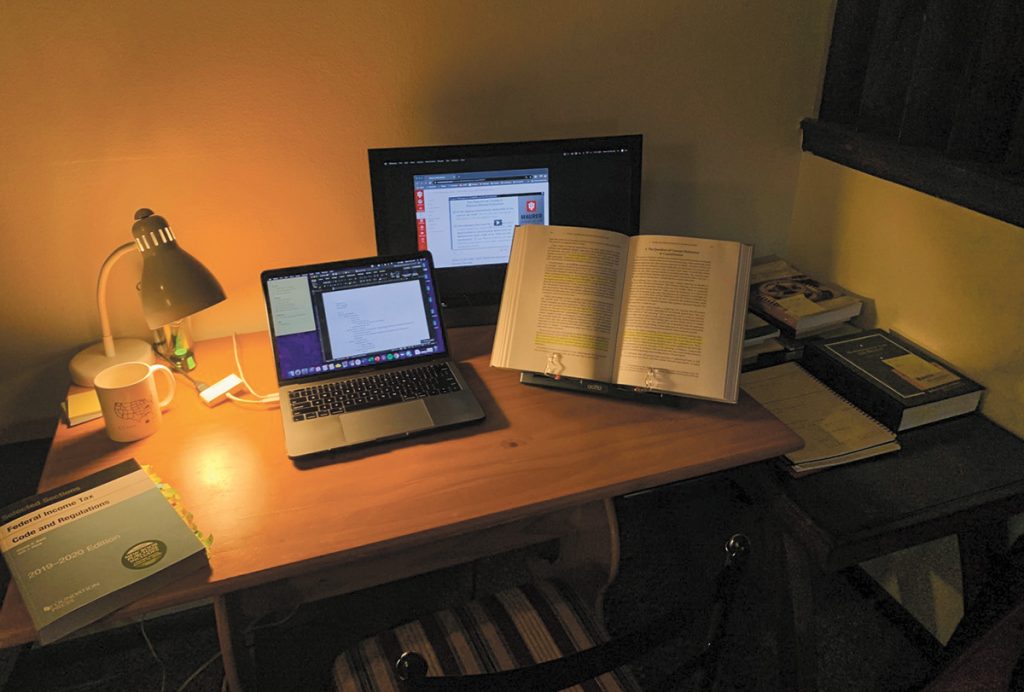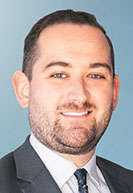 In the dining area of his Bloomington apartment, Aaron Vance has cobbled together a remote classroom.
The third-year student at Indiana University Maurer School of Law has nestled his kitchen table next to an end table to provide a wide space to spread out his materials. A TV dinner tray table that was part of the ensemble has since been cast aside, but a small television has been enlisted to be an extra monitor for his computer.
For Vance and his counterparts at law schools across the country, the global pandemic forced a breakneck shift from in-person classes and on-campus activities to distance learning as colleges and universities closed buildings and dorms to slow the spread of coronavirus. Law students are now peering into their computer screens to either watch a recorded lecture or virtually attend a live class.
Vance and others say they are sticking to their normal routines as much as they can. Even though they have to go online, classes are still the central part of their days, with reading and reviewing filling additional hours. Students also are using Facebook, FaceTime and Zoom to maintain their friendships with their classmates.
Like Vance in his dining room, they are doing whatever is needed to adapt and continue their studies, but they miss being at school.
"It's somewhat disheartening for this to be the end," Vance said of his law school tenure. "This is my last semester, but there's not going to be a graduation and there's not going to be all the other related activities."
Yara Rashad, a third-year law student at Notre Dame Law School, feels much the same way.
Rashad returned home to Chicago for spring break with a few clothes and the textbook from her trusts and estates class in tow. Her plans to stay the week then return to South Bend for the end of the semester were scuttled. She now looks in closets for more things to wear and struggles to find a quiet place in a house that now contains six to log on to classes.
The virtual classes provide a respite where she feels like she is on campus again. Still, Rashad noted the typical in-class interactions such as leaning over and asking a classmate a quick question about the material are gone. Staying engaged and focused for the entire class is more challenging in the online format, while the pressure to quit asking questions and just figure out the concept on her own is greater because she can feel everyone wants to log off and go back to what they were doing.
EXTRA
Click here
to learn what changes legal education is making.
Outside of class, Rashad misses studying and hanging out with her classmates, seeing her professors in the hallways and even the minute conversations with the clerks at her favorite coffee spot.
The loss of graduation and all the celebratory events for third-year students is coming on top of the uncertainty of what the summer and fall will bring.
Rashad was set to take the Illinois bar exam in July, then begin working for a Chicago law firm. But with states potentially postponing the licensing test, her employer has put her start date on hold.
Rashad said everything seemed to change overnight, with the fallout altering not only her carefully constructed plans but also her outlook on life.
"Legal issues, my career, they can all go away in a second," she said. "You can control only so much of your life."
Wanting to hug friends
The coronavirus upended legal education in a handful of days. Universities and colleges first announced spring break would be extended, then the plan was to conduct classes online for a few weeks before finally the decision was made to close campuses for the rest of the spring semester.
The disorientation brought by such rapid change was underscored as Rashad talked about the impact. "If things get back to normal," she said before quickly revising her remarks to, "When things get back to normal."
In his first year as associate dean for academic affairs at IU Maurer, Ryan Scott has had to help other faculty members transition their courses to the internet and calm their anxieties. He has also had to get himself accustomed to the new reality and quiet his own fears.
"Boy! What a first year it's been," Scott quipped.
Time for reflecting on the lessons from this experience will come later, because right now, Scott said, he is working hard to keep his head above water. He credited the faculty with doing whatever has had to be done to keep the academic year going, but he longs for the face-to-face, in-person interaction with students.
To maintain some sense of normalcy, Scott still dresses for class in a shirt and tie and calls upon students to answer questions during his lectures. However, videoconferencing is not the same as actually being in the same room with his students. Scott said he cannot tell by looking at his computer screen who is wrestling to understand the material, who is not paying attention or who is smiling when he makes a joke.
Mostly, he regrets the lost opportunity to let people know he values them. The decision to close the campus was announced just as spring break was beginning, so Scott, along with many faculty and students, did not realize when they left for the holiday that they would not be seeing each other again.
"I really want to be able to go up and hug my colleagues and students and tell them how much they mean to me," he said.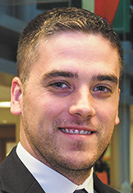 Indiana University Robert H. McKinney School of Law 3L Adam Meredith pointed out the uncertainty caused by the pandemic is particularly difficult for law students because they are, by nature, planners. But like Scott, Meredith emphasized that one lesson from the coronavirus has been the reminder that while they move forward in their lives, making plans and setting career goals, they should never forget the importance of friends and family.
Meredith thinks often of his mom. Although he wants to go home to northern Kentucky to help her recuperate from a liver transplant, he is staying in Indianapolis because he does not want to risk the potential that he may pick up the virus and infect her.
Consequently, Meredith tries to stay focused on completing his dual degrees in law and public affairs.
In his apartment, the desk he bought a couple years ago at IKEA is substituting for his preferred study spot in a back corner on the third floor of the Ruth Lilly Law Library.
Something is lost, he said, by not being in class together or having classmates nearby to discuss the coursework. Videoconferencing can create a virtual classroom, but the interaction is not as lively and the connections not as personal. Which is why, he reiterated, everyone should value the people they regularly encounter in their daily routines.
"Remember not to take for granted what you have," Meredith said. "Put down the cellphone, interact with people while they're there. We're lucky to have technology to communicate, but we still need to cherish what we have in front of us."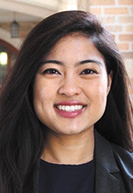 Preparing for whatever comes
Like many, Stephanie Wong is craving her past routine.
The first-year law student would arrive at Notre Dame by 7:30 each morning. head into the library after the last class ended at 3:15 in the afternoon and finally go home at 8 in the evening for some exercise and dinner. Now she is under northern Virginia's strict stay-at-home order, watching recorded lectures online, reading electronic textbooks and taking notes on her computer.
Even her study group has migrated online. She very much misses chatting with her friends and checking each other's work, scribbling notes on the white board of their study space, and spreading out books and papers on the table in front of her. Staring at a screen for too long gives her headaches, but the situation means she has to adjust and, as she explained, "you can get used to anything."
Echoing Rashad, Wong noted the coronavirus has highlighted how little control people have over their lives.
Rashad said working at the law school's economic justice clinic keeps her from having a "pity party" for herself, as she has seen the hardships others were facing even before COVID-19 hit. Likewise, Wong noted she is accepting the current circumstances and being thankful for what she has.
"I just try to focus on what I can control and be grateful," she said.
As president of the Student Bar Association at IU Maurer, Vance has kept the administration aware of student needs and concerns during the COVID-19 emergency. The students, Vance and others noted, are primarily concerned about their classmates. They worry about those who have lost their jobs and are now struggling to pay the bills or those who are at home juggling the demands of law school while taking care of children or a sick loved one.
Despite the disruption, Vance is remaining optimistic. He is sticking to his plans to move back to his hometown of Louisville and eventually become an associate in the employment and labor group at Dinsmore & Shohl LLP.
The upheaval caused by the pandemic, Vance said, has given law students the opportunity to flex their problem-solving muscles. "It has prepared us for whatever the profession throws at us."•
Please enable JavaScript to view this content.