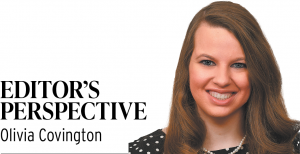 What advice would you give your younger self?
That's a question I posed to this year's class of Leadership in Law honorees as part of a recognition video that winners are asked to participate in. Actually, I posed 10 questions to the honorees, ranging from serious ("What would you change about the practice of law?") to silly ("What's the most-used app on your phone?") and the honorees picked three to answer. The question about advising their younger selves was by far one of the most popular.
Which got me thinking: Why? After all, these 36 legal professionals have clearly seen success in their professional lives — that's the reason they're being recognized, after all — so it seems like the choices they made in the past must've been pretty good ones. We've got state and federal judges, in-house attorneys for international companies, professors, partners, managing associates, top-rate paralegals and more, and you don't get to those positions by slacking off in your youth.
But of course, no one gets it right all the time. Some of the most successful people have seen the most spectacular failures, and the key to their success has been choosing to keep going. Now, at least to my knowledge, none of this year's Leadership in Law honorees have spectacularly failed at anything, but you get my point: Successful people find ways to succeed in both good times and bad.
So let me let you in on a little secret: I pose this question to honorees for partially selfish reasons. I'm a Type A personality, always thinking and planning and looking for the next step forward, and I love to glean life lessons from others. So when I ask an honoree, "What advice would you give your younger self?," I'm really asking, "What advice can you give me?"
It's the variety of answers that always surprises me. You'd think you'd get some pretty standard responses — take every opportunity you get, don't sweat the small stuff, etc. — but usually, our honorees provide personal, thought-provoking answers that go beneath the surface.
For example, one honoree this year discussed the importance of listening to your inner voice. He talked about mentors who advised him with his best interests in mind, but ultimately, he wished he'd followed his gut. It's not that his mentors gave him bad advice; it's just that he knew what felt right to him, but he chose to ignore that feeling. It's about trusting yourself.
Another honoree talked about four things that, once lost, are very hard — if not impossible — to recover: time, trust, opportunity and occasion. As someone who is still relatively young in her career, that was an important and needed reminder to be intentional about the things I say yes to — and the things I say no to.
As I was listening to these answers, I was pondering what advice I, a very mature 29 year old who clearly has it all together, would give my 19-year-old self — who also happened to think she was very mature and had it all together. Aside from taking regular doses of a reality check (my 39-year-old self will probably cringe at how not-all-together my 29-year-old self really is), the biggest piece of advice I'd give my younger self would be to just relax. Again, I'm a textbook Type A, so in my mind, bigger, better, faster is always the way to go.
But as the big 3-0 creeps closer and closer (it's four months away — not that I'm counting) I'm learning to trust the process. I mentioned in a previous column that I'm not a fan of clichés, but I'm finding the cliché of life being a marathon, not a sprint, to be true.
And as it turns out, I'm not the only one. Another honoree just a hair older than myself said she would advise her younger self to "chill out" — short, sweet and to the point, just like a true Type A.
But even the less serious questions can inspire thought-provoking answers. For example, when asked about their favorite fictional lawyers, one honoree cited Vincent Gambini from "My Cousin Vinny" — not because it's a funny movie, but because of Vinny's skill on cross-examination. Another pointed to millennial icon Elle Woods of "Legally Blonde" fame as an example of the importance of staying true to yourself. And the list goes on.
Getting to meet our Leadership in Law honorees every year for their video shoots is truly one of my favorite parts of my job. It's fun and inspiring to hear from lawyers of all facets of the law and all steps of the proverbial ladder, learning from answers that are both practical and whimsical.
Want to meet them, too? We invite you to join us May 18 at our annual Leadership in Law recognition breakfast. You'll see the videos from all 36 honorees, and you'll hear a live address from retired Indiana Chief Justice Randall Shepard, this year's Lifetime Achievement Award winner.
If you want tickets, head over to theindianalawyer.com/events/leadership-in-law. It's an event you don't want to miss — especially if you want to know which of your colleagues prefer Vinny Gambini to Atticus Finch.•
__________
Olivia Covington is editor of Indiana Lawyer. Opinions expressed are those of the author.
Please enable JavaScript to view this content.