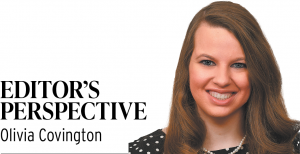 Confession time: I am a pretty intense introvert.
That may seem odd, given that my chosen profession is one in which I have to talk to people, at length, every single day. Suffice to say, I was driven into journalism more by my love of learning and writing than I was by my love of conducting interviews.
Why am I telling you this? Because recently, I had to live what, on the surface, would be an introvert's worst nightmare: two consecutive, 10-hour days of nonstop conversation. Who was I talking to? This year's Leadership in Law winners.
Now, before you accuse me of insulting this year's winners, read on.
While I had mentally prepared myself with things to say to this year's honorees to keep the conversations from lagging (because of me, not them) I was pleasantly surprised to find that the two days I spent chatting with this year's winners as they recorded videos and had photos taken passed with surprising ease. Turns out, when you hang out with highly-accomplished individuals, you can find a lot to talk about naturally.
You know by now that we've selected 36 legal professionals for the 2022 class of Leadership in Law honorees. I'd spent a lot of time learning about those honorees this spring as I read their nominations and researched them in advance of their photo and video sessions. But there's only so much you can learn about a person from paper or a computer screen.
For example, did you know that Senior Judge Sarah Evans Barker, this year's Lifetime Achievement Award winner, has a deep interest in the civil rights movement? She discusses this a bit in a Q&A that you can read in the June 8 issue of Indiana Lawyer, but I had the opportunity to sit in her chambers and listen to her describe how her family background drove her passion for that period of American history.
Or did you know that Indiana Gov. Eric Holcomb has already made 72 judicial appointments in 1.5 terms, surpassing his two most recent predecessors, including former Gov. Mitch Daniels, who served two full terms? I learned that through a conversation with one of our Distinguished Barristers, Sharon Jackson, who is deputy general counsel in Holcomb's office.
The point is this: You might think you know that lawyer you've seen at bar association events or at the opposing counsel table. But until you get a chance to talk to that lawyer one-on-one, you never really know the person beneath the suit jacket.
That's what I love about our annual Leadership in Law recognition breakfast — it gives you the chance to hear directly from each of the honorees.
In the case of Judge Barker, that means a live, in-person speech that you'll hear if you join us for this year's recognition breakfast. And in the case of Sharon Jackson and the 34 other honorees, it means watching videos during which they discuss their favorite parts about the legal profession, their favorite fictional lawyers (it's not all Atticus Finch) and even their favorite emojis.
I sincerely hope you'll join us at 8 a.m. June 1 at the Indiana Roof Ballroom, where we'll host this year's recognition breakfast. It's a genuinely fun event that allows you to catch up with old friends and learn new facets about the legal professionals being honored. Visit theindianalawyer.com/events/leadership-in-law for registration information.
I hope to see you there! Feel free to stop me and say hi during the event — I'd love to have a hopefully-not-awkward conversation with you, too.•
Olivia Covington is editor of Indiana Lawyer. You can reach her at [email protected]. Opinions expressed are those of the author.
Please enable JavaScript to view this content.