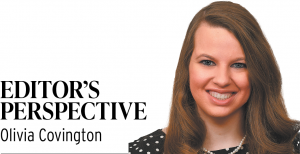 It's been about 5½ years since I joined the staff of Indiana Lawyer, and my job has changed a lot in that relatively short amount of time. I came aboard as the daily reporter charged with filling our website with up-to-date news, then moved into a digital role overseeing our social media presence before stepping into leadership positions.
Each of those roles has had a different job description, but one duty has stayed constant: Each year, I read through dozens of nominations, then sit on the selection panel to choose our annual Leadership in Law Awards winners.
Here's the thing about the Leadership in Law selection process: It takes hours. We receive numerous nominations across the four categories, many of which come with multiple components including resumes, letters of recommendation and media coverage, not to mention the basic questions we ask on our nomination form.
But here's another thing about the Leadership in Law selection process: I love it. There's something about reading and discussing those nominations that I find inspiring and challenging. Hoosier lawyers, judges, law professors, paralegals and other legal professionals dedicate so much of their time to improving their communities and our state. I always walk away from the process with a new resolve to up my game (results have varied).
Right now, we at Indiana Lawyer are once again gearing up for Leadership in Law selections. Unlike the 2021 program, which was held in November, the 2022 program will be held June 1, which means we're already accepting nominations for this year's winners. In case you've forgotten, here's a rundown of the four categories:
• Distinguished Barristers: One of our longstanding awards, Distinguished Barristers are lawyers/judges/law professors/others with a J.D. who have practiced for at least 20 years. We select 15 winners.
• Up and Coming Lawyers: Another Leadership in Law pillar, Up and Coming Lawyers have practiced for 10 years or less. This category also features 15 winners.
• Legal Support Stars: New in 2021, this award honors the paralegals, legal secretaries, court reporters and other legal support staffers who are so critical to a functioning legal system. Our inaugural Legal Support Stars class featured five winners.
• Lifetime Achievement Award: Another new award in 2021, the Lifetime Achievement Award honors a lawyer/judge/law professor/other person with a J.D. who has at least 25 years of experience and who has demonstrated excellence in community involvement, pro bono/volunteer service, mentorship and civility. Last year we picked two winners for the inaugural awards. This year we could pick just one. It all depends on the strength of the nominations we receive.
Here's one more thing about the Leadership in Law selection process: It's a lot of work for you, the nominators, too. Trust me, we understand that. Before we switched to an online judging tool, we used to receive large binders stuffed with the letters, resumes and nomination forms you sent in. All we have to do is read and consider the nomination materials — you're the ones who actually have to write and compile them.
So here's my pledge to you, as we once again ask you to take the time submit thoughtful, intentional Leadership in Law nominations: If you submit them, we will consider them.
We don't have a prescreening process that weeds out certain nominations before we get to judging day. Each member of our selection panel — which includes the entire Indiana Lawyer staff, other IBJ Media leaders and attorneys representing state and local bar associations — reviews each nomination form, reads each letter of recommendation and studies each resume. Then we gather to select our winners, setting aside an entire half of our day to discuss the merits of each. In years past, we've come back for a second day of deliberations, just to make sure we got it right.
Nominations for the 2022 awards are due by 11:59 p.m. on March 8 via theindianalawyer.com/leadership-in-law-nominations. If you'll do your part — submitting great nominations for us to consider — we'll do our part: selecting a class of winners that will make the profession proud.
Let's work together to make the 2022 Leadership in Law Awards the best we've seen yet.•
Olivia Covington is editor of Indiana Lawyer. She can be reached at [email protected]. Opinions expressed are those of the author.
Please enable JavaScript to view this content.