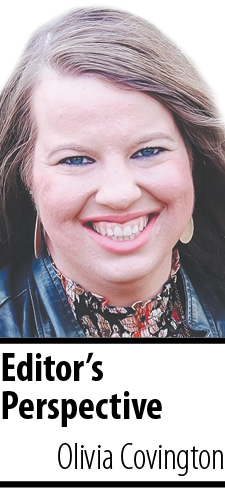 Sometimes change happens quickly. Other times it happens slowly. But often, both are true — if you need proof, just look at The Indiana Lawyer.
Last issue we introduced you to Greg Andrews, a veteran journalist and longtime fixture at IBJ Media who was tapped last month to lead this publication as editor and publisher. But last week, Greg resigned from IBJ Media for personal reasons, so now we have another new editor to introduce: me.
I'm Olivia Covington, and I've been with The Lawyer for almost five years. Maybe we've met before, either in a courtroom or at the Statehouse or in your chambers or at a conference (you lawyers really love to gather down in French Lick). I'm not a lawyer myself, but interacting with Indiana's legal profession these five years has given me a true love of the law. Your passion for doing justice and serving the community through the legal system is infectious.
My move to editor is an example of a quick change at Indiana Lawyer, but don't worry. Our team — including senior reporter Marilyn Odendahl and reporter Katie Stancombe — is as strong as ever, and we're excited to soon add a new team member who will enhance the coverage we provide you.
Speaking of enhancing our coverage, that's where the slow change I mentioned earlier comes in.
Our mission as a publication is be the go-to resource for Indiana's legal community. We don't want you to just read us — we want you to use us, turning to our daily emails and biweekly newspapers as a tool that can improve your practice. Want to know what's happening in Indiana's appellate courts? Grab The Lawyer. What's the status of that bill you are following? Grab The Lawyer. Who's that new judge that was just appointed? Grab The Lawyer.
While we've always done our best to give our readers the most up-to-date courtroom news, we recognize that not every Hoosier lawyer is in the courtroom every day, week or even month. Many of you aren't traditional litigators — you're drafting contracts, helping clients protect their intellectual property, teaching companies how to guard against cyberthreats. The law is a living, breathing profession, and it changes almost daily. We at The Indiana Lawyer want to change with it.
So, our goal is to begin to diversify our coverage. Yes, we'll still give you information about big cases, but what about the business side of law? What does it take to run a successful law firm, especially in a post-pandemic world? Based on our initial conversations with readers, those are the issues you want to read about — so we'll write about them.
Other readers want to know more about their colleagues. How did that managing partner even get into the law? Did that associate really just run an ultramarathon? How does that solo practitioner balance her practice with her side business? We want to show you all sides of the people you work with.
How you get your Indiana Lawyer news could change, too. We're exploring digital options such as podcasts and videos to keep you plugged in even when you're on-the-go. We want to meet you where you are, whether that's sitting on your couch scrolling through your phone or at the gym with your headphones in.
But like I said, this type of change is slower, and we want to do it right. We're moving deliberately, taking the time to talk with our readers and get their thoughts on what we do well and what we could do better. If we haven't had a chance to talk with you yet, feel free to reach out. You can shoot me a message at [email protected]
So here's to change, both fast and slow. It's not always expected, but often, good things come from unexpected situations.•
• Olivia Covington is editor of The Indiana Lawyer. Opinions expressed are those of the author.
Please enable JavaScript to view this content.