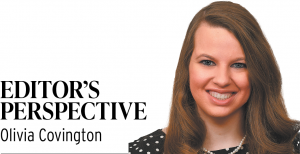 Spoiler alert: This column is about change.
In that spirit, I went to Google to find a famous quote about change that might inspire me as I wrote. And the internet did not disappoint — searching "change quotes" brings back about 3.9 billion hits.
But here's the thing: Those quotes are just too dang sappy for my taste. Nearly all of those 3.9 billion results are long lists of famous people waxing poetic about the inevitability of change in life and how it only makes us stronger — true, yes, but also long-winded.
I'm a straight-to-the-point kind of girl (any other Enneagram 8s out there?) so let's get to the point of this column: change, specifically at Indiana Lawyer.
If you've thought to yourself recently, "Do they have new reporters at Indiana Lawyer?", the answer to your question is yes. Beginning in late November and continuing through February, three of the four members of the Indiana Lawyer staff began pursuing other opportunities, which gave me the opportunity to bring in three new people whose unique skill sets will be a significant value-add to the daily legal news you've come to rely on.
Allow me to introduce those three people.
First is a byline you've been seeing since early January: Alexa Shrake.
Alexa joined us as a reporter right after her (early) graduation from Franklin College last December, but don't be fooled into thinking she has no professional experience. She's interned at the Evansville Courier & Press, the metro daily in Indiana's third-largest city, and WFYI-FM, Indianapolis' NPR and PBS affiliate.
Coming from the newest generation of journalists, Alexa is a true multimedia reporter, trained not only in the written word, but also in audio, video and even social media journalism. Her varied skill set creates opportunities for our team to connect with you, our readers, in more ways.
Next is Tyler Fenwick, who joined us in late February. If you're from the Indianapolis area, you've likely seen Tyler's byline in the Indianapolis Recorder, the publication focused on the city's African American population.
While at the Recorder, Tyler worked his way up from staff writer to senior staff writer to interim editor over the course of four years before joining the IL team as a senior reporter. He has a nose for news, and he knows how to go after a story.
Tyler is a do-it-all kind of journalist. He likes to be in the room, talking to you, taking notes and snapping photos while you discuss the latest in legal news. He's also an avid sports fan — a trait that is particularly helpful in a legal journalist as the world of college sports continues to end up in court.
And finally we have Daniel Carson, who became Indiana Lawyer's managing editor on March 1. Daniel has 20 years of experience in the journalism biz, giving us a good balance between reporters with long-honed journalistic skills and those specifically trained in new media.
Daniel is a print journalist through and through, having worked at newspapers across the country, including most recently in Fremont, Ohio. But he's not just a writer — he's also a photographer and videographer, creating opportunities for Indiana Lawyer to explore new avenues of visual journalism.
If you think that's a lot of change all at once, you'd be right. But at the risk of contradicting myself, there's one quote about change that I think is particularly fitting for our situation: "To improve is to change; to be perfect is to change often."
None other than Winston Churchill (a fellow Enneagram 8) said this, and his words are a succinct summation of the vision I've had for Indiana Lawyer since I became editor in June 2021. In fact, I wrote a column back then declaring my intent to "diversify" our coverage and how it's presented, and I stand by that today.
We've made some progress toward that goal — launching our podcast and adding to our annual Leadership in Law Awards, for example — but there's still more for us to explore. I'll give you a little peek behind the curtain of what I mean: We have a new awards event, this one focused on diversity efforts, coming this fall — stay tuned for more on that.
And now, with a new staff bringing new skills and fresh perspectives to our work, Indiana Lawyer has a unique opportunity to take a hard look at what we do and consider new ways to bring you the legal news you want and need.
Honestly, having a brand new reporting team is like having a blank sheet of notebook paper — something that, for me as a journalist, is exciting and inspiring. And we want you, our readers, to be part of filling that sheet of paper, so feel free to send us ideas at [email protected].
Let me wrap up with my own cliché, yet heartfelt, quote about change: Thanks for sticking with us as we navigate new waters, and keep sticking with us to see where those waters might lead.
Who knows, maybe my quote will end up in a Google search result someday, too.•
__________
Olivia Covington is editor of Indiana Lawyer. You can reach her at [email protected]. Opinions expressed are those of the author.
Please enable JavaScript to view this content.