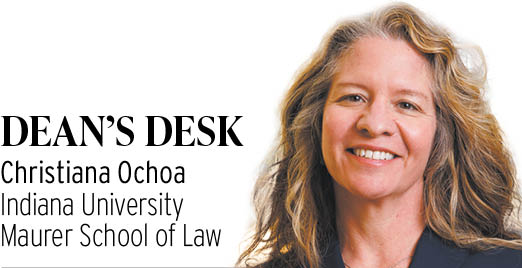 On Nov. 1, my first day as the 17th dean of the Indiana University Maurer School of Law, I attended the robing ceremony for Derek Molter, Indiana's 111th Supreme Court justice. This public ceremony was an opportunity for those in attendance to celebrate Justice Molter's formal swearing in, which had occurred privately on Sept. 1. For the IU Maurer School of Law, it was also an opportunity to celebrate Justice Molter joining three other IU Maurer alumni on the five-person court.
Established in 1816, the court precedes our law school by about 30 years. Still, for most of Indiana's history, the IU Maurer School of Law and the Indiana Supreme Court have had a strong relationship. The terrific librarians in our Jerome Hall Law Library have started a project to better catalogue the important work of the Indiana Supreme Court and the many interactions between the justices and our law school. Here are some early findings from that work.
A total of 19 Indiana Supreme Court justices have been graduates of our law school, starting with Joseph S. Dailey, who was appointed in 1893, and continuing through the current bench, which includes Chief Justice Loretta Rush '83 and Justices Geoffrey Slaughter '89, Christopher Goff '96 and Derek Molter '07. Justice Mark Massa received a B.A. in journalism from Indiana University and then earned his law degree from Indiana University Robert H. McKinney School of Law, our sister school in Indianapolis.
The IU Maurer School of Law is proud of its alumni who have served the court, and we are grateful that the connection between the Indiana Supreme Court and our law school extends far beyond the alumni-alma mater relationship. Over the last 130 years, the court's justices have supported the school in innumerable ways, and the law school has acted as a venue for the justices to share their reflections on developments in legal doctrine, on judging and on the legal profession more generally.
Justice Walter Treanor began a long tradition of Indiana justices publishing in the Indiana Law Journal when he published two articles in the Journal's first volume in 1926. In the years since, 15 Indiana justices have published 34 articles in the school's journals. Justice Theodore Boehm was our most recent contributor when he published "Gerrymandering Revisited — Searching for a Standard" in the 2016 volume of the Indiana Journal of Law and Social Equality.
IU Maurer Law students have benefited from the expertise, goodwill and generosity of Indiana's justices in innumerable ways. Retired Justice Frank Sullivan Jr., now a professor of practice at the IU McKinney School of Law, teaches our students as an adjunct professor. Over the years, Indiana's Supreme Court justices have shared their expertise with our students as professors and as special guests. Indeed, while their research is ongoing, our librarians report, at least with respect to the justices they have had the opportunity to research to date, nearly every Indiana Supreme Court justice has visited the IU Maurer School of Law to deliver speeches and to provide mentorship, counsel, advice and even friendship to law students who aspire to the successes of our state's esteemed members of the bench.
In partnership with the Indiana Supreme Court, all three Indiana law schools (IU Maurer, IU McKinney and Notre Dame) take turns hosting the Indiana Conference for Legal Opportunity, or ICLEO, Summer Institute. This six-week program is designed to assist college graduates in need and students from underrepresented backgrounds to pursue a law degree and career in law.
The IU Maurer School of Law has also worked with Chief Justice Rush and Judge Edward Najam Jr. of the Court of Appeals of Indiana, as well as Justice Goff, to develop and run the school's Rural Justice Initiative. Over 200 counties in the United States have two or fewer lawyers. Indiana is among the states with the lowest number of lawyers per county, and this number is lowest in Indiana's rural areas. Through the Rural Justice Initiative, students can spend the summer after their first year of law school serving as externs in the chambers of trial court judges in underserved counties.
The bench and bar often look to the precedents established by IU Maurer alumni during their time on the Indiana Supreme Court. Our alumni who have served on the Indiana Supreme Court have authored a sizable number of the most highly cited Indiana Supreme Court decisions. Further, when the court refers to its own opinions, it regularly seeks the precedent created by our graduates. Other courts also recognize the value of those opinions. Thirteen of the 40 Indiana Supreme Court cases the court most often cites were authored by graduates of our school. Indeed, among the most cited Indiana Supreme Court cases in history, for example, is Wright v. State, a case authored by Justice Sullivan regarding the Indiana Supreme Court's role in reviewing sufficiency of evidence to support a conviction. When our Jerome Hall librarians asked Justice Sullivan about important Indiana Supreme Court cases, he indicated that two of the court's most significant cases were authored by graduates of our law school: State ex rel. Indiana High School Athletic Association v. Lawrence Circuit Court, 162 N.E.2d 250 (Ind. 1959), authored by Frederick Landis Jr., and Grody v. State, 278 N.E.2d 280 (Ind. 1972), authored by Roger DeBruler.
Here in Bloomington, we have been honored to host a large number of Indiana Supreme Court justices as judges in our moot court competitions, including the annual Sherman Minton Moot Court Competition. Just over a year ago, we hosted Chief Justice Rush, Justice Slaughter and Justice Goff for this signature event.
As we congratulate Justice Molter on his elevation to the Indiana Supreme Court, the IU Maurer School of Law also celebrates and offers thanks to all our alumni who have served the state of Indiana through their service on the state's highest court.•
__________
Christiana Ochoa is the dean and Herman B Wells professor at the Indiana University Maurer School of Law. Opinions expressed are the author.
Please enable JavaScript to view this content.