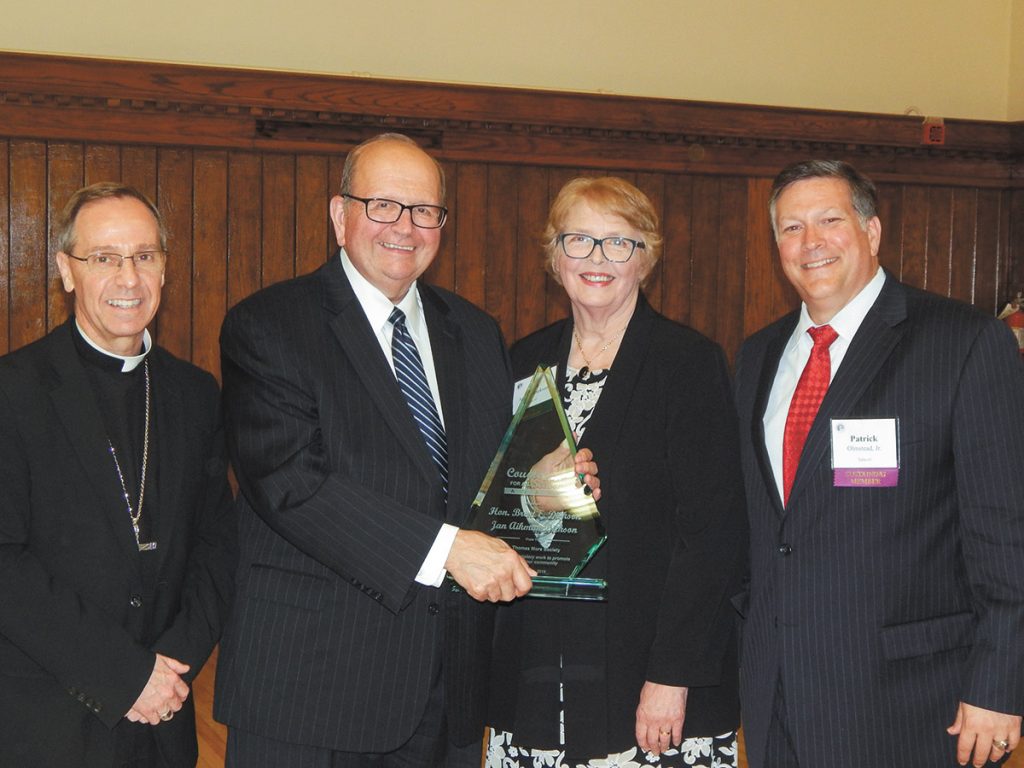 A student of history, Jan Dickson loves stories, but when families of other judges and justices told their stories of struggle, she did more than listen.
Dickson, along with her husband, retired Indiana Chief Justice Brent Dickson, founded and continues to nurture the Judicial Family Institute, which is now a committee of the Conference of Chief Justices. The initiative offers programs and numerous online resources to help spouses and children of judges navigate the uneven terrain that holds them to a higher standard, puts them in the public spotlight, and can make them the target of anger over an unpopular ruling.
For their work in helping judicial families, the Dicksons were honored with the Couple for All Seasons award from their extended faith family, the Saint Thomas More Society of Central Indiana.
The award was presented as part of the society's Red Mass celebration Oct. 1 at Saints Peter and Paul Cathedral in downtown Indianapolis. Archbishop Charles Thompson presided over the celebration, which was held at the cathedral for the first time. Afterward, guests enjoyed a dinner and the presentation of the award.
Retired Justice Frank Sullivan said giving the award to the Dicksons was an "inspired decision." He sat next to Brent Dickson on the Indiana Supreme Court for nearly 19 years and said he could not have asked for a more collegial seatmate and giving colleague. Also, he noted, he watched in awe as Jan Dickson gave freely and fully of herself to judges and their families.
"Jan Aikman Dickson, with keenest insight, observed the judicial enterprise and saw the spouses and children of judges targeted by people's avarice, anger and, in the end, stupidity, and stood fast on their behalf," Sullivan said. "She has been their hero."
The work supporting judicial families started as a quarterly newsletter that Jan Dickson wrote then expanded into speeches, which led to programming and a website. Brent Dickson noted judges are aware their work can sometimes cause hardships for their families. Yet they cannot talk about cases or explain their rulings even though their loved ones might be enduring the backlash from a court decision or having to step away from an activity or event because of a conflict of interest.
Being related to a judge can bring an array of unique issues to handle, such as disgruntled litigants, intrusive press inquiries and financial stresses, the Dicksons said. JFI offers resources, guidance and support that families can use to better their situation.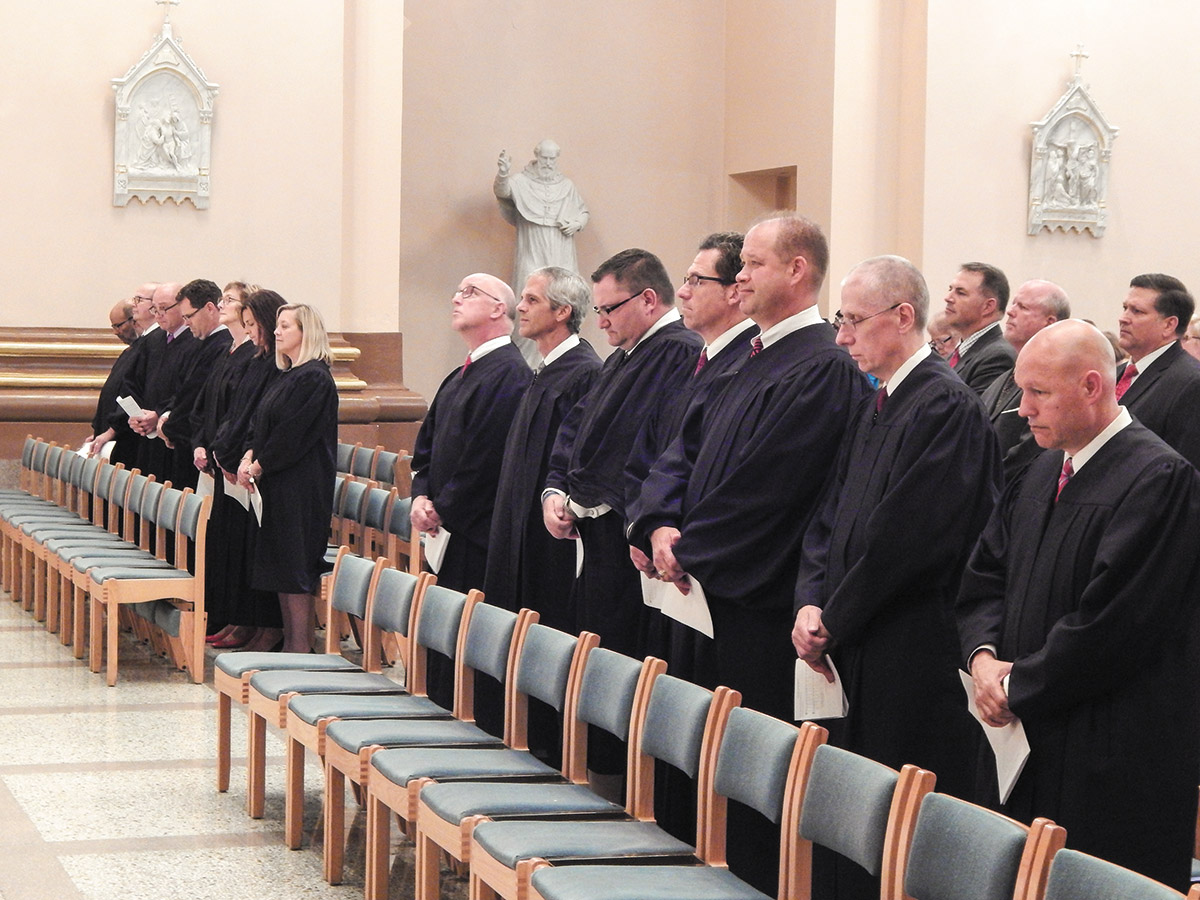 "The idea is … always best practices, not 'ain't it awful,'" Jan Dickson explained. "Let's identify the issue and what works."
The Dickson family likely became well acquainted with the challenges that come with judicial service since Brent Dickson was the second-longest serving justice on the Indiana Supreme Court, holding the position more than 30 years. He was appointed in 1986 and served as chief justice from May 2012 to August 2014 before stepping down in April 2016.
Andrea Townsend, associate at Plews Shadley Racher & Braun, got to see husband and wife in action. She clerked for Dickson after her graduation from Indiana University Robert H. McKinney School of Law and remembered the justice often sitting in his chambers, writing an opinion, while his wife was nearby working on one of her initiatives.
Speaking to the guests, Brent Dickson ruminated on faith and public life. He drew attention to the two greatest commandments: loving God with all your heart, mind and soul, and loving your neighbor as yourself. He said he sees the first commandment woven into Indiana's constitution with its robust protections for religious liberty. Also, he views the commandment to love one another as the underpinning of civility.
"Civility seems to be at the heart of being a Christian judge and lawyer," Dickson said. "Seeing and treating with respect our colleagues, our clients and even our adversaries is a natural outgrowth of loving our neighbors as ourselves."
Justice Geoffrey Slaughter, who succeeded Dickson on the Indiana Supreme Court, credited him with providing the legal profession an example of leadership, decency and civility. Maintaining a pleasant and professional demeanor can be difficult, Slaughter acknowledged, when legal matters are complex and litigants feel strongly about their cases.
"It's easier said than done; talk is cheap," Slaughter said. "But Brent Dickson is able to live what he preaches, he practices what he preaches, and it's really a lesson for us all."•
Please enable JavaScript to view this content.