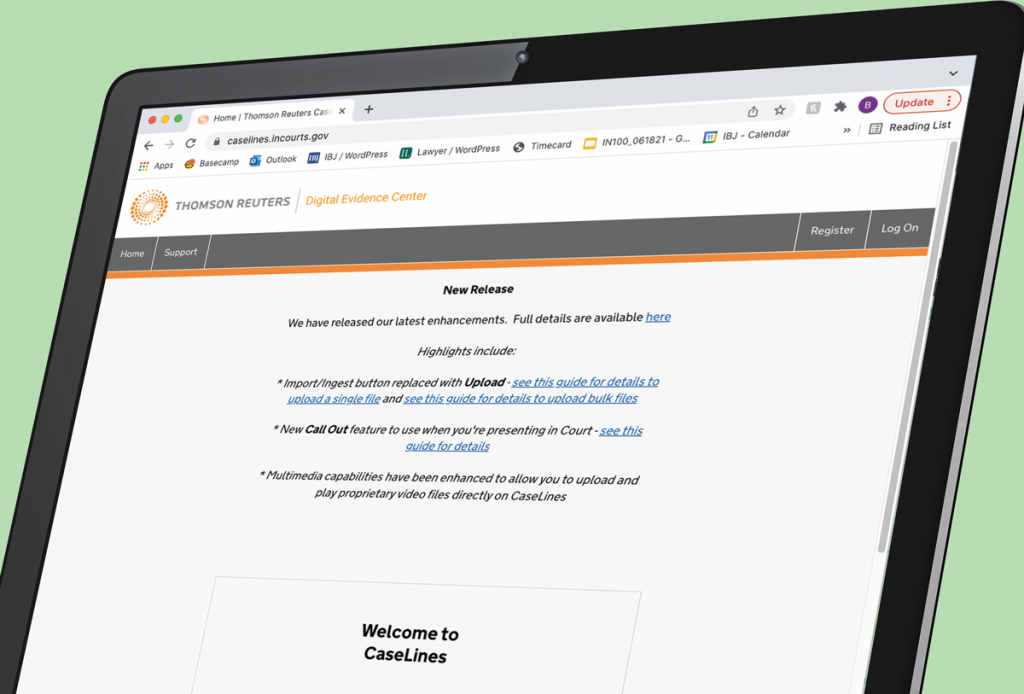 Hamilton County court reporter K.C. Corbin is ready for the day when she is no longer required to handle mountains of documents from proposed exhibits that come her way.
Corbin said piles of paper files that she has to unstaple, take apart and scan into the computer by hand surround her in the court reporter's office. But the day she doesn't have to worry about paper cuts could come sooner than later.
The Indiana Supreme Court's Technology Working Group, part of the court's Innovation Initiative, last year suggested implementing an online portal for the submission of proposed exhibits. The Indiana Office of Judicial Administration approved and launched a pilot doing just that in March 2021.
CaseLines, a digital evidence portal from Thomson Reuters, is being piloted in four courts in Hamilton County presided over by Circuit Judge Paul Felix and Superior Judges Jonathan Brown, Michael Casati and William Hughes.
Whether hearings are held virtually or in the courtroom, the portal allows judges, attorneys and court staff to manage documents, videos, pictures and other digital files presented in court. Although initially focused on family law cases, the pilot is broadening the scope to additional case types, including civil and some commercial cases.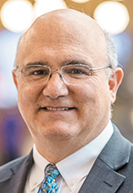 Each judge can decide whether to use CaseLines in a particular case using several factors including hearing type, anticipated number of exhibits and whether future hearings can be expected.
Additionally, the OJA pays a subscription to Thomson Reuters for the CaseLines portal, meaning parties in a case won't have to pay to use it.
Robert Rath, the OJA's chief innovation officer and chair of the Technology Working Group, said feedback has been positive so far. Other counties have expressed interest in expanding the project to additional audiences, he added.
Although the pilot came from an idea that predated the COVID-19 pandemic, Rath said the timing has played out well.
"When COVID hit, the usefulness in a virtual court hearing became even more interesting," he said.
Standardized approach
The main issue the pilot seeks to address is not having a unified standard for submitting proposed exhibits to the courts and exchanging documents, Rath said.
"It's a very big deal," he said, noting all trial courts seem to have their own way of accepting and handling materials across the state.
To illustrate his point, Rath painted the picture of the parties in a case sending a flurry of excessive messages to the court reporter with their proposed exhibits.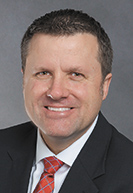 Often, audio and media files don't travel well as email attachments, he said. Other complications could arise if an email didn't make it to all of the recipients, requiring back and forth clarification of, "Did you get this?" between the parties.
"The email traffic was difficult and unpredictable at times," Rath said. "By standardizing this and having each participant upload their documents to a work area in the portal really simplified the steps and the manual labor involvement compared to email exchanges."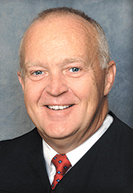 Hamilton Superior Court 2 Judge Brown agreed, noting parties don't want discovery or document exchange to be scattered about with varying expectations.
"(As an attorney) you shouldn't have to think, 'What does this judge like?'" Brown said. "We have 92 counties and hundreds of judges — you can't have 500 ways of doing things. There has to be some commonality."
Judge Hughes of Hamilton Superior Court 3 said he's "very thankful" for the digital evidence portal.
"It met a need we had at a time when we could only do virtual hearings, which was a major portion of 2021," Hughes said. "That we could have a mechanism to identify the exhibits and get them distributed so everyone had access to the same document was really important."
Streamlined process
Court reporters are generally in the driver's seat when it comes to CaseLines, Rath said. They set up cases and invite participants to join, who must accept in order to upload and see
proposed exhibits in the case.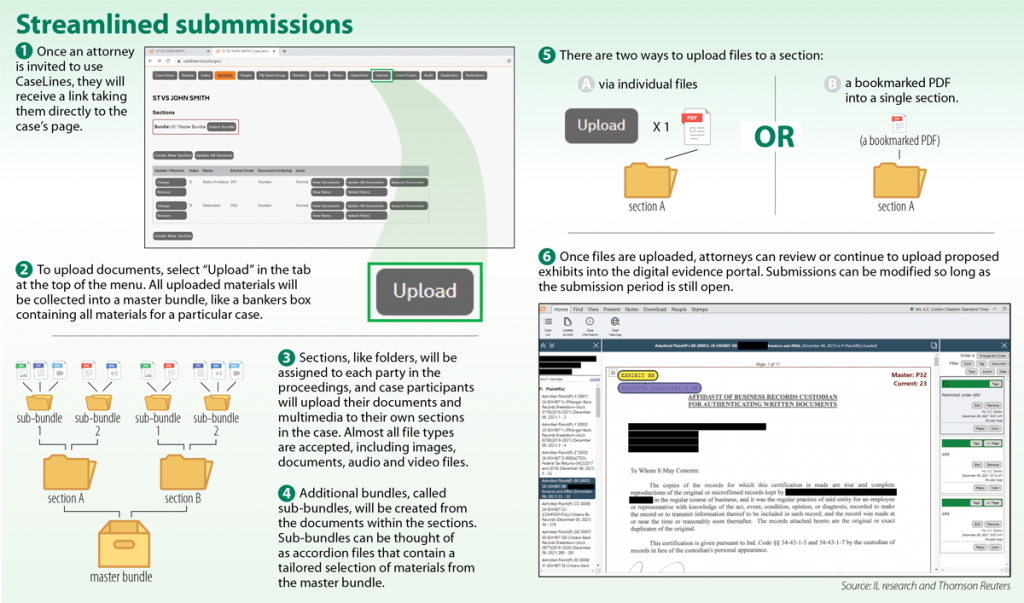 Attorneys can create a login, then go to their specific case in the portal, where everyone has 24/7 access to the documents. However, just because an invitation is sent doesn't mean every case will ultimately utilize the portal.
Corbin, Brown's court reporter, said CaseLines has streamlined her work. She said she likes the fact that attorneys are now responsible for filing their own exhibits with the court. It's also removed the need to go through boxes
of hard-copy documents by hand.
"I absolutely prefer it this way," she said. "There is so much less paper for me to keep track of."
Since the launch, the judges agreed the pilot has proven successful. For Brown, CaseLines has helped increase efficiency for both lawyers and courts and is already helping resolve cases.
"As more people use it, kind of like Zoom when we first used it, CaseLines was completely strange and foreign and awkward," Brown said. "I think that giving it a little bit of time and usage, it will become like second nature."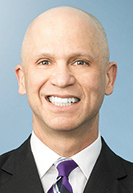 Drew Soshnick, a partner at Faegre Drinker Biddle & Reath, has utilized CaseLines in several hearings and trials in Hamilton County. He said he thinks the portal has been useful in proceedings, performing well in both virtual and in-person courtrooms.
"The learning curve was quite quick and it's been a really nice tool to use to make the presentation smoother," Soshnick said.
In her experience using the portal, Indianapolis attorney Julie Camden of Camden & Meridew P.C. said she's seen how it can be a helpful tool. It's easy to use and can prevent exhibits from getting lost, she said. It also helps keep her up to date on what's going on in a case.
"If I e-file something today late at night, it won't show up until tomorrow in some cases. So if I'm worried that someone may have filed a last-minute exhibit that I may not know about, you don't have that problem in CaseLines," Camden said.
From a docket management perspective, Soshnick also said he thinks CaseLines will help shorten the time necessary to try certain matters.
"It should allow for a more efficient administration of justice in dockets that were already overburdened at this point. I do think that over time it will cause thinking about which matters should or can be virtual and how much time needs to be allocated," he said.
A feature of CaseLines that Hamilton Circuit Judge Felix said he enjoys is the ability for all parties in a case to be on the same page — literally — at the same time. When a document comes up for review, everyone invited to the case in CaseLines has access to the document if they have an internet-accessible device available.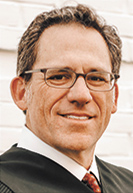 "Before CaseLines, an attorney would hand a witness a 40-page document and then say, 'Follow me to where it says this.' And the witness would say, 'Where's that?' And we're talking about exhibits without page numbers," Felix said. "It just took forever."
Hughes said he particularly enjoys the portal's capability to share screens among participants in the case. And although he thought it was made for a virtual courtroom only, Felix said the portal is more far-reaching.
"It's actually made for an in-person courtroom experience," he said, removing the need for the hauling in of multiple banker boxes to trial. "All of those exhibits can simply be uploaded into this application."
In the future, Felix said he sees CaseLines as being a way to expedite proceedings from every corner of the process — from court reporters to attorneys to witnesses.
"If attorneys and witnesses all have the ability to look at these exhibits, the specific page, things like that, it will help things move along."•
Please enable JavaScript to view this content.