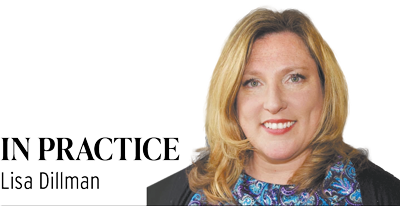 The last two years have brought hardship to families across America. Together, families have navigated a pandemic, debated a controversial vaccine, and watched the death toll rise and fall with an acute eye on the impact to older adults. Globally, we have watched media coverage of the separation of families who are fighting to stay free and alive in Ukraine and their desperate attempts to keep their family units intact.
When I sit down with my aging clients and their families, this is the common goal that they share. It is their No. 1 priority: keeping their family unit intact, safe and healthy. Unfortunately, aging issues can breed conflict, especially if there isn't a plan in place. And the reality is, most people do not have a plan.
Families do not want to talk about death. Confronting our own inevitable fate or that of a loved one is too uncomfortable. Even though death is the one commonality across human experience, it is a reality that we avoid. The irony is families can prevent heartache and separation by discussing death more often with their loved ones.
For those of us fortunate to live to old age, we carry the burden of having to make decisions for ourselves and the legacy we leave. However, if the time comes when we cannot make those decisions for ourselves, then the responsibility is left to our next of kin. Aging is complicated and these decisions are not easy. Families often disagree on what is best for their loved one when a crisis arises, leading to conflict and broken relationships. The key or trick to avoiding conflict that seems to elude most families is a willingness to talk about the elephant in the room and allow themselves to be vulnerable with their loved ones.
Aging issues breed conflict
A few years ago, a client of mine — let's call her Mrs. Doe — came to me after her husband had a stroke that left him wheelchair bound and unable to speak. Her husband, Dr. Doe, had been a physician and had built a successful private practice, but he had never put together an estate or care plan for himself. This was a second marriage for both Dr. and Mrs. Doe, and each had children from their first marriages. Now in their mid-70s, Mrs. Doe was coming to the realization that she could not care for Dr. Doe on her own any longer.
Mrs. Doe expressed her desire to move Dr. Doe into an assisted living community to get him the care he needed. The community would cost nearly $7,000 per month, and he was expected to live another seven to 10 years; his care costs would amount to nearly $1 million under those projections. Because Dr. Doe never named a power of attorney and most of their financial accounts were in his name, Mrs. Doe needed to obtain guardianship of Dr. Doe to make decisions on his behalf. Mrs. Doe's children fully supported their mother after seeing the toll caregiving had on her health after just a few months.
Dr. Doe's children, on the other hand, were not happy with Mrs. Doe's wishes. They wanted their father to remain at home and argued their father wanted to stay home, too. They believed it would not only cause his health to deteriorate if he were to move into a long-term care community, but also that it would deplete his assets and their father would run out of money well before his passing. Dr. Doe's children wanted their oldest sibling to be guardian of their father and suggested the siblings and Mrs. Doe take turns caring for Dr. Doe at home. If Mrs. Doe didn't secede, Dr. Doe's children threatened to contest the guardianship in court.
Using elder law mediation to preserve the family unit
I believe that each person in Dr. and Mrs. Doe's story felt they were acting in the best interest of Dr. Doe. Each of them was smart, rational and compassionate. There was no question in my mind that everyone at the table loved Dr. Doe. But legal, financial, residential and health care decisions are difficult to make, and underlying this contention, these individuals were grieving the loss of their father and husband as they knew him. In just a span of a few months, there was a massive rift in the family that felt irreparable.
With the help of elder law mediation, the Doe family was able to reach consensus without an expensive courtroom battle. But more importantly, during the mediation process — which involved having the blended family all talk together during some sessions — Dr. Doe's children saw how much Mrs. Doe loved the same man they did. They developed feelings of compassion and understanding for Mrs. Doe that they did not have before. Mrs. Doe got to know Dr. Doe's children much more intimately than prior holiday gatherings and intermittent phone calls had allowed. She saw how much they cared about their dad, and she wanted to support their feelings as if they were her own children who were hurting from their loss.
Nothing is more defining in the course of a family's history than how the family chooses to navigate a crisis or tragedy, especially one that was unexpected or sudden. The choice can leave the family decimated or the family can come through it forging a bond they never had before, which they will need as they deal with future loss together.
We all have family history that includes disagreements, conflict and differing opinions. Sometimes it feels impossible to agree on every issue because we are individuals with our own thoughts and feelings. Our rationale varies because we've had different life experiences, but we all need a safe space to reveal and resolve those issues outside of a courtroom or in front of a judge, who does not have the benefit of knowing our life stories. And even when we are just trying to problem-solve, we sometimes need a guide to walk us through the process.
Why elder law mediation is different
Elder law mediation is special because the mediator has significant experience in aging issues such as guardianship, long-term care, disease processes, estate administration and more. But having a front-row seat to how hundreds of families have either succeeded or failed in coming together during grief and crisis is the intangible value the elder law mediator brings. Elder Law mediation evaluates family values, history and dynamics to keep the family structure in place. It gives families a safe space to air their grievances, wishes and desires. There may be raised voices, tears, laughs or hugs, but everyone involved comes to understand that it would not be so difficult if there were not such strong feelings attached to the issues being resolved. And that is OK. Being able to come to an agreement allows families to stay intact while respecting the wishes of the elder. I have seen conflicted families that felt hopeless walk through the elder law mediation process and come out with renewed spirits.
If you know families enduring the difficulties of aging and the decision-making that coincides, encourage them to seek professionals with experience in elder law to lead them through the process. Decisions around aging should not be made in a vacuum, and it's important to look at the entire picture when putting a long-term care plan in place. Bringing entire families to the table and sharing a plan with loved ones can prevent heartache, stress and financial consequences down the road.•
__________
Lisa Dillman is an attorney and registered mediator at Applegate & Dillman Elder Law. The firm specializes in elder law and life care planning, a holistic approach to dealing with legal, financial, medical and emotional issues involved in growing older. The firm has offices in Indianapolis, Carmel and Zionsville. Find out more at www.applegate-dillman.com. Opinions expressed are those of the author.
Please enable JavaScript to view this content.