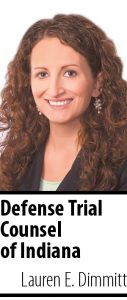 As some of my mentors have left to pursue new opportunities and others are nearing retirement, I have been reflecting on how fortunate I have been throughout my career to have truly exceptional mentors. These individuals have shared their experiences, taught me valuable lessons, helped me gain confidence, become my friends and made a demanding profession far more enjoyable. For that, I am incredibly grateful.
In the law firm setting, we sometimes have a traditional view of the mentor-mentee relationship: a senior partner supervising an associate in the same practice area. However, in my experience, mentor-mentee relationships take many forms. In addition to the traditional mentor-mentee relationship, others have developed organically through shared practice areas, shared interests or friendship. Some of my mentors have been practicing for decades, while others were senior associates when I began practicing. A productive mentor-mentee relationship does not necessarily require a significant age gap. We can all learn something from one another.
Although my mentors have all been unique, they share many qualities. First, they were all willing to invest their time. Not every attorney is willing to do this. It is easier to assign work to an attorney with several years of experience who requires little supervision. Mentoring is time-consuming and does not often translate into billable hours for the mentor. However, mentoring is essential to developing productive and competent attorneys.
Second, my mentors have provided me with extensive and thoughtful feedback, both good and bad. I vividly recall drafting a lengthy report letter to a client during my second year of practice. The supervising attorney reviewed the report letter. Instead of making revisions himself or simply providing me with redline changes, he drafted a two-page essay, in red font, in the client's voice and described the client's likely thoughts and frustrations as he read my unnecessarily lengthy report. Although the feedback stung at the time and the partner probably had a bit too much fun writing that essay, the lessons stuck with me.
Third, my mentors have allowed me to practice and, when ready, to take the lead. It is fair to assume that a more experienced attorney will perform a given task better and more efficiently. However, new attorneys learn by doing. The best mentors have allowed me to draft the important briefs, argue the big motions, take the depositions and be actively involved at trial. For my first jury trial as first chair, I had a partner with nearly 30 years' experience sitting as my second chair. He did not micromanage me or take over. He helped strategize, assisted with exhibits and provided feedback. Could he and the other partners have done these tasks better themselves? Absolutely. However, I would have learned far less by sitting in their shadows, never having to make strategic decisions myself. I had the confidence to take the lead because these individuals invested their time to train me, and I knew they were nearby if I got into any trouble. Good mentors threw me in at the deep end but made sure I had a flotation device just in case.
Finally, my mentors have advocated for me both in and out of the firm. Inside the firm, they have shared my victories and taken the time to provide thorough and thoughtful evaluations. Outside the firm, they have promoted me to clients and transitioned work. They have also helped me assume leadership positions in community and professional organizations. Most importantly, they believed in me when I did not believe in myself.
As I think about how vital mentorship has been during my career, I cannot help but wonder if the pandemic has negatively affected new attorneys by reducing opportunities for meaningful mentorship. Videoconferencing, email and phone calls have allowed us to continue working during these uncertain times, but are these things equivalent to in-person meetings when it comes to mentorship? Unfortunately, they are not. Some of the most meaningful mentorship occurs in informal settings and does not arise in the context of a specific case or assignment. For example, I have spent countless hours sitting in senior attorneys' offices, listening to their war stories. These opportunities are still possible in a virtual setting but are less frequent and require more planning and effort on the part of the mentor. So as we continue to navigate this pandemic, schedule extra phone calls and Zoom meetings with your mentees to ensure they are engaged and provide feedback as you did before the pandemic. When it is safe to do so, open your office door, schedule lunches and ensure associates receive quality mentoring.•
• Lauren E. Dimmitt is a partner in the Bloomington office of Dinsmore & Shohl and serves on the DTCI Board of Directors. Opinions expressed are those of the author.
Please enable JavaScript to view this content.