Driving back from Chicago to South Bend after winning asylum on-the-spot for her client, Nereida Lopez was in tears as she talked to her parents on the phone.
The then-Notre Dame Law School student knew her work was important, but it wasn't until her long ride back to campus in March 2020 that it hit her: She had changed the lives of the Guatemalan woman and her children whom Lopez had represented in court both inside and out of the country.
While Lopez's story wasn't the same as her clients' story, she knew firsthand just how hard it can be to navigate the immigration court system — and just how much it means to those who receive the help they need.
Lopez, who is now working with the National Immigrant Justice Center as an attorney fellow, and her family faced immigration issues after moving from Mexicali, Baja California, Mexico to the United States in 2002. The family came to America for her father's business, but soon after arriving they discovered a mistake was made by a U.S. paralegal who helped him fill out his paperwork. While applying to become permanent residents, the forms didn't indicate he had a family and children.
As a result, the family entered deportation proceedings, which lasted almost 10 years, Lopez said. During that time, the family couldn't go back to their home country at any time.
Lopez said her experiences growing up influenced her to do public interest work, specifically focusing on improving the lives of immigrants.
"I saw how the system worked and the delays, and how it's hard to get through the system and receive fair representation if you don't know the language or have the means to do so," Lopez, a spring 2021 graduate, said. "I wanted to go and help people in similar situations as her family."
For Lopez, the impact she made on her client and their family didn't hit her until after the case was closed.
"I remember hugging her. She was carrying her newborn baby, and she was crying and said, 'Thank you,' and she couldn't believe it," Lopez said.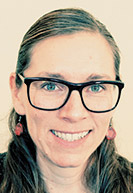 Through an externship at Notre Dame Law, students work on asylum cases, typically in pairs, for immigrants in Indiana. The asylum project is headed by adjunct professor of law Lisa Koop, who is also the associate director of legal services as NIJC.
The United States Department of Justice Executive Office for Immigration Review Policy Manual allows law students and law graduates who are not yet admitted to the practice of law to appear before immigration courts if certain conditions are met and the appearance is approved by the immigration judge. The resolution allows students, if supervised by a licensed attorney, to act as attorneys in court and work the entire case from start to finish.
Most recently, the externship in November 2021 resulted in a grant of asylum to a mother and daughter fleeing gender violence in Latin America.
As the program has continued to develop, Koop said she's seen more students who speak Spanish and are first-generation law students getting involved, which has brought "a really unique and powerful perspective to the work."
Lopez spent a year in the NIJC Externship and was selected as one of Notre Dame Law's 2021 Shaffer Public Interest Fellows this past spring. The fellowship — named in honor of professor emeritus and former dean Thomas L. Shaffer and funded by donor support — covers the salary and benefits for two Notre Dame Law graduates to work for two years at a nonprofit organization providing legal services to low-income or other underrepresented populations.
Emily Mollinedo, who is working with the Illinois Prison Project, was the other recipient.
Lopez is currently working with asylum seekers on alternatives to detention, specifically focusing on advocating for the removal of ankle monitors, which she said can cause physical pain and create social stigmas. Additionally, Lopez said she's compiling data to help in the NIJC's fight against ankle monitoring policies.
Like Lopez, third-year law student Sophia Aguilar also helped a mother and her young child gain asylum in the Chicago Immigration Court.
Aguilar, like Lopez, was partially inspired by her family to get involved in pro bono immigration work. Aguilar said her family moved from El Salvador to the United States in the 1980s, and the family she worked with in her recent case this past fall were from a town not far from where her grandmother once lived.
"It's extremely important to me to help out my community," Aguilar said. "… It was powerful for me to not only work for her but see how easily roles can be reversed. By accident, by birth, I have the things I have. It was really humbling."
Aguilar worked the entire case, from filing documents to presenting oral arguments. After filing the application for asylum, she was able to help move up her client's date in court and presented closing arguments, she said.
"When I first started, I don't think I fully comprehended (the impact)," Aguilar said. "It wasn't until we were in court and won asylum I fully comprehended. I'm not sure anyone but Lisa really understood what was happening at the time. It was amazing — something really hard to describe unless you were there.
"… Something that stuck out to me is, I asked how she would celebrate, and she said she was going home and being with her family, and that's a celebration," Aguilar continued. "… It's someone's life and it's just a privilege and honor to help someone gain this basic right they need."
Aguilar said she hopes to have a general litigation practice but plans to continue working pro bono in the future to continue helping her community further.
Since the program's inception around 2013, Koop said it has helped "dozens" of asylum seekers win their cases.•
Please enable JavaScript to view this content.