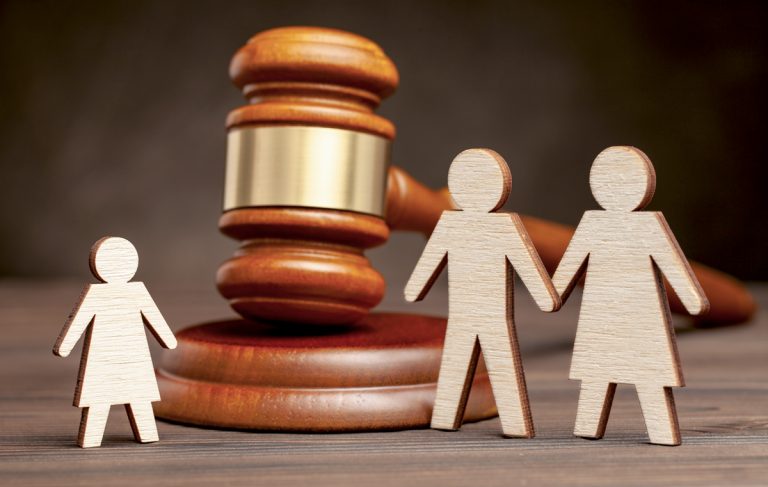 A split appellate panel has reversed two child in need of services adjudications, finding a trial court's decision was clearly erroneous. However, a lone Court of Appeals of Indiana judge dissented, opining that the Indiana Department of Child Services met its burden of proving the minors are CHINS.
Issues began in In Re the Matter of N.E. and F.C., C.E. (Mother) v. Indiana Department of Child Services, 22A-JC-405, in October 2021 when mother C.E. and father S.E. returned to their home to retrieve items for their 8-month-old baby, N.E.
The couple was not living in their home at the time because they had no power. Instead, they were staying with a friend.
During their visit to the home a neighbor saw the parents arguing outside and subsequently spoke with S.E., who said he feared the mother was having a "psychotic break." Following the birth of N.E., C.E. suffered from postpartum depression.
The neighbor agreed to watch the child while S.E. took C.E. to the hospital, but the parents did not return to retrieve N.E. by the following day. Police officers called to the scene entered the family's home next door and found it to be without electricity, extremely cluttered and to smell overwhelmingly pungent of fecal matter.
Because a family case manager at DCS was unable to ascertain C.E. and S.E.'s whereabouts, N.E. was removed and placed in foster care. DCS then filed a petition alleging N.E. to be a CHINS due to an alleged "argument/domestic violence incident"  between her parents; the inadequacy of the home; and the parents' unknown whereabouts.
Another CHINS issue arose with mother's first child, F.C., and that child's father, L.T. The child only had supervised parenting time with L.T. when DCS filed a petition alleging F.C. to be a CHINS due to the mother's intoxication and L.T.'s homelessness.
L.T. explained that he had arranged for him and F.C. to stay in a family room at the Lighthouse Mission in Terre Haute, but the Vigo Superior Court permitted DCS to investigate Lighthouse Mission for its suitability as housing for F.C. instead of placing her with him, and if found suitable, to place F.C. with L.T. without any need to return to court.
A family case manger informed the trial court that C.E. and S.E. refused to be screened for drugs and barely participated in scheduled visits. As for L.T., the case manager told the court that although he attended all schedule visits with F.C., DCS did not know where he actually lived and was unsure if he was using drugs or experiencing mental health issues.
Both N.E. and F.C. were found to be CHINS and all three parents appealed for sufficiency of the evidence, prompting a divided COA to reverse the trial court's decision.
Beginning with N.E.'s adjudication, the appellate majority noted that Indiana law is clear that a parent's mental illness, without more, is not sufficient to support a CHINS determination.
It noted that DCS had the burden to prove that N.E. was actually and seriously endangered as a result of C.E.'s  mental illness and that other than the occasion where S.E. took the mother to the hospital seeking help for her breakdown, DCS did not present evidence that N.E. had been impacted by Mother's mental illness, "let alone was placed in serious danger."
"It is well-settled that 'a CHINS adjudication may not be based solely on conditions that no longer exist,'" Judge Patricia Riley wrote for the majority, joined by Judge L. Mark Bailey. "…  At no point did DCS present evidence that Mother was still suffering from a mental health crisis or had refused to seek help and that Mother's postpartum depression actually and seriously endangered N.E."
The COA also noted that during the December 2021 hearing, the parents presented uncontroverted evidence that the family home was safe and the utilities were working. It also found that DCS failed to present evidence resolving the trial court's question of potential drug use.
"While Mother had a mental breakdown and the family home was found to be inadequate on October 13, 2021, these conditions were voluntarily and without court coercion remedied by the parties, and therefore they are insufficient to support a CHINS determination," it concluded.
As for F.C., the appellate court found that DCS failed to present any evidence to support that Mother had an active and ongoing substance problem. Neither, it found, did L.T.'s actions or inactions seriously endanger F.C.'s physical or mental condition. It also noted that L.T. sought a remedy to the housing concern.
The majority concluded that the trial court clearly erred when it found the children to be CHINS, finding that the evidence does not support a finding that the parents are either unwilling or unable to care for the children and that there is no evidence that the conditions that led to their removal have continued or require the court's intervention.
Judge Nancy Vaidik dissented with a separate opinion, noting that in keeping in mind that the purpose of a CHINS proceeding is to protect children and not punish parents and writing she believes that DCS had met its burden of proving the children are CHINS.
"The record shows that Mother had untreated mental-health issues that impacted her ability to care for her children, it was unknown whether Mother and Father S.E. were abusing drugs (because they hadn't tested), and all parents had housing issues," Vaidik wrote in dissent. "As the trial court found, the parents have the potential to be good parents; however, they need the coercive intervention of the court to supply the children with a safe home."
Please enable JavaScript to view this content.