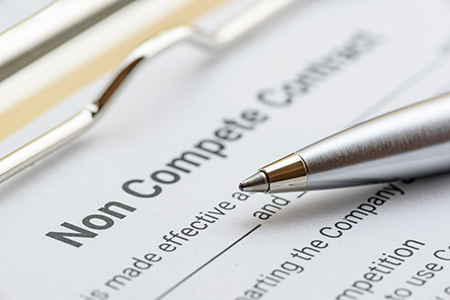 Dr. Larry Stover, a Hamilton County radiologist, worries he might be out of a job by March 1 due to a noncompete agreement and an unusual twist of events. Now he's fighting back.
Since 2012, Stover has worked for a medical group called Northwest Radiology Network PC, which for decades has held the contract to provide radiology services to Ascension St. Vincent hospitals in central Indiana.
But in September, the Indianapolis-based radiology company terminated its agreement with the giant hospital system, causing an abrupt end to a long relationship. In turn, Ascension St. Vincent awarded the contract to a national group based in suburban Los Angeles, called Radiology Partners Inc., effective in March.
Stover says he wants to go work for Radiology Partners so he can continue working at Ascension St. Vincent, where he is lead interpreting physician of mammography at the Carmel and Anderson hospitals. He says Radiology Partners wants to hire him.
The problem: Northwest Radiology won't release him from his noncompete agreement and allow him to work for Radiology Partners without paying hundreds of thousands of dollars. He fears that decision could keep him on the sidelines for two years. In a lawsuit against Northwest Radiology, Stover calls the buyout terms "unfair, vengeful and extortionate."
He is asking a judge to declare that Northwest Radiology has no protectable interest in its former business relationship with Ascension St. Vincent since it terminated its agreement with the hospital system.
The case is moving ahead, but under tight wraps. Stover declined, through his attorney, to comment to Indianapolis Business Journal. Dr. Kent Hansen, president of Northwest Radiology, also declined to comment, as did officials at Ascension St. Vincent.
It's the latest in a flurry of disputes raging across the country in recent years over noncompete agreements, which have largely favored hospitals, medical groups and other employers. But the tide could be shifting. Some Indiana lawmakers and a powerful federal agency are now lining up in the doctors' corner.
A bill advancing through the Indiana General Assembly would prohibit physicians and employers from entering into noncompete agreements, beginning July 1.
If the bill clears both houses and is signed by the governor, Indiana would join more than a dozen other states that expressly prohibit or sharply limit noncompete agreements for physicians and other patient-care professionals.
Nationwide attention
The issue, once a sleeper that rarely got much media attention, is surging through the health care industry and racking up headlines around the nation. Last year alone, lawmakers in 29 states proposed nearly 100 bills that would prohibit or limit noncompete agreements; nearly one-third of those bills involved health care professionals, according to Russell Beck, who specializes in noncompete agreements at the Boston law firm of Beck Reed Riden LLP, which tracks noncompete legislation.
And there's little sign the issue is fading. Already in the first weeks of this year, 25 noncompete bills have been proposed in 13 states. "Remember that the legislative sessions in most states are just starting, so more bills will be popping up — and it will take a while for most to go anywhere," Beck wrote on his law blog on Jan. 18.
Indiana's Senate Bill 7, which would ban physician noncompete agreements, got a lively, 90-minute hearing on Jan. 25 in the Senate Health and Provider Services Committee.
The bill is heavily supported by physicians and medical-consumer groups, who say noncompete agreements hurt doctors and their patients, reduce access to medical care and interfere with the free flow of labor.
On the other side, hospitals and business groups oppose the bill, saying noncompete agreements are needed to help protect trade secrets and to provide a return on the money and time needed to attract and train doctors.
Sen. Justin Busch, R-Fort Wayne, the bill's author, said the measure would ease some of the pressures on Indiana's health care system. He said 78 of the state's 92 counties have a shortage of doctors.
"Ask yourself this question: Amid the shortage, can we afford to have physicians sitting on the sidelines, waiting out noncompetes that can sometimes last more than a year?" Busch said.
He said some physicians caught in noncompete agreements could choose to leave Indiana and set up a practice elsewhere, further adding to the shortage of doctors here.
"These agreements slow innovation and constantly disrupt doctor-patient relationships, which are already strained by existing shortages," he said.
The bill is the latest step in Indiana's response to growing unease over noncompete agreements. Two years ago, the Legislature enacted House Bill 1004, which granted physicians a few rights, including the right to buy out their non-compete contract "at a reasonable price."
Pros and cons
The Indiana Hospital Association, a powerful lobbying force that represents more than 160 hospitals across the state, has long supported noncompete agreements, calling them a "standard business practice" to protect an organization's investment in a doctor's practice.
The organization told IBJ the 2020 Indiana law "struck the right balance" for both physicians and employers.
"The Indiana Legislature should not further interfere with this legitimate business tool to protect the capital, time and training that employers invest to recruit and retain physicians," the hospital association said in a statement.
Likewise, the Indiana Chamber of Commerce is coming out against SB 7, saying businesses often spend large sums to attract and train physicians, equip their clinics and pay for their licensing. Without noncompete agreements, physicians could leave their practices at any time and open a competing practice across the street.
"The chamber believes that noncompetes are a reasonable tool for protecting this investment," said Ashton Eller, the chamber's vice president of health care policy and employment policy.
But physicians say the bill would only help with patient care and accessibility. Dr. Pardeep Kumar, an internal medicine physician from Terre Haute, said a doctor who wants to leave a practice or group must either stop practicing for a year or more or move to another community, sometimes out of state.
"Patients will lose their physicians because of noncompete clauses," said Kumar, who is president of the Indiana State Medical Association. "This is especially true in communities with very few physicians or those communities near the state border."
Even some employers say they support the bill because it would help patient care. Dr. Ronald Piniecki, an Indianapolis anesthesiologist and co-founder of WellBridge Surgical, an ambulatory surgery center, said he has been unable to attract surgeons to take on some difficult cases, even though the surgeons were interested and offered to do the operations on their vacation days.
He said the employment arrangement was snuffed out by a hospital group that employed some of the surgeons and refused to let them out of their noncompete clauses.
"I think that's just one example of how competition is being stifled," Piniecki said.
The Employers' Forum of Indiana, which pushes for more transparency and value in health care, said 86% of Indiana physicians are employed by hospital systems, which often insist on noncompete agreements.
"Physician noncompetes curtail individual freedom to pursue better job opportunities and prohibit physicians from joining or starting competing businesses," said Sabra Northam, a vice president at Hallowell Consulting, representing the Employer's Forum. "Physicians should be able to work for an employer who supports them best."
Even some members of the Senate committee — across party lines — sounded torn on the issue. Their comments raised the prospect that the bill could be amended in coming weeks to make it more of a compromise.
Sen. Jean Breaux, D-Indianapolis, said an outright prohibition on noncompete agreements was bothersome. "There should be some way to define a middle ground," she said, voting against the bill.
Sen. Michael Crider, R-Greenfield, voted yes, but said he hoped there was "a way to find a balance."
The committee's chairman, Sen. Ed Charbonneau, R-Valparaiso, said he has been struggling over how to vote and called it "a tough one."
"I have flip-flopped on this over time, but something needs to be done, and I'm going to vote yes," he said.
Broader than health care
The committee advanced the bill to the full Senate on a 9-3 vote. But even as the Legislature considers the measure, a federal agency is also running full steam on the issue.
Last month, the Federal Trade Commission proposed a rule to ban noncompete clauses in every sector, including health care.
The commission said noncompete agreements hurt workers and harm competition. It estimated a federal ban could increase workers' earnings by nearly $300 billion a year and expand career opportunities for 30 million Americans.
"The freedom to change jobs is core to economic liberty and to a competitive, thriving economy," FTC Chair Lina M. Khan said in written comments. "Noncompetes block workers from freely switching jobs, depriving them of higher wages and better working conditions and depriving businesses of a talent pool that they need to build and expand. By ending this practice, the FTC's proposed rule would promote greater dynamism, innovation and healthy competition."
The FTC also estimated a ban could save consumers up to $148 billion in health care costs a year. Hoosiers for Affordable Health Care, an Indianapolis-based consumer group, said Hoosiers could expect part of those savings.
"This is about affordability, and it's about accessibility," said spokesman Matt Bell.
Yet the ban has an exception for not-for-profits, which apparently would include most of the hospital groups in Indiana.
Already, thousands of people have submitted comments to the FTC over the proposed rule change, including Indiana physicians. Dr. Bryan Sharpe, a family practice physician affiliated with Riverview Health in Noblesville, asked the FTC to remove the exemption for not-for-profits but otherwise praised the proposed rule.
"The lack of ability for physicians to practice where they wish due to exorbitant buyout clauses and ridiculous radii on our non-compete clauses is a primary reason for physician burnout and frustration in today's medical community," he wrote.
Dr. Sarah Schaffer, a Carmel pediatrician, said noncompete clauses frequently make it impossible to leave an employer and practice within 50 to 100 miles.
"Removal of this unfair limitation for all would provide a clear, transparent and fair work environment," she wrote.
Dr. Matthew Bohm, a gastroenterologist employed by Indiana University Health in Indianapolis, said his noncompete clause would prohibit him from practicing for two years within a 30-mile radius of any place he now practices medicine, including a satellite office 20 miles away.
"I and my partners who are not happy with the leadership at IU would like to leave but the noncompete makes it difficult," he wrote. "I have to ask IU to let me leave and they would likely demand a buyout to leave which would be an enormous number."
IBJ could not find any comments from Indiana physicians or physicians' organizations in favor of continuing a ban.
'Changing the environment'
Some attorneys who specialize in health law said the sentiment is clearly growing in favor of banning or sharply curtailing physician noncompete agreements.
"What you're seeing reflected in the FTC proposal and elsewhere is a growing hostility to the idea that there should be those kinds of restrictions, and it's changing the environment that employers have been comfortable with in the last number of years," Matthew Durham, a Salt Lake City-based attorney with Dorsey & Whitney LLP, told The Wall Street Journal.
Meanwhile, Stover at Northwest Radiology said he is in limbo and was told in December that he and other St. Vincent-affiliated radiologists could expect a decrease in scheduled hours and a pay cut of 50% or more.
In his lawsuit, Stover said he petitioned the Northwest Radiology board, along with three of his colleagues assigned to Ascension St. Vincent hospitals, for a release from their covenants not to compete. In response, the board refused to discuss the matter.
But on Jan. 19, the board announced it would allow the physicians to buy out their contracts and join Radiology Partners. For Stover, the buyout would cost about $300,000.
In his lawsuit against his employer, Stover said he didn't consent to a part-time schedule or to being removed from the medical staff at St. Vincent, "where he has thrived for over 10 years and where he has maintained strong relationships with physicians, staff and administrators," his complaint said.
Northwest Radiology had not filed a response to the complaint by IBJ's press deadline. But in a brief email, the independent, physician-owned practice said "the facts of the case will support NWR's position."
Hansen, the top executive at Northwest Radiology, which has partnerships with more than 30 regional hospitals and specialty clinics, wrote a letter in November demanding that Radiology Partners, the medical group that won the Ascension St. Vincent radiology contract, cease and desist from any actions that would "wrongfully interfere with our contractual relationship with our physicians."
Officials from Radiology Partners did not return calls to IBJ.
Darren Craig, an attorney in the Indianapolis office of Frost Brown Todd who represents both Stover and Radiology Partners, told IBJ in an email the lawsuit "is not a statement" about noncompetes in general but is based on specific facts and circumstances.
"My client is committed to providing high-quality, safe and compassionate care for patients and families who seek radiology services," Craig wrote, "and my client looks forward to its partnership with Ascension St. Vincent Hospital and to serving the Indianapolis community."•
Please enable JavaScript to view this content.