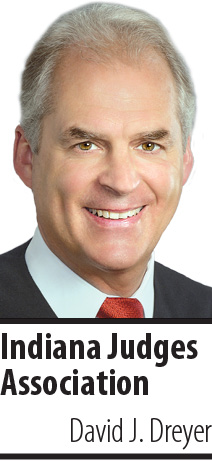 Editor's note: This column is revised from a column originally published in January 2009.
Despite serious travails during our history, presidential inaugurations seem to allow for a pause and some national confidence. Noting this recently, it is perhaps well that we set briefly aside our current concerns and allow some reflection to lighten us up and to observe the critical importance of the judicial branch.
There is no law or provision indicating who shall give the presidential oath. But the task seems to fall to the highest available judge, with many interesting exceptions. And it is sometimes given twice just to make sure. Lo and behold, judges and inaugurations provide a fascinating look at American history:
• George Washington was sworn in by Robert Livingstone, the highest judge in New York (there were not yet Supreme Court justices or federal judges).
• John Marshall, chief justice for 34 years, administered the oath nine times, still the record.
• Chester Arthur took office after President Garfield's 1881 assassination. He was sworn in by a local New York state trial judge but took the oath again a few days later from Chief Justice Morrison Waite (apparently fearing that a state judge would not have sufficient swearing power).
• William Howard Taft was both president (1909-1913) and chief justice (1921-1930). As president, he appointed more Supreme Court justices (six) than anyone except George Washington, including both his predecessor and successor as chief justice. Even though he joined the Supreme Court only eight years after leaving the presidency, he only served with two of his own appointees. As chief justice he swore in two presidents — the only former president ever to do that.
• Calvin Coolidge was back home in Vermont when President Warren Harding suddenly died in 1923. He took the oath from his father, a local justice of the peace and, more importantly, a notary public. Apparently a student of the Arthur administration, Coolidge also took the oath again later, but not from a chief justice. Instead, he quietly sought out a local federal judge, and the second oath was never publicly revealed for many years. Coolidge supposedly could not disappoint his father's pride — not to mention the precedent of power for notary publics everywhere.
• Lyndon Johnson's 1965 inaugural oath was slightly modified by Chief Justice Earl Warren. Instead of "office of the President of the United States," as indicated in the Constitution, the chief justice said "office of the Presidency of the United States." Film footage shows Johnson pausing slightly, but nevertheless reciting it as Warren gives it, not as the Constitution reads, just as President Barack Obama did many years later. But no further oaths were considered necessary for Johnson, who was well-known for an abundance of swearing.
• Perhaps the most famous swearing-in of our time is also the saddest. On Nov. 22, 1963, Lyndon Johnson took office while still in shock from the assassination of President John F. Kennedy. The local U.S. attorney, Harold "Barefoot" Sanders, himself to later become a legendary Texas federal jurist, was asked to find a judge to swear in Johnson. He called Sarah Hughes, a recent Kennedy appointee to the federal bench. Judge Hughes reportedly asked if anyone had an oath, and if not, she would make one up. As the world now knows, Judge Hughes administered the correct oath to Johnson on Air Force One minutes before he accompanied Kennedy's body and the widowed first lady back to Washington, D.C. It was the first and only presidential oath given by a woman. But Sarah Hughes was no stranger to history. She was the first woman state trial judge in Texas, and its first female federal district judge to boot. Later, she was a member of the trial panel that first ruled on Roe v. Wade. She remarkably served as a judge, on state and federal courts, for 50 years.
Judges and inaugurations become historically significant when they can show something about the people involved and provide a more personal history of America. Accordingly, my favorite inauguration is the 1933 oath to, or rather, from Franklin Roosevelt. Chief Justice Charles Evans Hughes read the oath, but Roosevelt waited for the passage to be spoken in its entirety. Then he recited the whole oath flawlessly by heart from start to finish. Never has there been such a face-to-face display of executive branch inaugural force.
Who knew that two guys from Harvard could flub a short Constitutional passage? Chief Justice John Roberts' and President Obama's miscues during a basic swearing-in left the rest of us judges feeling pretty good. They both spoke over each other, and after a couple of false starts, got through it. It was privately administered again the next day just to make sure.
As we remember the awkward oath of Chief Justice Roberts and President Obama and the history embodied in presidential inaugurations, let us also not forget this awkward balance of power, of which judges share a rightful part.•
• Senior Judge David J. Dreyer presided as a judge for the Marion Superior Court from 1997-2020. He is a graduate of the University of Notre Dame and Notre Dame Law School and a former board member of the Indiana Judges Association. Opinions expressed are those of the author.
Please enable JavaScript to view this content.