I, too, sing America.
I am the darker brother.
They send me to eat in the kitchen
When company comes,
But I laugh,
And eat well,
And grow strong.
Tomorrow,
I'll be at the table
When company comes.
Nobody'll dare
Say to me,
"Eat in the kitchen,"
Then.
Besides,
They'll see how beautiful I am
And be ashamed —
I, too, am America.
— Langston Hughes, "I, Too", 1926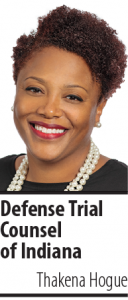 Langston Hughes's iconic poem speaks mainly to the notion that inclusion matters. Although the poem speaks of the "darker brother," we know that diversity is very broad and encompasses differences in race, ethnicity, gender, sexual orientation, religious affiliation and socioeconomic background. Hiring diverse attorneys is a good start; however, giving diverse attorneys a seat at the table will ultimately determine whether a firm's diversity and inclusion efforts have been effective.
Those law firms that fail to see the business case and the moral case for diversity and inclusion will find that they've missed out on a key method for growth and sustainability. Diverse attorneys bring with them the different approaches, perspectives and backgrounds that lead to innovation and better outcomes for the firm and its clients. The prevailing trend has been for clients, especially large corporations, to do business with firms that make a real effort and show progress in their diversity and inclusion initiatives. Some corporations have begun to monitor their vendors (law firms included) for diversity and inclusion initiatives, so that reimbursement rates and new business are tied to making meaningful progress with such initiatives.
The Leadership Council on Legal Diversity has identified some key questions to consider and key metrics when considering how to improve law firm diversity and inclusion efforts:
How can we offer origination credit more equitably? Encourage associates to shadow more senior lawyers when working on matters and give credit for matter origination.
How can we assign work more equitably? Dig into how and why people get assignments and take steps to make assignments less dependent on relationships.
How can we incentivize diversity for minority and majority attorneys? Measure and reward inclusive partner behaviors. Give billable credit for diversity efforts. Create leader accountability by tying compensation to progress on diversity.
How can we remove bias from recruiting systems? Blind hiring (e.g., removing names, identifying factors from CVs). De-emphasize pedigree and other factors that don't really predict success. Emphasize traits such as grit instead of school rank and first-year grades.
How can we provide greater transparency around law firm compensation systems and what it takes to succeed in our organizations? Dig into how and why people get promoted, how firms measure success, etc. Provide clarity around expected milestone processes, training, information. Share compensation by demographics with clients.
How can we remove bias from feedback processes? Think about how to follow up after feedback is given. Engage diversity advocates in the feedback process.
How can we better engage diversity allies? Educate straight white men about the value of diversity and inclusion early in their careers. Offer bonuses/compensation for referring work to diverse attorneys.
How can we improve diversity in leadership positions? Consider a set number of diverse candidates for open leadership positions (Mansfield/Rooney Rule). Create a "committee of influence" to oversee staffing of key committees and governing bodies.
Diversity requires firms to be intentional. Many firms complain that there are just not enough diverse candidates to recruit. Firms should ask themselves what they are going to do to increase the pool. Firms that are serious about diversity have developed undergraduate internships that target diverse students. This allows students to be exposed to the legal field and allows firms to mentor future attorneys. The pipeline to promoting diversity in the legal field starts long before the person becomes a licensed attorney.
Getting diverse attorneys to the "table," so to speak, means making intentional recruiting efforts to attract these candidates to your firm. However, the work doesn't stop with recruitment. It is not enough to just "make room at the table" for diverse attorneys, those attorneys have to have the opportunity to "eat." "Eating at the table" involves creating opportunity for the attorney to engage in substantial work that will foster and enhance their skills as a legal professional. Examples of substantial work include leading client initiatives and teams as well as organizing and attending client meetings.
Firms must dig deep and be creative about increasing the pipeline of diverse candidates, recruiting diverse attorneys and retaining diverse attorneys. Let your firm's "grade" on diversity drive you to take the next steps. Now is the time to make room at the table for diverse attorneys to eat.•
• Thakena Hogue is an associate attorney at Katz Korin Cunningham and a member of the Defense Trial Counsel of Indiana. Opinions expressed are those of the author.
Please enable JavaScript to view this content.