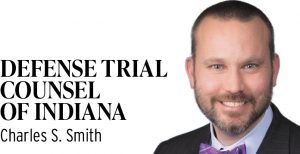 A few years ago, a friend of mine and I were having lunch and discussing how things were going. We both have families, we are both attorneys trying to build our books of business, and we were both trying to be involved with our families, our profession, our churches and our community. I noted that I was feeling stretched pretty thin at the time, and he told me about a book that he had just finished and that he was going to give me called "The Ruthless Elimination of Hurry," by John Mark Comer.
Comer is a Christian pastor who had been leading a fast-growing church in Portland, Oregon, and, like many of us, felt that he was being pulled apart by the need to do as much as possible. His book is about how he slowed down his life, eliminating hurry and finding a lot more satisfaction in how he lived his life. Now, the purpose of this column is not to have a theological discussion, or to even encourage you to read that book. But it is to get you to think about hurry in your life and practice.
My DTCI colleague, Keith Mundrick, wrote a great column recently about providing customer service. As Keith noted, we as attorneys are in the customer service business, and if we are not providing service to our clients, someone else will. However, our society in general, and our profession in particular, too often equate providing good customer service with immediate response times and the overarching concept of "hustle." I agree that it is our jobs to respond to our clients in a timely manner, but I have come to think that this notion of "hustle" is an unnecessary ploy to make us feel like we always have more to do. The problem with this idea of "hustle" is that it leads to spreading yourself too thin, to focusing on trying to do too much without regard for doing well at what you are doing.
Technology allows us to communicate with a vast number of people and provide quicker responses than ever before. But it can also take over our lives, creating expectations that people are available at all times and that we should be available at all times. Does our technology saturation lead to getting things done more efficiently so that we have time to do the things that matter? Or does it lead to automaticity in our daily lives, where we are not really thinking about what we are doing?
For a number of years now, I have tried to become more intentional in what I do, meaning that when I do something, I do it with purpose and deliberation. I am often far less successful than I would like to be. The prevalence of social media, email, text messages and other apps helps foster a lack of intentionality for many of us. Lack of intentionality leads to killing time. Killing time leads to having less time than you should to do the things that matter, which leads to hurry.
What can eliminating hurry mean for your practice? Here is what eliminating hurry does not mean: providing terrible customer service; never having fun; working all the time; becoming a monk. But what it can mean is: making sure that you are committed to doing the task before you well; responding in a timely manner (but not in an immediate manner); fostering more substantive relationships with your colleagues; and having a better understanding of who you are and what you are capable of. Now, I could write a biweekly column for a year on the various ways attorneys could eliminate hurry from their lives (social media would probably take half of the year). But today, I want to focus on one area in particular: your relationship with email.
Think about how often you are working on a project and get a notification that an email has come in. Perhaps you hear a ding or you see a window pop up or you see a little envelope in the bottom right corner of your monitor. Instead of focusing on your bigger project, you look at the email, dash off a quick response, then try to restart the work you were doing previously. You have interrupted your work on the bigger project and sent off a response that probably was not as thoughtful as it could have been. What if you shut off your email notifications? What if you set aside three times a day for reading and responding to email? What if you set aside only one time per day to respond to email? How would your practice change? How meaningful would your responses be if you knew that you would not be looking at your email again for another three to four hours? Another 24 hours? Would you be thinking more about what other issues you could address or what other problems you could solve in advance? As Keith noted in his column, many people do not respond to emails within three days. You would still be 48 hours faster than those people, and the work you did in between those emails could be far better than what you would have otherwise done.
If you cut back on worrying about immediacy and instead concerned yourself with preparing quality work in a timely manner, what would that mean for the service you provide to your clients? These are questions that eliminating hurry from your life can help you answer. There is a saying in that Navy that "slow is smooth, and smooth is fast." By taking your time, by not hurrying, you head off problems down the road so that the overall work is done faster. That is the sort of service clients love.•
Charles S. Smith is a partner in the Indianapolis firm of Schultz & Pogue and serves on the board of directors of DTCI. Opinions expressed are those of the author.
Please enable JavaScript to view this content.