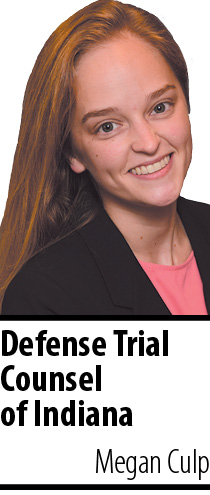 This is the third time I have written this column for The Indiana Lawyer. There is no requirement that it deal with a legal matter; it can be about any topic the author chooses. When I sat down to write the article, I have not been able to come up with a single interesting topic. Most of my current life, like everyone else's, is being constrained by a global crisis. I have not gone out to do anything new in the last few weeks, the news is full of the same thing day after day, and honestly, I am completely preoccupied. So, I have been staring at a blank page with a blinking cursor wishing I had something interesting to write to give myself and the readers something new to think about, but I've got nothing. In an effort to help myself focus on the positives, I've decided to write a short piece reflecting on the positive things I've experienced during this crisis, and perhaps it will give someone a small distraction from the negatives.
First of all, being a lawyer means technology has allowed us to carry on (almost completely) with business as usual even while the whole office is working from home. For that I am thankful, but being confined to home can be maddening. One major perk for me, however, is that my co-worker is cute and easy to get along with. His name is Archie, and he's a miniature Australian Shepherd. He might disagree that "working" together has been a perk, however, since my working from home has severely cut into his personal time. Instead of doing his own thing, his naps are rudely interrupted whenever I take a break. We're both adjusting.
In addition to normal day-to-day work, which is primarily a solo gig, I have also participated in remote hearings, including one with two attorneys, four witnesses and the judge all video conferencing from different places. It has been great to see everyone adjusting and rising to the challenges that seem to change daily. Also, my firm now gets together every week for video chats just to catch up on what is going on. One of the partners got a new puppy, and she was the star.
Aside from work, being told to stay home has affected how everyone is able to interact with friends, family and even church. I've discovered that where there is a will there is a way, and when you've been forcibly separated, there is most certainly a will. Over the last few weeks I have played board games via video chat, watched a movie with a friend who was present only on another screen and attended church in my living room. Although church is traditionally an in-person activity, many churches have taken this opportunity to provide peace and continuity not only to their usual church family, but to anyone who has an internet connection and a desire to tune in. I think watching people come together for comfort, distraction and enjoyment has been one of the best things to come out of such a dark time.
So be encouraged. If you're missing human connection, there are so many resources to keep us connected. I'm comforted by how dedicated people have been at being present in each other's lives without being physically present. Someday soon we will all get to interact with our world again. Until then, beat your friends at Monopoly, watch the latest Netflix binge-worthy series and read a good book.•
• Megan C. Culp is an attorney with the Indianapolis firm of Pitcher Thompson P.C. and is a member of DTCI. Opinions expressed are those of the author.
Please enable JavaScript to view this content.