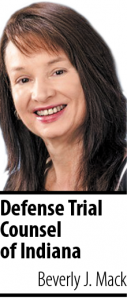 My DTCI board term is about to expire. It has been particularly rewarding to lend a voice from the northwestern part of the state as a member of the board of directors. Thus, I want to take the opportunity to reflect upon many grateful memories of being on the DTCI Board of Directors.
Our longtime executive director: Lisa Mortier has been DTCI's longtime executive director. Lisa is the very embodiment of high energy and focused determination. Lisa's straightforward and driven leadership style has been a great asset to our organization.
2019 president: Renee Mortimer has been our gracious and inspiring president in 2019. Having known Renee for years, I am grateful my term as a director intersected with Renee's presidency. A significant and noteworthy achievement of Renee's presidency was the enthusiastic convening of a newly formed Diversity Committee. A more worthwhile endeavor is hard to imagine. The Diversity Committee seeks to diversify the organization's membership.
2019 Diversity Committee chair: Being on the board provided me with my first opportunity to meet Norris Cunningham, the Diversity Committee chair. Although the space limitations for this column prohibit me from commenting upon every inspiring lawyer whom I have met through DTCI, I want to especially mention Norris. It has been a delight to listen to his input, goals, observations and insight for moving forward with attempting to diversify our DTCI membership.
2019 Annual Conference: The DTCI Annual Conference will occur in Bloomington at the Monroe Convention Center on Nov. 21 and 22. This is always a well-planned conference with timely and informative topics. The topics covered during the annual conference are applicable to health law, employment law, workers compensation, insurance law, construction law, business litigation, product liability, trial tactics and tort defense practices. The topics are wide-ranging and practical while also addressing cutting-edge trends, scientific principles, technological advances and practice pointers.
Section-sponsored seminars: The substantive sections within DTCI also sponsor well-attended seminars. The sections include trial tactics, workers compensation, product liability, employment law, business litigation, insurance coverage, health law litigation and construction law.
My individual perspective: When I relocated to Indiana in 1996, I came from a firm in Illinois whose litigation partners were very active in IDC, the Illinois Association of Defense Trial Counsel. Several partners of the firm served as president of IDC. From that perspective, it was my goal to join DTCI and attend the annual conferences. When I joined, Molly McClellan (now Molly Terry) was the executive director. Molly is now our publications director. Clear back to 1996, I remember how welcoming and gracious Molly was to me.
I have attended all but one annual DTCI meeting since coming to Indiana in 1996. As the annual conferences have moved throughout parts of the entire state of Indiana, the variety of the different locales has been an added bonus. Annual conferences have taken place in French Lick, Indianapolis, Bloomington, Michigan City, Fort Wayne, Nashville, Turkey Run, South Bend and Lafayette.
Wide range of DTCI opportunities and benefits: From a professional standpoint, DTCI membership can provide mentoring opportunities for younger practitioners and educational opportunities for all practitioners. From a personal and social standpoint, members are able to initiate and foster friendships with attorneys whom they might not necessarily encounter because of the geographical location of their office, etc. Listening to the input, wisdom and practice experiences of other defense attorneys has never been a boring or unenlightening encounter (one of the rare moments when I can safely use the word never.)
For any defense practitioners who want to further hone their writing skills, DTCI's Amicus Committee and the Indiana Civil Litigation Review are excellent opportunities to achieve that goal.
Membership benefits include innumerable speaking opportunities to enhance one's professional profile throughout the course of any calendar year. Membership can also provide an effective path to achieve leadership skills via board service, officer service and section service.
Thus, I encourage civil defense practitioners to contemplate (and hopefully act upon) the many benefits and rewards available with DTCI membership.•
__________
• Beverly J. Mack is a partner in the LaPorte firm of Huelat & Mack P.C. and is a member of the DTCI Board of Directors. Opinions expressed are those of the author.
Please enable JavaScript to view this content.