Tell us what you want to see!
The 19th volume of DTCI's flagship publication, the Indiana Civil Litigation Review, will begin production soon. Do you have an issue you would like discussed, a legal problem clarified, an apparent conflict between the courts clarified or an idea for legislation you believe would improve the practice of law in Indiana? If so, let the editors know! We will find an author to address the important issues of interest to our membership.
Please write Molly Terry, managing editor, if you have a topic you would like the Board of Editors to consider: [email protected]. Or get in touch with any member of the Review Board of Editors.
Editor-in-Chief
Patricia Polis McCrory
Harrison & Moberly
Indianapolis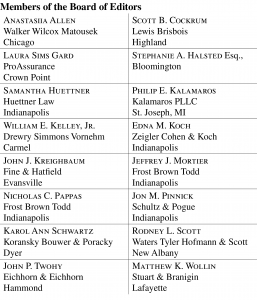 Please enable JavaScript to view this content.