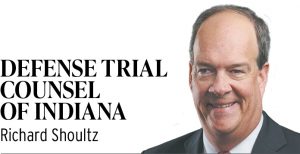 Softball is what old men play to try to feel young again – Patrick Wallace
This quote is appropriate to my life. I have played baseball or softball for more than 50 years. Starting with baseball at 6 years of age, I have played T-ball, Little League, high school, American Legion, college and even a few years of "over 30" senior league. Once I entered law school, I began playing slow-pitch softball in the Indianapolis Lawyers League. Over the 30-plus years of involvement, it has been fun and has allowed this old man to keep active, stay young and enjoy fellowship with a number of attorneys and clients.
When I started, there were around 15 to 18 teams with two divisions. Our games were played at Indianapolis city parks: Riverside and Chuck Klein Softball Complex. We have continually played at Klein except for a two-year window when the facility was undergoing a renovation, and we played at other locations. The league even survived COVID, when teams still were able to play because of limited exposure while outdoors.
While the league has survived challenges such as COVID, it is hurting from apparent apathy in the Indianapolis legal community. This past season, the league was down to four teams. Out of the many hundreds of lawyers in Indianapolis, only around 20 are regular players. My hope is that this article rekindles the joy of men and women to consider playing a game to feel youthful again.
The four teams that played this past year include B8ZIMS, Coots Henke, Pokers and Riley Bennett. In addition to the younger members, the teams have veterans such as Andy Seiwert and Jeff Reed (B8ZIMS), Judge Hawkins and Jeff Mendes (Coots Henke), Lee Christie and Rob Ebbs (Pokers) and Don Smith and Kevin Tharp (Riley Bennett).
These "old timers" have provided continuity to the league in keeping their teams active by recruiting new attorneys and clients when others stop playing.
While there are many benefits that accrue (such as stepping away from our computers and getting some exercise) the biggest benefit from playing is the camaraderie of your teammates and interactions with the other teams. While the teams are competitive, players of all skill levels are welcome and sprinkled among the teams. Teams are not limited to male players; female players are welcome and have made impacts on some of the teams. Having the opportunity to interact with an attorney in a fun setting away from the adversarial litigation forums in which we work provides an opportunity to get to know the attorneys and share a common interest.
I must not forget the sheer fun that comes from playing. Whether it is swinging for a base hit or making the play on a hard-hit ground ball, there is a feeling of satisfaction of still doing something that Father Time is attempting to take away. My family thinks I am crazy, and I probably am, when I come home with bloody knees from diving for ground balls. Most players are not and should not be doing that — I should not be doing that. However, until I know my body has reached the point where I cannot play softball, then I am going to keep playing hard because of the enjoyment it still brings.
My hope is that this article provides some spark to interest more attorneys to come and receive the benefits of playing a game if only to have fun, get some exercise and enjoy the company of our fellow attorneys. If you are interested in fielding a team or just getting involved with a team, reach out to Rob Ebbs at 317-319-7235 and he will assist. Stay young!
__________
Richard Shoultz is a partner in the Indianapolis firm of Lewis Wagner and is a director of DTCI. Opinions expressed are those of the author.
Please enable JavaScript to view this content.