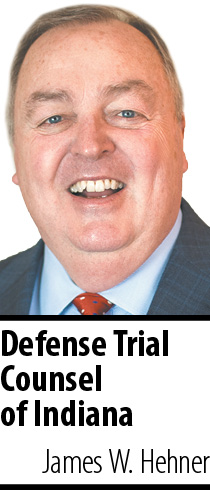 By James W. Hehner
What a stressful year this has been! I think you now deserve to have some fun with your colleagues. That is why I hope you will join us at the DRI Annual Meeting in October.
This year's annual meeting (the 60th anniversary) will convene in Washington, D.C., at the Washington Hilton from Oct. 21-24. Because of the coronavirus pandemic, alternative plans are being made, but at this time an in-person meeting is still scheduled. Save the dates on your calendar and check the DRI website regularly for updates. I have attended many annual meetings and certainly do not want to miss this one in historic Washington.
DRI has planned a week of spectacular keynote speakers, cutting-edge CLE presentations and plenty of networking events just for you. The theme this year is "The Summit," and the meeting will bring together DRI members and the businesses they serve. Industry executives expected to attend include those from finance, regulation, retail, product manufacturing, aviation, automotive, employment, gig economy, cybersecurity and insurance. DRI members will have the opportunity to network and spend time with some of their existing clients and potential new clients.
Main speakers will include executives from The Hartford, Equifax, Costco, Honeywell, Ford, Lockheed Martin, Eaton, Uber, Starbucks and Nutrisystem. Presentations will include a CEO fireside chat on the future of the insurance industry and a discussion regarding navigating the largest data security breach in history. There will also be general counsel panels on litigation compliance in the new decade and panels including general counsel and claims vice presidents discussing lawyers as trusted partners. These and other presentations will provide eight hours of continuing legal education, including one hour of ethics credit.
The social side will not be neglected. This year's spotlight event will be a party on the National Mall at the National Portrait Gallery. Anyone who attended last year's annual meeting in New Orleans and attended the "second line" parade and party on Fulton Avenue knows they will not want to miss this year's party on the Mall.
The DRI Annual Meeting provides an excellent opportunity to get involved and join your colleagues for committee meetings and dine-arounds designed to provide you with leadership and business development opportunities. Strengthen old relationships and develop new ones while networking with in-house counsel and defense attorneys from around the nation during the week's activities. (It is good to remember that when these attorneys need an Indiana lawyer, they frequently look to DRI members for their referral.)
2020 has been a difficult year for all of us. We have faced challenges in our personal lives and businesses that we have never faced before (and that I hope we never face again). I, for one, can't wait for life to begin to return to normal and to travel to Washington. Our nation's capital, with its museums and historical sites, has something to interest everyone in your family. Consider adding on a couple of extra days with your loved ones before or after The Summit. With the difficulties we have all faced this year, we all deserve it.
* * *
If you join us in Washington, please take the opportunity to say hello to DRI's new chief executive officer, Dean Martinez. John Kouris, our immediate past chief executive officer, retired this year after many years of skilled leadership of DRI.
Please stay on the lookout for emails and notices from DRI about The Summit so that you can register and reserve your hotel room in time. If you are not already a member of DRI, I encourage you to join and attend the upcoming meeting. If you are coming, be sure to bring some comfortable shoes so you can tour the city, and please make sure to say "hello."
I look forward to seeing you in Washington, D.C., in October.•
• James W. Hehner is a former president of DTCI and current DRI Indiana state representative. He is the partner in charge of the Indianapolis office of Clendening Johnson & Bohrer. Opinions expressed are those of the author.
Please enable JavaScript to view this content.