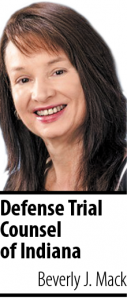 Frequently for my past columns for DTCI, ideas would rise to the surface of my consciousness during my walks through my neighborhood and along the country roads of Porter County. Not so much this year.
This year, despite
My household receiving two daily newspapers
My practicing in the civil litigation field, which yields an accumulation of war stories
My extensive reading of books that deserve comment (my favorites include Michael Connelly and T. Jefferson Parker)
My retention of at least a modicum (I hope) of a sense of humor and cerebral heft after all these years of practicing law
The sheer variety of legal issues that I confront in my caseload and its resultant learning experiences and
Miles of walking,
a topic for this column was not staring me in the face. But one or two thoughts did cross my mind that I think are worth sharing.
During the pandemic, a neighbor on a road that I regularly walk used a vertical chalkboard at the end of her driveway to write a message or sentiment for the day. Those daily messages were a constant blessing during the lockdown and the subsequent reopening during the pandemic. During a week in August, I noticed that my neighbor was again posting the daily messages. One stated, "The entire world is understaffed, so let's be extra kind to those who show up." When this neighbor quoted anyone, she would always include an attribution. I inferred from these daily messages that she and I had a similar political orientation. During the worst of the lockdown and even now, when passing these messages, I would make the sign of the cross. Apparently, my neighbor noticed this and I subsequently learned that she is, as I am, a Catholic. I was very grateful for these daily messages, and my neighbor was grateful for my appreciation. One of the few benefits of the pandemic is that these — often fleeting — links of friendship are established with folks we might never think of in more normal times.
On the work front, this year I was able to achieve a feat that surprised me — as it would those who know me. (As a preface, my brother and sister are both highly talented and successful in their IT fields. The IT gene completely missed me, however.) During an extensive written discovery project, an RFP response, some hidden gene must have reasserted itself. This was the most extensive and varied production response I had ever been involved in. I was determined to personally download all the various items from my client and produce them myself on an electronic sharing platform for all the attorneys involved in the case. Everyone who knows me should have felt the ground move when I succeeded! There is hope for all of us, and it sometimes takes the challenge of a pandemic to push us into learning new skills.
Like most of my colleagues, I really, really look forward to in-person seminars, depositions and other functions in the coming months. To that end, look out for the brochure for the annual DTCI conference in French Lick on Nov. 18 and 19. There will be in-person and virtual attendance options. During the conference, there will also be information provided about DTCI's sponsorship of Arsenal Tech High School students' participation in the Indiana mock trial competition. This program will be an inspiring and unique glimpse into the legal field for the students.
Finally, I sincerely hope that everyone reading this column finds a way to enjoy my favorite season — fall!•
• Beverly Mack is a partner in the LaPorte firm of Huelat & Mack PC and is a member of the board of directors of DTCI. Opinions expressed are those of the author.
Please enable JavaScript to view this content.