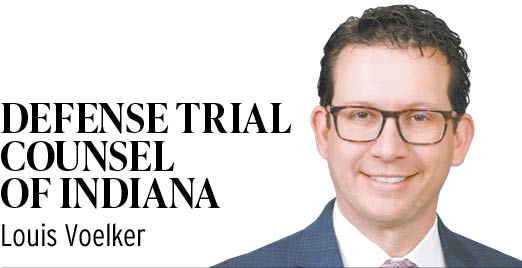 I have been honored to serve two terms as a member of the DTCI Board of Directors. Because that service is now at an end, I am taking this opportunity to revisit a final time a subject on which I have previously written in 2015 and 2019. As I first noted in 2015, the right to trial by jury of civil claims was so important to the Founders of our nation that it is ensconced in the Seventh Amendment to the United States Constitution. The founders of our state also provided unequivocally in Article 1, Section 20 of the Indiana Constitution: "In all civil cases, the right of trial by jury shall remain inviolate." Yet over the last 20 years, the proportion of civil cases that are disposed of by jury trial has fallen.
I have posited that this decrease is a byproduct of the success of mediation. I also believe the increasing frequency of "nuclear verdicts" fueled in part by lawyer marketing makes defense clients more reluctant to take cases to juries. But the possible causes of the decline in civil jury trials is a discussion for another day. Let's look at the statistics and the effects.
Many in our profession have probably never reviewed the statistics offered in the Indiana Supreme Court Indiana Judicial Service Report: Judicial Year in Review. I only first reviewed those statistics in 2015 for my first article, and I had already been practicing 20 years at that point. The data led me to observe then that the assertion of our right to trial by jury was becoming more conceptual than tangible.
While the constraints of space (and time) preclude significant analysis, I want at least to highlight and compare some of the available statistics. I originally reported that only 209 tort cases were concluded by jury trial in 2014, down more than 50% from the 486 civil jury trials in 2005. Although new civil tort filings in the state have remained fairly steady for the last decade, with a slight upward trend from 10,502 in 2011 to 12,136 in 2020, the jury trial numbers have continued to trend in the opposite direction. In 2017, the number of civil tort jury trials had further fallen to 165, and in 2018 there were only 160 trials. Although in 2019 there was a slight bump to 190 trials, this was still below 2014 levels. In 2020, a mere 48 civil cases were tried to jury due to the obvious impact of COVID-19.
So what will happen next? I expect the 2021 number to be fairly similar to 2020; we were still navigating the pandemic. I also expect a significant increase in trials in 2022 due to "COVID catch-up." I had three civil jury trials this year and have heard of others with similar experiences, but will the statistics bear that out? Even if they do, how will 2023 look? Aspects of our practice were changed as the Indiana judicial system adapted — admirably — to the challenges of COVID. Some adaptations will be permanent, such as Zoom status conferences and hearings. Although I find this convenient, I can't help but note that it further reduces the opportunities for young lawyers to actually step into the courtroom.
Fewer trials means the ability to effectively exercise the right to trial may eventually be limited because the next generation of litigators (or the one following it) will lack the necessary skills. Trials are the training ground in which this generation of lead trial lawyers prepares the next. Theoretical training may complement but cannot replace actual experience.
Fewer trials mean fewer citizens experience jury service to gain and share what is almost uniformly reported to be a greater appreciation of our justice system. At a time when distrust of institutions is extraordinarily high, this a regrettable loss.
Fewer trials even means a shrinking sample size of verdicts from which to extrapolate the value of those cases we do seek to settle.
In the end, the only thing I can do personally is keep training the young lawyers with whom I practice and giving them as much opportunity for trial experience as I can offer. I will also watch the statistics. I think we all should.•
__________
Louis Voelker is a partner in Eichhorn & Eichhorn and retires from the DTCI Board of Directors on Jan. 1. Opinions expressed are those of the author.
Please enable JavaScript to view this content.