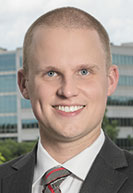 Firm/Company: Lewis and Wilkins
Practice Area(s): General insurance defense, premises liability defense
Year(s) of Practice: 2
What do you like best about your job?
I enjoy opportunities to interact with other members of the legal community in hearings, depositions, and mediations. In each of these stages of litigation, I get to advocate for my client in different ways by crafting appropriate legal arguments or questions.
What has been the best moment so far in your legal career?
In 2019, I had the opportunity to take part in a jury trial in a premises liability case. I learned many important lessons by cross-examining witnesses, engaging with opposing counsel and the judge, and crafting arguments for a jury.
Why are you a member of DTCI?
I joined DTCI to collaborate and network with other members of the defense community. DTCI provides an excellent forum for members to associate and exchange ideas though its training and many events throughout the year.
Unforeseen hurdles of your first year(s) as a lawyer?
As a first-year attorney, I was surprised by the disconnect between law school and the actual practice of law. That first year was a whirlwind, with many good (and a few not so good!) moments along the way. Nothing substitutes for the lessons learned through on-the-job experiences in critical moments of litigation.
If you weren't a lawyer, what would you be any why?
At one time, I went to school to be a math or history teacher. I was initially drawn to the education profession by my experiences with several teachers who helped shape who I am today. At the undergraduate level, I was uncertain about my career path and changed my major several times. I am fortunate to have landed in such a rewarding profession.
What you wish you knew then …:
I wish I had worried less about the academic pressures of law school and spent more time developing relationships with my classmates. Through my first two years in practice, it has become clear that the Indianapolis legal community is smaller than one may initially think. The relationships developed in this community are invaluable.
Fun fact about you:
I have to take regular trips to Graeter's for two scoops of mocha chocolate chip ice cream. I am also a huge IU basketball fan (although that fact is less fun and more painful when considering IU's consistent mediocrity as of late). IU is a football school anyway!•
This is an ongoing series introducing new DTCI attorneys to the wider legal community.
Please enable JavaScript to view this content.