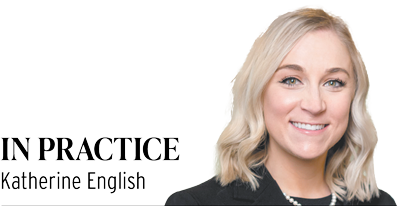 As a young lawyer, I have found that the best way to grow as an attorney is to learn from others. Because of that, I thought an article sharing advice from the "best of the best" would be beneficial to other young lawyers. I asked six highly-respected Indianapolis attorneys, who have experience ranging from nine to 41 years, to share a tip they wish they had known as a first-year lawyer. I specifically chose six attorneys who have made a difference in my practice, whether as a mentor, supervisor or even opposing counsel. That's right — you can learn from attorneys on the other side of the table! Below are the tips I received from these six attorneys, who collectively have over 165 years of experience practicing law:
Listen to everyone
"When I try to think of all of the things I wish someone would have told me about life as a first-year associate, the one that tops the list is … to listen. Listen to everyone: family, friends, partners, other lawyers, staff at your law firm and at your building … everyone. You never know when you will learn one of your greatest lessons, have an opportunity to grow, and develop relationships with mentors who will change the direction of your career and your life. As lawyers, we are blessed to be in a profession where helping others is at the top of our list. However, as lawyers, it is often hard to accept help and criticism. As a result, so many times we hear what others say, but we really do not always listen. Once I started really listening, I was able to better organize myself, gain trust from clients and other lawyers, and grow both in my practice and in my overall purpose."
-Kristin McClellan, partner, Ice Miller LLP
Create personal relationships
"When I began practicing law, email had not been invented! All our communications with clients, opposing parties and counsel, insurance companies, witnesses and the courts were in person, on the phone or by letter. My tip to young lawyers today is not to rely on emails, social media or apps to be your primary method of communication. Call and talk with your clients and opposing counsel. Take opposing counsel out for coffee or lunch. Handwrite a thank you or congratulatory note to someone each day. Creating personal relationships with those you work with and against will improve the quality of your life and practice!"
–Lee Christie, partner, Christie Farrell Lee & Bell P.C.
Admit when you don't know the answer and when you're wrong
"I wish that I would have known that it is OK to not always know the answer. Even seasoned, veteran attorneys don't know the answers all the time. It took me a long time to realize that I could answer with, 'I don't know, let me look into that,' and that it was a perfectly acceptable answer. There is also something to be said for going into any situation with confidence (even if you don't know what you are doing) because you can be very convincing even if you aren't the most knowledgeable person in the room. However, with projecting confidence, remember to be humble. Never be afraid to defer to an attorney who has more experience than you and ask them what their thoughts are based upon their experience. And lastly, as a general rule, when dealing with the court, opposing counsel or even your clients, never be too proud to admit when you are wrong. When you can admit that you are wrong, it helps build a reputation built on honesty and goes a long way to maintaining the respect of those around you."
-Rachelle Ponist, managing partner, Hand Ponist Smith & Rayl LLC
Take ownership
"Take ownership of case and calendar management. Nothing will endear you to a busy law firm partner more than ensuring the team meets its deadlines, anticipates filings and strategic moves, and calendars work so the client has time for input. You work as part of a team; never lose sight of that. The chain of work often begins with you — the research, the draft brief or motion, the deposition plan. Think ahead. Plan ahead. Don't wait for deadlines to be set by a partner — suggest them."
-Wayne Turner, founding partner, Hoover Hull Turner LLP
Follow the 80/20 rule
"As a new lawyer, the concept of marketing may seem daunting. I recommend following the 80/20 rule from the start —spend 80% of your time on legal work and 20% on 'marketing,' with that term defined broadly. Maintain relationships with your law school classmates and join state and local bar associations to build your network. Schedule time for marketing weekly. This can be anything from meeting a contact for lunch or engaging with your network on LinkedIn. It may take years for you to reap the rewards of the seeds you sow today, but your law school peers will be the judges, hiring partners and corporate counsel of tomorrow."
-Stephanie Cassman, partner, Wagner Reese LLP
Treat your supervising attorney as your client
"One of the keys to early success is understanding who your client is. Your client is NOT only the client whom your firm may be representing. Your client is also the lawyer who is giving you work to do. Like a client, the lawyer who assigns you work is the person who will evaluate your work product for timeliness, thoroughness, proofreading and time spent. That lawyer is the person who will give you repeat business and 'refer' you to others within the firm. So, if you are getting repeat business in your first year, you have a happy client. If you are not getting repeat business, then you should be asking why not."
-John Trimble, partner, Lewis Wagner LLP
* * *
Young lawyers can build a solid foundation for their practices by listening to and seeking advice from seasoned attorneys. As Kristin advises, listen to everyone — you never know when you will learn one of your greatest lessons. I urge all young lawyers to seek opportunities to learn from others. Enroll in mentorship programs. Ask your supervisors what their top advice is. Grab coffee with experienced attorneys. When you are opposing a well-respected attorney or working with an experienced mediator, pay attention.
Experience cannot be taught because it only comes with time, making it one of the most valuable traits in the legal profession. Until we young lawyers can call ourselves "experienced" lawyers, we can learn from and listen to those who have experience.•
Katherine L. English is an associate at Hoover Hull Turner LLP. Opinions expressed are those of the author.
Please enable JavaScript to view this content.