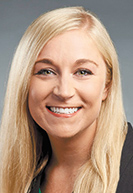 By Katie L. English
You passed the bar exam, took an oath and began practicing law. (Congratulations, by the way!) I was in your shoes last October, so I just completed my first year of practice. For me, the first year was filled with both excitement and stress. You probably realize that despite spending the past few years taking law courses and completing clerkships, there are many aspects of the actual practice of law that you cannot know until you are in the trenches. I was considering what advice I would give to those starting their first year of practice, and I asked some of my friends who also began practicing last October what their main takeaway from the past year was. Failure was a common theme.
No one expects you to know all of the answers as soon as you are sworn in. It's called the practice of law for a reason. When it comes to making mistakes, the question isn't if — it's when. Most of the tasks you will receive, you have never done before. Do your best work, but also accept that you're going to mess up at some point. I know the mere acceptance of failure doesn't make it any less horrifying, especially because the stakes are higher now than they were in law school. You now have colleagues and clients relying on you. Your fear of faltering is justified. However, don't let this fear paralyze you. Doing so would be your biggest mistake of all. Making mistakes means you have tried new things, and you have learned. If you aren't learning, then really, what's the point? Some of the mistakes you make will be the greatest lessons of your career. Many people want to erase their mistakes, but erasing their mistakes would also erase much of their wisdom. So, say yes to new opportunities. Offer to help with a challenging project. Get out of your comfort zone.
What speaks volumes about you is your reaction to failure. If you let your mistakes trigger that voice in your head — the one that says you can't do it, this isn't for you or you aren't good enough — you will probably begin setting small, easily achievable goals. Small, easily achievable goals aren't going to get you very far. You might misstep, but at least you are taking steps instead of standing still in one place. If you are anything like me (someone who is highly self-critical), you probably fixate on what you could have done better or differently. This way of thinking is healthy to an extent, but if overdone, it can be exhausting, unsustainable, unproductive and inhibiting. While you need to recognize when you could have performed better (if you don't, you will never learn), don't dwell on it. Instead, when you slip up, address it head on. Acknowledge and own the mistake. Don't try to cover it up. You might discuss with your senior attorney whether the mistake is fixable and how you can learn from it. Forgive yourself and frame the experience as an opportunity to learn. Use your mistakes as a foundation for growth. A stumble is not — and may prevent — a fall. Let your mistakes guide you, not define you.
I have a few other key takeaways from my first year. Some of you are probably worried about billable hours, so here is what I have found maximizes my efficiency. If possible, I avoid task-switching. You're going to need to juggle several responsibilities at once and learn how to prioritize them, but I try to avoid going back and forth between tasks. I have found I'm more productive when I focus on one task at a time. I try to be less reactive to emails unless they're urgent. I also recommend tracking your time in real time as well as adopting streamlining practices. Find yourself writing the same email over and over again? Use Outlook's Quick Parts. Save forms you know you'll use again. Bookmark that website you visit frequently. Keep a list of the discovery objections you use often. These might seem like small things, but saving five minutes here and there adds up. Also, I usually take a break for lunch. I initially worked through lunch every day, but by 3 p.m., I struggled to focus. I've found when I take 20 minutes to an hour for lunch, I am more productive in the afternoon. This is what works for me but may not work for everyone, so experiment to see what boosts your efficiency.
I'll also reiterate some other tips you've probably heard before. The importance of mentorship cannot be overstated. Seek a mentor within your office, and I also urge you to find a mentor outside of your office. My external mentors are so helpful because they can provide objective advice. A way to meet potential mentors is to get involved. Join local bar associations, go to alumni events and don't be afraid to network.
Work hard. Pay attention to the details. Treat your senior attorneys as if they are your clients (because they are). The staff members are the backbone of the office; respect them and learn how to utilize their knowledge. Be curious and ask questions. Take care of yourself and enjoy the ride!•
• Katie L. English — [email protected] — is an associate at Lewis Wagner LLP in Indianapolis. Opinions expressed are those of the author.
Please enable JavaScript to view this content.