By Kris Kazmierczak, Katz Korin Cunningham
Eric Buetens is a retired Florida attorney transplanted to Indiana, but most would say based on the pro bono pace he keeps that he is not really retired. Remarkably, Eric logged a whopping 1,300 hours of pro bono services in 2020. His approach to providing free legal services is unique and goal oriented. At the outset, Eric set a target to volunteer for every aspect of pro bono service and outreach that the IndyBar sponsors and provides to the community. In setting his goals, he drew inspiration from the acronym familiar to Hollywood and the entertainment industry of "EGOT." This acronym designates the achievement of having won all four of the major American entertainment awards (i.e. an Emmy, a Grammy, an Oscar and a Tony.) It has been described as the "grand slam" of show business.
After significant deliberation and word arrangement, Eric coined the acronym of "HALF HEN" to signify his own personal challenge and level of achievement for pro bono service in Indianapolis. "HALF HEN" stands for the Homeless Shelter Project, Ask a Lawyer, Legal Line, Free Wills Clinic, Hospice Program, Expungement Clinic and Naturalization Ceremony. These seven programs are all offered, managed or sponsored in some fashion by volunteer efforts of the IndyBar and staffed by attorney volunteers like Eric. Eric earned his self-described "HALF HEN" grand slam achievement in the two-year period preceding the onset of the pandemic. He did so by participating in each of the above-referenced programs.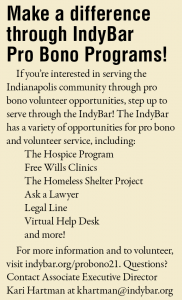 Eric's path to the IndyBar is just as unique as his approach to his volunteerism. Eric, originally from New York, is a second-generation attorney who followed his father's path to practice law in Florida. As a Florida attorney, Eric focused his practice on transactional real estate, wills, estate planning, probate, contracts, corporation work and uncontested divorce. Eric finds his past work experience lends well to the needs of a typical pro bono client. It was Eric's daughter, who attended Butler University and decided to make Indiana her home, that influenced Eric and his wife's decision to establish a second residence in Indianapolis. It did not take Eric long to seek reciprocity to be admitted as an attorney of the Indiana Bar with a focus on volunteering his time.
You can find Eric covering the "Virtual Help Desk" chat line from 9 a.m. to noon Monday through Friday each week. This program is staffed by volunteer attorneys daily from 9 a.m. to 5 p.m. and allows participants to engage in a live chat with an attorney. The service can be found at indybar.org/chat and by clicking on the "? Help" button in the lower right-corner of the page. Outside of business hours, questions can still be submitted and will be logged for an attorney to respond to during the next business day.
Questions can be logged and a response issued by the next business day. The Virtual Help Desk was born out of the restrictions imposed by the pandemic and provides another platform to reach and engage with volunteer attorneys and the community.
For his efforts in 2020, Eric was recognized by the IndyBar as the recipient of Practicing Attorney 2020 Pro Bono Award. In 2020, Eric also volunteered pro bono time to two voter protection hotlines and the American Bar Association's free legal answers program. Eric received the ABA Standing Committee on Pro Bono and Public Service's 2020 Pro Bono Leader Award.
One interesting observation by Eric is because of his frequent pro bono activity he now knows other attorneys who volunteer on a regular basis, which, in turn, allows him to redirect an individual who poses a particular legal need to another volunteer when Eric does not have the answer at his fingertips. Eric says that this camaraderie provides another layer of service because he can either ask another volunteer for guidance or redirect the individual to contact the volunteer about his/her particular question.
Congratulations Eric on your HALF HEN and keep up the good work and inspiring us all! The IndyBar Pro Bono Standing Committee recognizes and appreciates Eric's exceptional efforts and so many other IndyBar members who give their time, talent and financial donations to provide legal services to those of limited financial means in our community. The objective of this article series is to acknowledge excellent pro bono efforts by members of the IndyBar and to inspire others. If you have been moved to action by this article, or otherwise desire to be added to the growing list of lawyers willing to assist others on a pro bono basis, go to indybar.org/probono to join the wave of community involvement.•
Please enable JavaScript to view this content.