Elliott Pinkie was a law student when he was first introduced to civil litigation for the defense. It was in the summer of 1999, and he was a rising 3L clerking at Kightlinger & Gray LLP in Indianapolis.
Now, some 22 years later, Pinkie remains in the defense bar and has been named the leader of Indiana's primary civil defense organization, serving as the newest president of the Defense Trial Counsel of Indiana.
A member of DTCI since 2000, Pinkie became president during the organization's annual meeting last week in French Lick.
He succeeds Kori Chambers, associate general counsel at Indiana University Health and now past-president of DTCI. Around nine years ago, Pinkie recalled, both he and Chambers started becoming more involved with the defense organization. The two were then colleagues at Schultz & Pogue LLP and frequently attended DTCI events together.
It was around that time in 2012 that Pinkie began stepping into DTCI leadership roles, eventually serving as chair of the Trial Tactics Section and the Legislative Committee. He then became an organization officer, serving as treasurer, secretary, president-elect and now president.
Now that he's in the top leadership position at DTCI, Pinkie said he wants to expand the organization's services during his year as president. That means exploring ideas such as adding a new section or committee, or offering law practice management resources to members. He's also focused on increasing the organization's membership in the eventual post-pandemic world.
"I want to make 2022 all about you, the DTCI member," Pinkie said. "We are a members-only organization, so please let me or any other DTCI board member or officer know how we can better serve you in 2022."
Due to an illness, Pinkie was unavailable to sit down with Indiana Lawyer for our annual Q&A with the new DTCI president. Instead, he answered written questions. A portion of his responses are reprinted below — the full responses are available at theindianalawyer.com.
Indiana Lawyer: What's your career background?
Pinkie: I was fortunate enough to get a summer clerkship at Kightlinger & Gray in Indianapolis in the summer of 1999 in between my second and third year of law school. It was there that I was introduced to civil litigation for the defense and had a great summer experience. I was invited back after I graduated law school and I stayed there until December 2006. In January 2007, I continued my defense practice at what was then Hoover Hull LLP, and I stayed there until the end of 2011. I then joined Schultz & Pogue LLP at the beginning of 2012 and left at the end of 2015 and joined Cline Law Group and was there until August 2020, when I started my own law firm. I went from a large firm to medium firms to a small firm to my own firm.
How did you end up working as a solo practitioner?
After 20 years of practicing law with and for other people, it was time for me to do it alone. When the pandemic hit in 2020, it created an opportunity for some self-reflection and soul-searching. I took that opportunity, and after several deep discussions with my wife, professional colleagues and other trusted advisers, I decided to open my own law firm. Law firms are different animals and business models, and each one is run differently. I've learned a lot from each firm I worked at and am grateful for those opportunities and lessons learned.
How did you become involved in DTCI?
I was asked by mentor Joan Irick in 2000 to become a member and attend the DTCI Rookie Seminar for new attorneys. I was a new lawyer then, having just been sworn in. The event was at the then-new Bankers Life Fieldhouse, and I went. I became interested in learning more about the organization, and I've been a member ever since. If I am not mistaken, our executive director Lisa Mortier actually checked me in at the registration table for the Rookie Seminar, as she was new to the organization back then, too. It's crazy to think that was that long ago, but it was.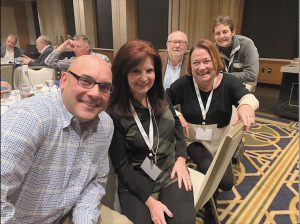 What initiatives/issues do you plan to focus on during your year as DTCI president?
I plan to take a look at the need for a new section or committee. We have a vibrant Women in the Law Committee and a great Young Lawyer Committee. But what about those DTCI members who were previously involved in our organization and are now looking toward retirement or may have recently retired? What about the past presidents of DTCI that may like to reintegrate with the membership? I think it would be beneficial to the membership to incorporate these defense lawyers into more of our programming and offerings by way of a committee or section. Another area that may be ripe for a new section is data security and privacy law. This area of law has seen a large amount of growth compared to 10 years ago. Attorney wellness is also of interest to me, and DTCI started taking a look at this even before the pandemic.
I also want to take a look at any defense-specific law practice management resources we may be able to offer our members. One of DTCI's primary missions is to help members with the management of their law practices. Lastly, I also want to build on the good work under Kori Chambers' leadership with the Arsenal Tech Mock Trial Team, and reinventing our newsletter. Maybe we can even give the newsletter a name for next year. Myself, I always liked caselaw updates, so maybe we'll see if we can get some of those started again too!
What challenges, pandemic or otherwise, do you foresee DTCI facing over the next year?
Increasing our membership has been one of our goals that remains challenging to DTCI. As we are all hopeful the pandemic will subside, I know a lot of DTCI members would welcome the opportunity to get back to in-person events and CLE programming. I still do not think we know what the new normal holds for civil defense litigators and our practice.
What do you get out of being a DTCI member?
I've developed friendships with colleagues that I would not have otherwise had the opportunity to had it not been for DTCI. I've also been fortunate to meet several members of the Indiana General Assembly and work with our lobbyist and members on legislative initiatives. DTCI also provides a great support network through its members, and most members are happy to help out fellow members if they have a particular question or issue that may require some assistance.
What would you say to a lawyer who is considering joining DTCI?
Please join and give us a try and let us know how we can assist. Similar to other professional organizations, members can expect to get out of DTCI what they put into it. It's a great organization for defense lawyers in Indiana, and it would be awesome if we could increase our membership in 2022 to include more civil litigation defense lawyers as members. I think we have a lot to offer our members, and the offerings just continue to grow.
I also think it is an exciting time to join DTCI as we continue to deal with the impact of COVID-19 on our profession and organization.
Anything else we should know?
Speaking of COVID-19, this year is the first time in several years that I am missing our annual conference and meeting in French Lick. I recently came down with flu and COVID-19 symptoms and had to cancel my trip. Not an ideal situation at all, but I hope to have my health back soon and look forward to serving DCTI as its 55th president.•
Please enable JavaScript to view this content.