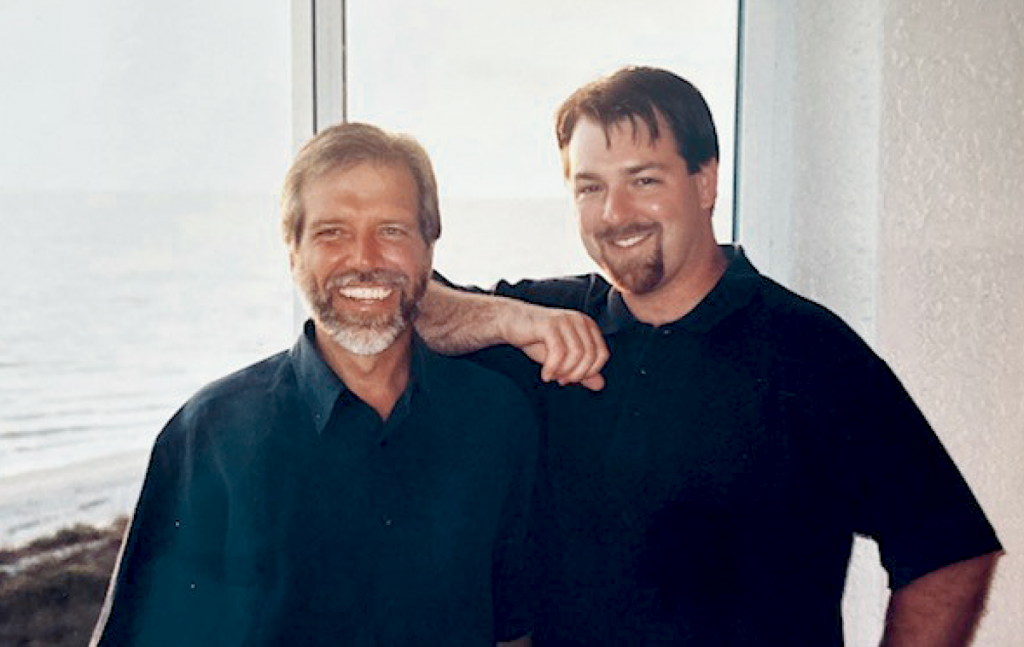 Bob Hammerle and his son Chris used to go into the Marion County Prosecutor's Office on Saturday mornings with a sack of doughnuts and a chunky TV. Bob, then a brand-new lawyer, worked on files while Chris watched cartoons.
"I felt like those damn doughnuts in 1973 meant something," Bob said jokingly. "He might have been watching TV cartoons, but he had to hear something through the wall and learn something."
By the end of Bob's time in law school, he was divorced from Chris' mom and had become a single father to his young son. But juggling 20 jury trials a year and starting his career was no easy feat.
So, Chris went to live with his grandparents in Batesville. Bob visited him every chance he could, taking his son on trips or to a drive-in movie in between cases.
"I'd drive down to Batesville to watch him play Little League and drive back for my jury trial," Bob said.
These days, the father-son duo spend a lot of time together, given that they practice at the same Indianapolis law firm. And recently, they got to celebrate a major victory together, netting a win for an exoneration client whose case they both had a hand in.
Starting down the path
By the time Chris was in his last year of undergrad at Butler University, he lived with Bob and his stepmom, Monica Foster. There, he watched his dad and Foster work on death penalty cases.
At the time, Foster — now the chief federal defender for Indiana Federal Community Defenders in the Indiana Southern District — was representing Paula Cooper, who as a teenager was convicted of murdering 78-year-old Ruth Pelke of Gary.
Cooper was sentenced to death, and the efforts to reduce her sentence to life in prison gained so much attention that even the Vatican got involved. Cooper was eventually released in June 2013.
Chris recalled Cooper calling the family home to talk to his stepmom. If she wasn't available, he would talk to Cooper himself.
"It started at that time intriguing me to go into this career path," Chris recalled. "We'd have dinner and talk about some of their exploits, but actually sitting there and speaking to the people that they were representing just put a whole new spin on that career path."
Chris is now a partner at Hackman Hulett LLP, where his dad is of counsel.
Before going down the path of law, Chris worked in the hospitality industry after graduating from Butler. But the family business eventually pulled him back in, and he graduated from Indiana University Robert H. McKinney School of Law — his dad's alma mater — in 1999.
He initially practiced for his dad, then started his own firm in Zionsville before the two found their way back together.
Bob
Long before Bob and Chris began practicing law together, Bob began working on a criminal case in the 1990s that, unbeknownst to him, would one day have two Hammerles listed as the attorney.
Bob got involved when the Indiana Supreme Court ordered a new trial for the defendant, who had been convicted of murder and sentenced to 40 years.
Bob was the defense attorney for the second trial, which he called "extremely emotional."
"Everything that our client went through, it was an ordeal," he said.
During the second trial, Bob challenged the credibility of the state's medical examiner, who was caught contradicting himself. The examiner said that because the victim — who had died during a boating trip — didn't have water in her lungs, she couldn't have drowned, as the defendant claimed. But in a different case, he said the opposite.
After the cross-examination of the medical examiner, during which the defense pointed out that contradiction, Bob suggested that the defense rest without presenting any evidence or witnesses. He recalled his client poking his chest and saying, "You better be right."
After telling his client that he couldn't guarantee a favorable outcome if the defense rested immediately, Bob decided he would call witnesses after all, but then his client started to cry.
"'Let's do what you said,'" he recalled the defendant saying.
So, the defense rested.
"The jury was out about two hours, which, quite frankly, seemed like two days to be sitting there," Bob said. "But they came back and acquitted him."
Chris
After years of being free but still facing the consequences of having been charged with murder, Bob's client filled out the online form for compensation via Indiana's Exoneration Fund. Established in 2019, the fund is the state's first restitution program for those who were wrongfully incarcerated. But the client's petition was denied, so he returned to Bob for help. That's when Bob steered the man toward Chris, who handles both civil and criminal litigation.
Chris got to work, submitting affidavits and other information to bolster the client's case for compensation. But his request was denied again.
"The board decided that while this is compelling, we're not going to revisit our earlier decision to deny him compensation, which was kind of frustrating, because not only did they have more evidence than he had originally put forward to them, but also in the interim, the state had recodified that statute and put in there a different standard," Chris said.
The compensation case eventually made its way to an administrative law judge, where Chris presented the client's own testimony. Just over a month ago, the ruling came down.
"It's the first time he ever told his story," Chris said. "The administrative law judge found that he met the standard and that he's actually innocent.
"I think the greatest words that can ever be said for your client, especially doing criminal law, is that you're actually innocent of something that you've been accused of and had your liberty taken from you," he continued. "It's probably — well, it is the most fulfilling thing that I've done in all these years."
The good news continued a couple of weeks ago, when they learned that the compensation ruling would not be appealed.
'Multigenerational winner'
"I had to immediately reach out to (Bob) and say, 'We've got a multigenerational winner on our hands here,'" Chris said of learning about the compensation ruling.
Bob said watching his son carrying on with the case he had worked on was meaningful for him as a father.
"To have him achieve what he did, it was quite special," he said.
Chris has a similar pride in his dad's work.
While going through old case files, Chris said he began looking at his dad's cross-examination of the medical examiner. And then he started showing it to people.
"I would go show it to some of the other partners in the office and say, 'Look at this, you can't draw it up any better than the way he made the record of the case,'" Chris said. "He laid the foundation for the whole thing. But to sort of take it up after that and be able to get an emotional win for the same client was very fulfilling."•
Please enable JavaScript to view this content.