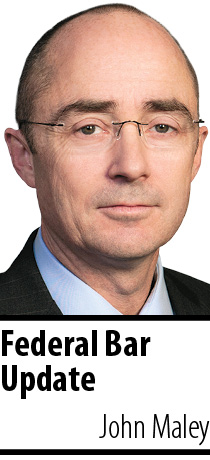 Federal courts are limited jurisdiction tribunals. As such, the federal judiciary carefully guards subject-matter jurisdiction, ensuring at multiple stages of a case, and in the trial court and on appeal, that the case is properly in federal court. Examples of jurisdictional issues abound in federal district courts and are scrutinized in the 7th Circuit, as well.
Recent trial court example
At the trial court level, Indiana federal judges often raise jurisdictional issues sua sponte. For instance, in Polycon Industries, Inc. v. R&B Plastics Machinery, LLC, 2020 WL 60224 (N.D. Ind. Jan. 6, 2020), Magistrate Judge Joshua Kolar sua sponte raised subject-matter jurisdiction in a removed diversity action. The notice of removal set forth the residency of the LLC members, but as Judge Kolar explained, "'The citizenship of a natural person for diversity purposes is determined of course by the person's domicile …, which means the state where the person is physically present with an intent to remain there indefinitely.' Lyerla v. Amco Ins. Co., 461 F. Supp. 2d 834, 835 (S.D. Ill. 2006). Allegations of residency in a state are not sufficient. See id. (diversity jurisdiction 'is determined by citizenship of a state, not allegations of residency in a state')." Magistrate Judge Kolar thus ruled that he was unable to determine if subject matter jurisdiction existed.
He ordered the removing defendants to sufficiently allege their citizenship via a supplemental jurisdictional statement.
Recent 7th Circuit example
In the 7th Circuit, in Lowrey v. Tilden, 948 F.3d 759 (7th Cir. 2020), Chief Judge Diane Wood issued an opinion emphasizing the importance of compliance with Circuit Rule 28 addressing jurisdictional statements. She began with an emphasis on how the court views jurisdiction: "This court takes jurisdictional issues seriously — indeed, it is proud to have a reputation as a jurisdictional hawk. As part of our routine procedure, we screen all briefs filed before oral argument or submission on the briefs to ensure that our jurisdiction is secure and to catch any potential problems. Many such problems can easily be corrected, and when they are, the judges of the court can proceed in confidence to decide the case."
Chief Judge Wood then noted her opinion in Baez-Sanchez v. Sessions, 826 F.3d 638 (7th Cir. 2017), in which she "reminded attorneys practicing before this court that we rely on accurate jurisdictional statements." She continued, "In Baez-Sanchez, the problem was the failure on the part of many appellees to specify precisely whether, in counsel's view, the appellant's jurisdictional statement was complete and correct. I emphasized that these are different requirements, and that this is not the place for creative writing. Either the jurisdictional statement is both complete and correct, or appellee must furnish a comprehensive jurisdictional statement of its own."
Chief Judge Wood then identified and focused on another "recurring problem" in that "Circuit Rule 28(a)(2)(v) requires an appellant in such a case to include in its jurisdictional statement not only information about the magistrate judge's involvement, but also 'the dates on which each party consented in writing to the entry of final judgment by the magistrate judge.'" This rule had not been followed in the consolidated appeals at issue.
Then Chief Judge Wood emphasized resources for practitioners on such points, writing: "This rule is not a secret. It is clearly spelled out in Circuit Rule 28(a)(2)(v), and this court's Practitioner's Handbook for Appeals (2019 ed.) is readily available on the court's public website, as the second item under the tab 'Rules and Procedures.' See http://www.ca7.uscourts.gov/rules-procedures//Handbook.pdf. The Handbook explicitly refers to the failure to provide dates of consent to proceed before a magistrate judge as one of the recurring problems that the court encounters when performing jurisdictional screening. See Handbook at 145."
Chief Judge Wood concluded: "We once again encourage counsel to consult the Handbook. It is a useful guide, regularly updated by the court and its staff, for both experienced and novice practitioners. It can help counsel avoid the common pitfalls in drafting a jurisdictional statement. See Handbook at 142-45. We expect attorneys who practice before this court to give close attention to all of the rules, including Circuit Rule 28. I hope that this reminder will serve its intended purpose and that such readily avoided flaws will cease."•
• John Maley — [email protected] — is a partner with Barnes & Thornburg, LLP, practicing federal and state litigation, employment matters, and appeals. He clerked for Judge Larry McKinney from 1988-90. Opinions expressed are those of the author.
Please enable JavaScript to view this content.